Specifications
Area: 1,715 sq. ft.
Bedrooms: 3
Bathrooms: 3
Stories: 1
Garages: 1
Welcome to the gallery of photos for the single-story, three-bedroom The Foxglove European-style cottage home. The floor plans are shown below: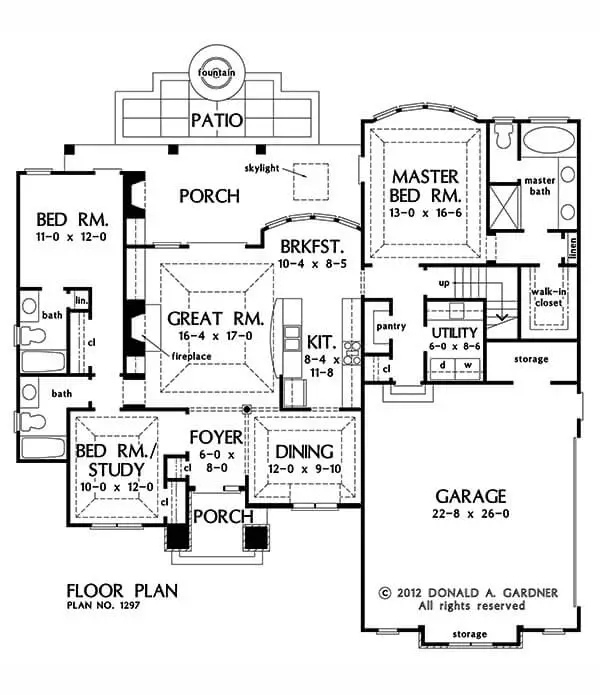 Main level floor plan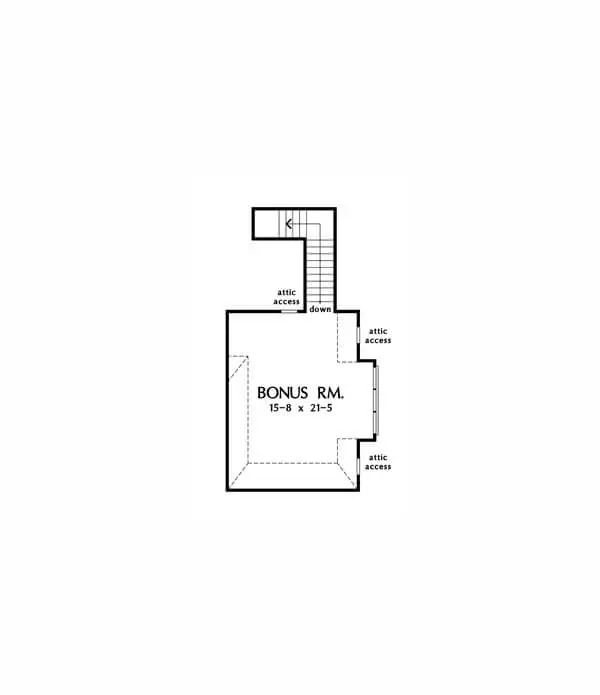 Bonus room floor plan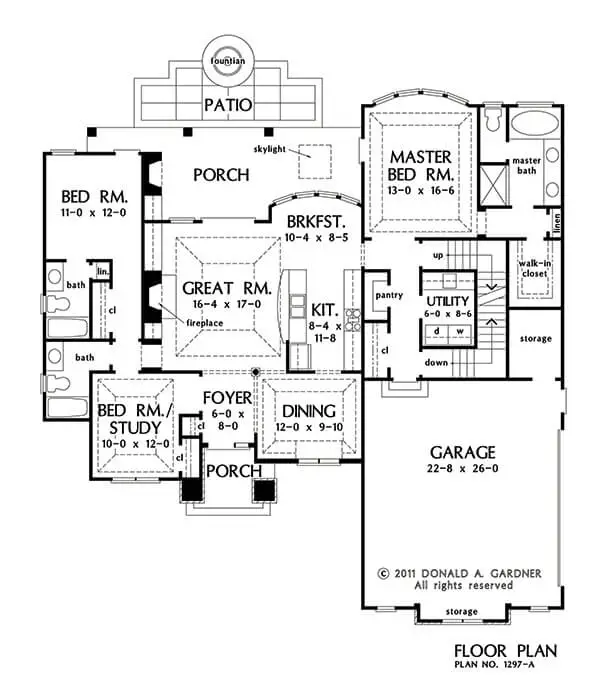 Main level floor plan with basement stairs
Artist's render of the front exterior
Artist's render of the rear exterior
The video below gives us a look at this European-style home:
The house's front exterior, with a mix of tan color-painted walls alongside some bricks. The garage bay for storing your vehicle is located at the side.
The house's rear area features an outdoor patio area.
The great room allows for family bonding and entertainment. The room's wooden-colored decors, as well as the floor, give contrast to the lightly-colored walls.
The great room gives direct access to the kitchen and the two dining areas of the house.
Prep your meals with ease, as the kitchen has everything you need, from the sink to storage drawers and cooking appliances.
The kitchen's center island has hanging ceiling lights that support the main lighting, allowing for a brighter and more airy cooking experience.
The kitchen offers multiple seating areas, such as the high chairs by the counter…
…and the adjacent breakfast area, where up to four people can sit down and eat.
The walled dining area, meanwhile, features a wider rectangular table, allowing more diners to dig in through their meals.
The house's master bedroom allows couples to relax after a long day.
Two sinks and a tub await you in the master bathroom.
Stand or sit as you rinse, whichever you prefer, in the shower area enclosed with glass doors.
Decorate the other bedrooms in the house as you wish. Dark wood is the theme of both the bed frame and the drawers here, with a touch of red in the bedding and pillowcases.
This bedroom has a slightly lighter feel, with a white bed frame sprinkled with gray-colored sheets, matching that of the room's wall.
Have more guests to treat? Perhaps the upper floor's bonus room and its comfortable sofas can accommodate them!
If dining outside is what you prefer, consider the outdoor patio.
A television set, fireplace, and seats with ottomans can also be put up here on the patio for those who like the fresh air more.
This compact European house plan incorporates special details that create an illusion of spaciousness beyond its square footage.
Tray ceilings in multiple rooms contribute to a sense of volume, while generous storage and utility spaces ensure that clutter remains concealed from the open living areas.
The side-entry garage features a storage room and an additional bonus room above, providing extra functionality.
As for the master suite, it offers a delightful retreat with access to a sky-lit screen porch adorned with a charming fireplace.
Source: Plan # W-1297