Specifications
Area: 2,079 sq. ft.
Bedrooms: 3
Bathrooms: 2.5
Stories: 2
Garages: 2
Welcome to the gallery of photos for a double-story, three-bedroom Post Frame Barndominium House with Space to Work and Live. The floor plans are shown below:
Main Floor Plan
Second Floor Plan
Enhance your outdoor space with a captivating covered patio featuring elegant rock column.
The side view reveals a white exterior wall with a porch and patio area.
This post frame home features a spacious two-car garage with a concrete driveway for convenient parking and easy access.
The wall of the living room features a sofa, fireplace, and TV, with decorative elements such as fish and stag head accents.
A combination of a wooden dining table and metal chairs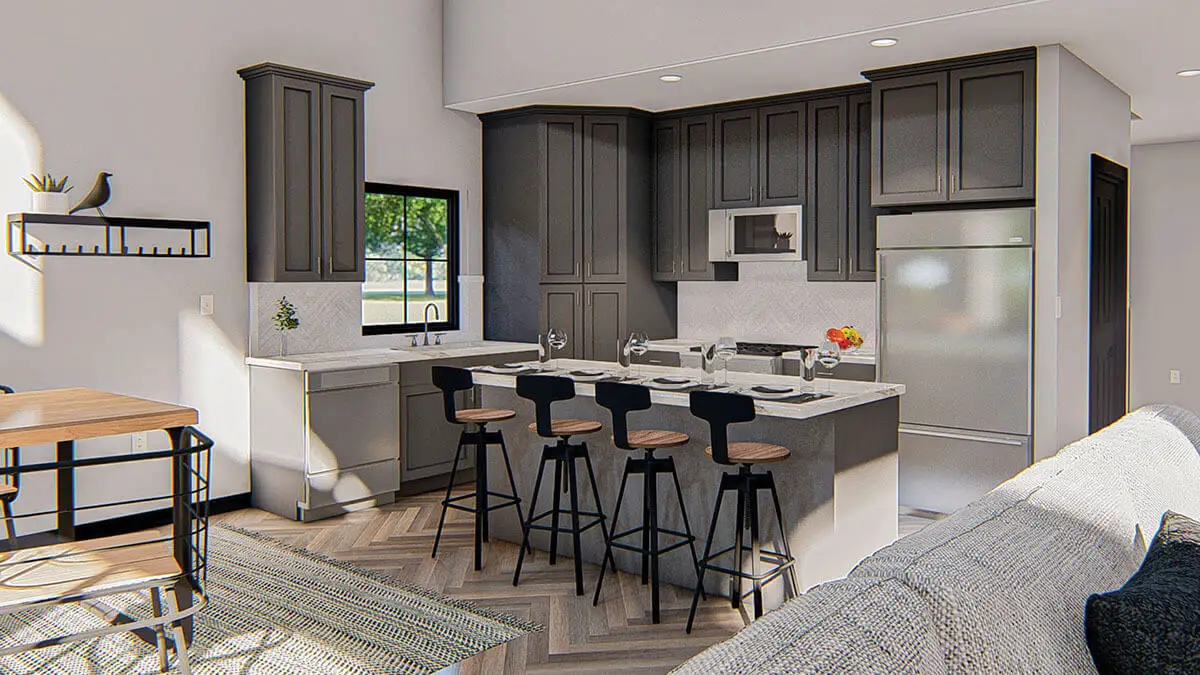 The kitchen features elegant gray cabinets and a beautiful marble center island.
If you're in search of an efficient way to construct a house that offers both comfortable living and working spaces, look no further than this post frame home.
This innovative building method draws inspiration from traditional timber-framing techniques but simplifies the process.
Instead of relying on studs, steel framing, or concrete masonry, post frame construction utilizes large poles or posts that are firmly embedded in the ground.
In addition to its residential qualities, this house features a spacious 2-car garage that can accommodate extra workspace for your professional needs.
Inside, the home boasts a captivating great room with a cozy fireplace and soaring ceilings that reach a maximum height of 26 feet.
The kitchen is equipped with a generous island and a convenient walk-in pantry measuring 3 feet 6 inches by 3 feet 6 inches.
The main floor is also home to the master bedroom, complete with dual vanities and a sizable walk-in closet measuring 7 feet by 5 feet 9 inches.
Ascending to the upper level, you'll discover two bedrooms and a loft area that can serve various purposes. Bedrooms 2 and 3 share a centrally located hall bathroom, ensuring convenience for everyone in the household.
Source: Plan 62814DJ