This article was reviewed for factual accuracy by Brian Halbert CFP
Click To Get Food Truck Insurance Quotes ➤
Food trucks are a more than $2 billion a year industry with 24,602 businesses and 28,916 employees. The booming industry grew 20% in 2019 and is now growing faster than the larger foodservice industry. When comparing the $50,000 to $60,000 food truck startup cost to the $275,000 to $425,000 cost of starting a restaurant, it becomes clear why. Investments generate 2.5 to 5 times more in annual revenue.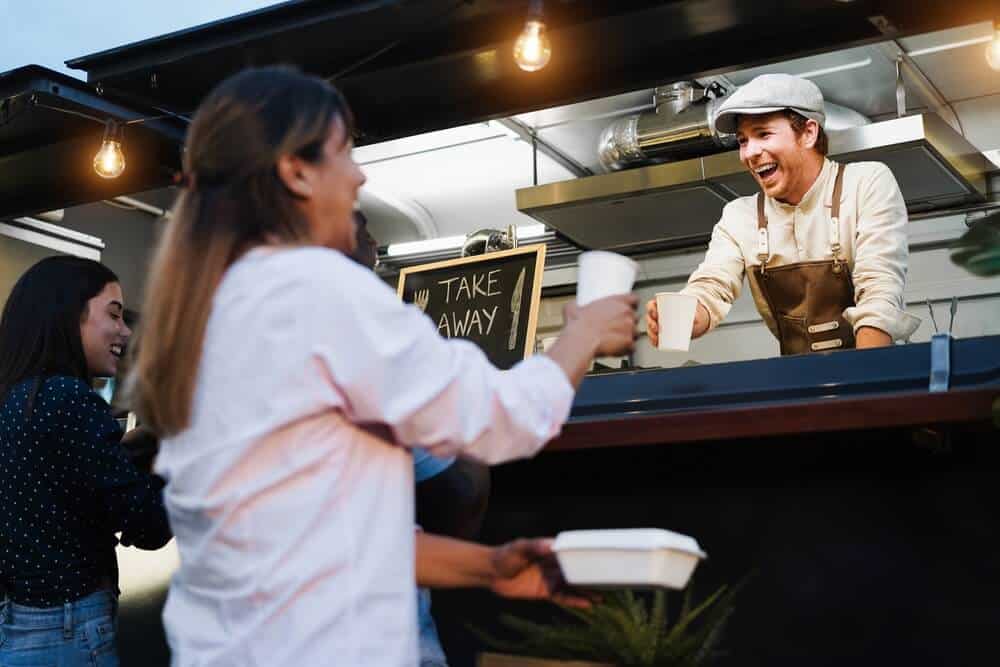 It's not without its expenses though. On top of the average $28,000 permit costs, there's also the insurance to consider. In this guide we dissect the average cost of food truck insurance costs. We attempt to stop you from overpaying for insurance on your food truck.
Related: Need to accept payments? Take a look at the best cash registers for small businesses
How Much Does Food Truck Insurance Cost?
We found the average cost of food truck insurance to be about $540 per month. However, that amount is far from uniform among all food truck owners. There are many factors that will play into the cost. Your annual revenue will play a part as well as where you're located. It's also important to remember that there's no policy called "food truck insurance," but rather a set of policies that together cover the insurance needs of a food truck owner.
What Type of Insurance Do You Need to Own a Food Truck?
The needs of every food truck owner can be slightly different, however, in general, the most common and necessary policies to have would be general liability, commercial auto insurance, and workers comp if you have employees. For the food trucks that serve alcohol, liquor liability insurance would be added, and if your food truck hosts or caters events, you'll want to be covered by a special events policy as well.
How Much Will Food Truck Insurance Cost Based on Your Revenue?
On average, food truck owners make $290,000 in yearly revenue, but depending on a lot of things, the variation can be quite wide. Each kind of insurance will have a different rate based on your revenue. Here are a few examples of common food truck insurance types, revenue amounts, and average cost.
General Liability Insurance
$50,000/year revenue: $646
$250,000/year revenue: $979
$750,000/year revenue: $1,513
Commercial Auto Insurance
$50,000/year revenue: $1,976
$250,000/year revenue: $3,070
Workers Compensation Insurance
| No. of Employees | Average Cost |
| --- | --- |
| 0 | $0 |
| 5 | $2,654 |
| 10 | $3,070 |
How Much Will Food Truck Insurance Cost based on the Number of Employees you Have?
Insurance costs often fluctuate based on the number of people employed by a business. However, this isn't always the case for every type of insurance. For example, the above list liability insurance costs don't really change based on employees.
Workers compensation insurance and even commercial auto insurance will fluctuate based on the number of employees you have. The higher number of workers, the most people you need to cover in your workers comp policy. Furthermore, if anyone else beside yourself drives your food truck, you will likely have to pay more on your commercial auto policy.
How Does Your State Affect Food Truck Insurance Prices?
Food trucks would be considered commercial vehicles, meaning you must have commercial auto insurance. Location is a huge factor in the cost of commercial auto insurance. Every state has its own laws regarding the amount of coverage a business must have. Sometimes, the size of the vehicle also affects the cost. While commercial auto insurance isn't the only kind of food truck insurance cost that will fluctuate per state, it is the one that will change the most.
What Won't Insurance Cover While Operating a Food Truck?
Each type of insurance has its own coverage and limits. As we mentioned, there are many insurance types that a food truck could have, those are just the most common. Here are some types and what they don't cover:
General Liability: Doesn't cover your property or employees.
Property Insurance: Doesn't cover any equipment not attached to the truck.
Commercial Auto: Does not cover other drivers unless specifically added to your policy
Best Places to Buy Insurance for Your Food Truck
As you can see, every food truck will need different amounts of different coverage types based on complex factors like location, size, revenue, and equipment. Every business will have different amounts of ideal coverage per policy as well. To make sure that every area of your business is covered just the right amount and that you aren't leaving any liability open or overpaying, you should check out an insurance marketplace like CoverWallet. They will make sure your business is covered for everything it needs without coverage that it doesn't, and because it's a marketplace, they'll help you find the right insurer for your budget too.
Bottom Line
This is an up-and-coming business for a reason. However, if you neglect to protect it, then it could easily be lost to one split-second accident or careless mistake. Ensuring your business properly will help keep it safe and protect you, your employees, and your customers as well.