Builders Risk Insurance is also known as Course of Construction Insurance. It is insurance for builders, specifically covering their property, equipment, and building materials when used during a construction project.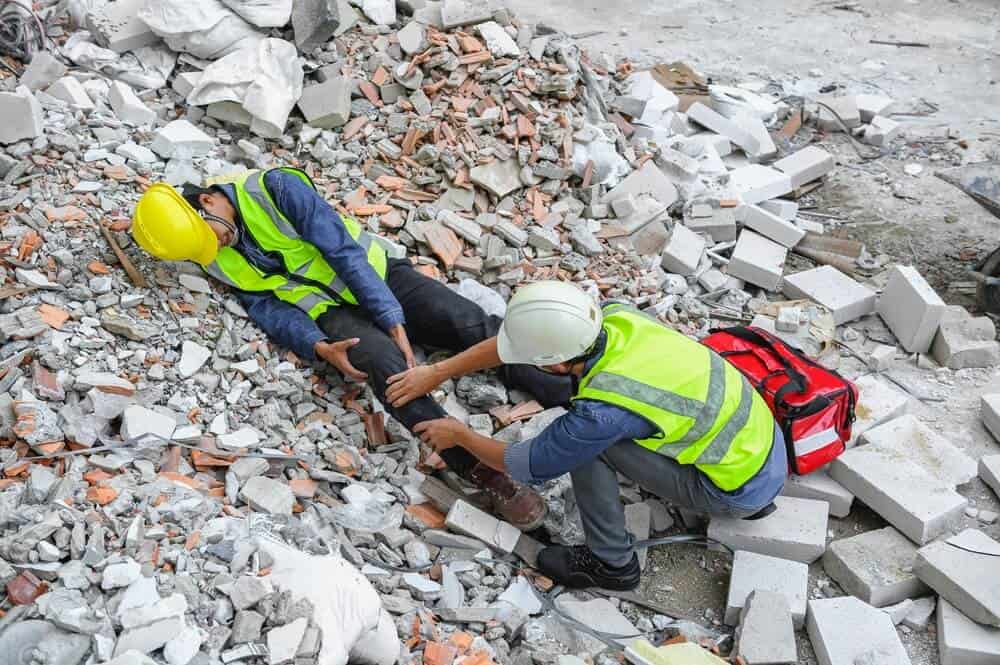 The average cost of Builders Risk Insurance varies with the total project value and the required coverage. However, for a typical $1,000,000-$2,000,000 cover, you pay from $35-$80/month depending on duration, project value, and location, among other factors.
Builders Risk Insurance is a unique form of cover because the object you're insuring has no intrinsic value before it's built. Therefore, you buy coverage for the construction materials, tools, and equipment. Moreover, you might also provide coverage for temporary buildings whose sole purpose is to serve the construction process. Coverage includes new build and renovation work and continues until the owner takes possession of the property.
How Much Does Builder's Risk Insurance Cost?
Every Builders Risk Insurance policy is unique; You buy the various policy extensions depending on what you need to insure and whether you need more or less coverage. Typically, the cost of a builder's risk policy depends on the following:
Construction materials, yet to be used.
Policy details, what coverage you need, what limitations? It's a good idea to choose the limits of coverage to be around the expected construction cost.
The length of the policy. You can often buy policies to cover three, six, or twelve months. However, if the project overruns, you can usually purchase an extension. But insurance companies will only allow you to extend once.
The type of project. For example, whether the project is a renovation or a new build.
Additionally, like all insurance policies, you also have to take into account any deductibles or endorsements. But, we'll talk about these later.
Usually, the best way to determine the appropriate coverage is to consider the finished value of the project, excluding land value. Moreover, we said earlier that the construction risk insurance policy covers an unbuilt property. Therefore, it doesn't usually reach its total value until after construction and the homeowner has signed everything off and taken possession. This means that the material monetary value at risk is significantly less than the total policy limit until the completion of the project. Therefore, it can be complicated to determine the overall policy limits without professional help. So, always speak to a specialist insurance professional to get a quote.
What Is Builders Risk Insurance?
We've touched on this question in previous sections, but to understand Builders Risk Insurance, you need to know precisely what and how it operates.
Builder's risk coverage protects a construction contractor's property, whether construction materials, tools, equipment, or anything else used in the building project. You can use it to cover new properties built from the ground up or existing properties under renovation. Usually, the policy starts when the contractor begins work on the project and ends on completion. At that time, the project becomes the responsibility of the owner to provide insurance as necessary.
We've already said that every construction project is unique. So you probably won't be surprised that there aren't any standardized policy forms. This situation might confuse the average contractor, who will assume the process is complicated and won't bother taking out a policy. But, with professional help, a well-structured Builders Risk Insurance policy can be the mainstay of managing the financial risk of a construction project.
Let's look in more detail at the risks that a typical Builders Risk Policy must cover.
The risks
Although every project and its risk policy are different, they all have similar problems that might cause damage. These hazards include:
Extreme weather such as hail or lightning.
Theft.
Vandalism.
Fire and explosion.
Vehicle collision. This includes aircraft collisions.
Other natural perils such as earthquakes, high wind, tornados, and floods. Usually, builders risk insurance companies cover these using higher deductibles or an endorsement. Even so, they are important in regions that regularly experience significant weather risks.
Exclusions
However, just like other insurance policies, there are standard exclusions to the policy. If these occur, the policy won't make a payment:
Mechanical breakdowns.
Employee theft.
Poor or faulty design, workmanship, planning, and materials.
Voluntary partings.
Contractural penalties.
War and terrorism.
It's essential to buy the correct insurance for construction companies. Therefore, don't leave this to a standard insurance broker. Instead, make sure they work with a construction insurance specialist who can handle a builder's complex coverage requirements.
Who Requires Builder's Risk Insurance?
The only person or company that requires Builders Risk Insurance are those who have a financial interest in a construction project.
Typically, you might decide to include the following people onto your policy as named insureds:
Architects.
Structural engineers.
Lender.
General contractor.
Subcontractor.
Property owner.
Once again, you should obtain professional advice before deciding.
What Does Builders Risk Insurance Cover?
Builders Risk Insurance protects a builder's (whether as a person or as a company) belongings from physical loss or damage. The belongings can be materials, equipment, tools, or temporary structures, including scaffolding. The only proviso is that they will be used or installed on this specific project. Moreover, the project can be defined as a building to be constructed from the foundations until completion. Alternatively, a renovation of an existing structure.
Often a construction project requires insurance of this kind to comply with state or federal government regulations or as a condition of a bank loan or contract.
However, a building project doesn't only use these "hard costs." There are also parts of a project termed "soft costs."
Typically, soft costs include things such as:
Architectural and design fees.
Land and real estate costs. Usually, surveying, research, lot assessment, and transaction costs.
Rental fees on hired equipment.
Bank transaction fees.
Accounting fees.
Lost sales or rental income.
Project management.
Construction insurance.
State and local taxes, and permit fees.
Health and safety consultants.
Environmental risk assessments.
Some Builders Insurance companies will also cover the soft costs of a construction project. However, you must specifically ask the insurance company to provide soft cost cover and specify which extensions fit your project. Furthermore, be aware that soft costs coverage might increase your premium.
Although this insurance might sound excessive, insurance rates as low as $35/month might protect you from a hefty lawsuit. And don't forget, although your company pays the insurance premium, you can add this overhead to the quotation you give for your work. So, in the long run, your customer pays.
Covered Losses in Policy
If you have shopped for insurance in the past, you might have noticed that some policies specify a basic coverage, while others specify a special or broad coverage. Well, the same goes for Builders Risk Insurance. So, before we go any farther, it's a good idea to understand the difference between each of these.
Basic Form Loss
Basic form insurance is a policy that only offers basic hazard or peril coverage. And these will be specified in the policy. Therefore if a peril isn't mentioned explicitly in the policy document, then you aren't covered.
Typically, named perils include:
Vandalism.
Smoke.
Fire.
Explosion.
Hail or wind.
Lightning.
Vehicle or aircraft collision.
Riot or civil commotion.
Sinkhole collapse.
Volcanic activity.
Broad Form Loss
The broad form policy is much more comprehensive than the previous policy. It includes everything mentioned previously and the following perils:
Freezing of plumbing.
Weight of snow and ice.
Falling objects.
Burglary or break-in damage.
Accidental water damage.
Artificially generated electricity.
As you can see, this policy specifies the most common of the more unusual perils. However, once again, you are only covered for the listed perils.
Special Form Loss
Finally, the most comprehensive policy is termed the Special Form. The main difference between the Special Form and the other two is that this type lists the coverage exclusions. Therefore this policy includes everything unless expressly excluded as one of the listed perils.
Because it is the more comprehensive policy, it makes sense that this is the one you should usually buy. However, the insurance company will make specific stipulations that you must adhere to for the policy to remain valid. For example, enhanced nighttime security, certain construction materials enclosed in a lockable compound, and others.
Common exclusions include:
Power failure.
Earthquake.
Flood.
Neglect.
War.
Intentional acts.
Perhaps, this shows that a Special Form policy isn't always the best one. For example, if you are working on a project in an area prone to flooding, you don't want the excluded perils to include floods.
So what do we do? Always work with a specialist insurance broker that knows about Builders Risk Insurance.
Common policy extensions
You can customize your policy to suit your project by buying coverage extensions. Typically, common extensions include:
Pollutant clean-up.
Debris removal and disposal.
Temporary structures.
Scaffolding.
Remember that you've only insured the risk for direct physical loss or damage to a specified property at a specific address. Furthermore, the damage must be a direct result of a specified peril.
What Isn't Included In The Policy?
Don't expect the insurance company to have an open-ended checkbook. It will only pay for the loss or damage to the limit of the insurance cover that applies. For example, if you have your company sign damaged or stolen, the policy will only pay a maximum of perhaps, $3000. However, you must also consider that the damages paid out must accurately reflect the value of the items, materials, and labor costs before the damage. Moreover, the project construction budget and bill of quantities are probably the best places to find this information.
You'll also find that you have to specify the start and end date of the project. Furthermore, you won't have coverage for losses outside these dates, and you shouldn't expect any compensation. However, we all know that construction projects run behind schedule, sometimes by up to 6 months or more. Therefore, the insurance company will allow an extension to the project duration. But usually only one extension per project.
Specific exceptions to the policy
Before going any further, we must understand some definitions as used in the insurance policies.
Land & water
Land specifically means any land beneath the covered structure.
Water refers to all water sources on the premises.
Vegetation
Trees, plants, lawns, or shrubs, usually found in a garden. The exception here is for vegetated roofs.
Towers and masts
Television, radio antennas, satellite dishes, and masts or towers and cables connecting inside the house.
Exclusions to coverage
All loss coverages are usually subject to the following exclusions:
Damage due to mold, fungi, mildew.
All types of earth movement. This includes mudslides, mudflow, and earthquakes. Usually, there is a limited cover for damage due to volcanic action.
Action by the government or a government agency. There is no cover if the government damages a property. The exception here is if the damage was due to stopping the spread of a fire.
Any increase in the cost of damage or loss because the structure must be altered or torn down to comply with a building code, ordinance or law is excluded.
Any water damage, especially that caused by flood, sewers drains, and wind-driven rain.
How To Find The Right Builder's Risk Insurance
Finding the correct Builders Risk Insurance is essential. There are plenty of extras to choose from, and it's up to you to choose the right ones. This isn't as difficult as it at first seems; You should first do a thorough risk assessment and then see which options are available.
As you consider each insurance, you should consider:
What are the common risks associated with my work?
Does this insurance cover a situation I might expect to happen during a typical day at the specified time of year?
Am I legally bound to have this insurance? Perhaps by a state or federal regulation.
Does the company or person financing the project require me to hold this insurance?
If you need help with any part of this, work with a qualified Builders Risk Insurance broker. Preferably, find a broker who is licensed to work for multiple insurance companies. These are known as independent agents and will probably find you the best possible insurance rates.
Above all, you should consider the extent of the coverage you require. To help you with this, we'll look at some typical types of insurance policies.
General Liability
This policy pays claims when you have an injured customer, vendor, or employee. Bear in mind the injury might be physical or financial. Many financial claims come about because of shady advertising practices.
Workers Compensation Insurance
This insurance protects from claims by employees who might suffer a work-related injury or illness. It pays out for all medical and related expenses, a percentage of the employee's lost wages, rehabilitation costs, and whether the employee suffers permanent disability.
Product Liability Insurance
This policy pays for claims arising from defective products. Usually, these defects are caused by poor design, manufacturing defects, or inadequate warnings and instructions.
Commercial Property Insurance
This policy covers you for damage to your business property. It protects the building, your stock inventory, your equipment, and your tools. The payment allows you to replace items lost in a natural disaster.
Business Owners Policy (BOP)
This policy helps small, low-risk businesses. It simplifies things by combining General Liability with Business Income and Commercial Property Insurance.
Commercial Auto Insurance
This policy covers your vehicle when used for business purposes. The limits depend on whether you use a truck, pickup, or a car for business use.
Commercial Umbrella Policy
This policy covers you for claims over your general liability policy limitations.
Property Coverage For Builder's Risk Insurance Policy
A basic Builders Risk Insurance policy provides your company with property coverage for buildings that you are constructing. Suppose you are a builder or someone who owns commercial property. In that case, you might face significant financial loss if anything goes wrong while constructing the structure and you don't have the correct insurance.
This type of policy helps to protect you against loss or damage to:
Buildings you are working on. This includes temporary structures such as sheds and lockable storage containers, fencing, and scaffolding.
All construction materials used on the project, whether installed or not.
All tools and equipment used on the project and included in the policy. They are also covered when in transit to or from the site.
All construction signs.
Trees, plants, and shrubs on the project site.
Remember that the amounts paid out will not exceed the policy limits.
Builders Risk Endorsements
Builders risk endorsements are available for the insurance company to modify the Insurance Services Office Coverage Form. The endorsement includes a form number, title, and a brief explanation.
Form numbering
The Insurance Service Office (ISO) forms have a numbering system with a specific meaning.
The first two characters are alphabetical and indicate the relevant type of insurance. In the case of "Commercial Property," the characters will be CP.
Next, the following two digits show the insurance category.
Then, the next two digits are the form or endorsement number to expand the insurance category.
Finally, the last four digits denote the edition date expressed in the format of month and year (mmYY).
Builders risk endorsements
Builders risk insurance policies usually include clauses specifying safeguards and warranty endorsements that the insureds must implement. It's a way for the builders to minimize the insured risks and protect the property during the construction phase. The insurance will only remain valid while they maintain the endorsements.
The specific protective endorsements and safeguards are unique to the project. Typically, endorsements will be under standard headings, but the actual contents of each will be unique to the project.
Protective Safeguards and Services Endorsement.
Protective Safeguards Earrenty Endorsement.
Security and Protective Device Provision.
Protective Safeguard Endorsement.
Protective Measures & Safeguards Endorsements.
Compare Builder's Risk Insurance Quotes
Suppose you own a construction or building renovation company. In that case, you must have insurance to cover you and your company in the event of a claim by an employee, a customer, or supplier. The claim might be for damage to property, financial or bodily injury.
Insurance companies have designed Builders Risk Insurance for this eventuality. However, it can be complicated to cover all the parts of your project if you aren't a professional broker specializing in this type of insurance.
Complete the form on this page, and you will receive up to four quotes from brokers and agents experienced with designing Builders Risk Insurance policies unique to every project.