Whether you're a self-employed arborist or own a tree service company, insurance can protect your business (and yourself) in case of mishaps.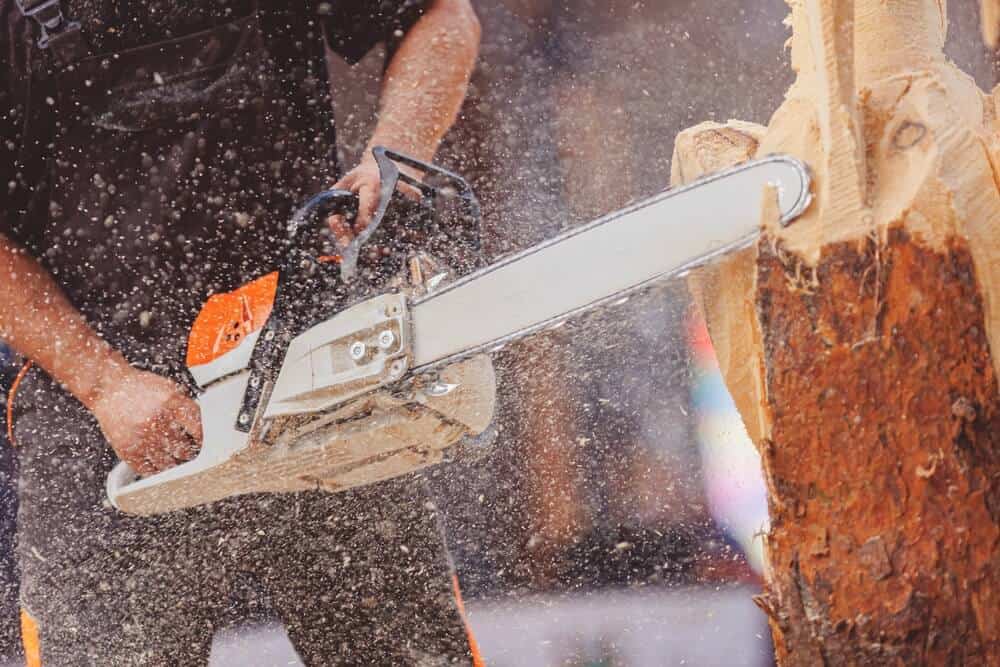 The average monthly cost of tree service insurance ranges from $42 to $371 per month, depending on coverage. Basic general liability insurance is the cheapest, but it only protects against third-party (non-employee) bodily injury or property damage claims. An inclusive policy is more expensive but also covers poor service claims, your vehicles, equipment, and more.
Tree Service Insurance Cost Breakdown*
The price of your tree service insurance policy is determined by various factors, but the most important is the type of potential claims it covers.
The table below shows the various types of tree service insurances and their average prices*:
| Insurance Type | Recommended Coverage Limit | Avg. Cost (Monthly) |
| --- | --- | --- |
| Commercial general liability | $1,000,000 | $42 |
| Professional liability | $1,000,000 | $26 |
| Commercial property insurance | $100,000 | $63 |
| Commercial auto insurance | $1,000,000 | $142 |
| Worker's compensation  | $100,000 | $75 |
| Business equipment protection | $5,000  | $23 |
| Total Monthly Cost (avg.) | - | $371 |
*Average monthly costs in the table are based on quotes and information provided by major insurance carriers. These figures are correct as of October 2022 and are intended to use as a reference only. Insurance companies calculate accurate rates and provide businesses with custom quotes based on their unique circumstances.
Commercial General Liability Insurance
Whether you're a one-person business or run a large tree service company, commercial general liability is the minimum type of insurance you need.
This insurance type covers bodily injury and property damage done to others by you (or your employees).
For instance, if a branch you're cutting falls accidentally on your customer's car, this type of insurance covers the damage. Likewise, it covers any injuries your client or a passerby suffered due to your negligence.
In most cases, it also covers personal and advertising injuries, which are claims competitor companies can make if they feel your advertising has damaged their reputation.
The minimum recommended coverage is $1 million, with monthly costs starting as low as $28, depending on the carrier. On average, you can expect to pay around $42 per month.
Professional Liability Insurance
Also known as malpractice or errors and omissions (E&O), it protects you against customers that claim you gave poor advice.
For instance, if a customer is initially happy with the work but then claims that your tree job was poorly done, or that you chopped a branch that shouldn't have been cut, professional liability insurance investigates and ultimately covers their claims.
This type of coverage is typically cheaper than general liability – around $26 per month for $1 million in liability.
Commercial Property Insurance
Whether you own or rent your business premises, commercial property insurance is another coverage type to consider.
This insurance type protects the building and its contents from damage and loss, including due to fire and theft.
When calculating the coverage limit, you should consider the building value and the value of all contents, including equipment, electronics, furniture, etc. There is no minimum limit requirement, but you should get coverage of at least $100,000.
For this amount, the average monthly cost is $63. Higher limits translate into higher premiums.
Commercial Auto Insurance
Commercial auto insurance covers your car or truck used for business purposes.
If you own a single vehicle used for both business and personal purposes, commercial auto insurance can still cover it during business hours.
The main difference between commercial auto and personal policies is that the former has higher limits and covers both the vehicle and damage or injury liabilities incurred to third-parties.
Most commercial auto insurance policies have limits up to $1 million.
However, a limit of only $200,000 is typically enough to cover the needs of a one-person business and comes with lower premiums – around $34 per month.
Comparatively, a policy covering $1,000,000 in liability costs around $142 per month, on average.
Worker's Compensation Insurance
General liability insurance covers third-party bodily injury and property damage, but it doesn't cover your employees.
If you employ people, worker's compensation covers you against claims by employees who suffer work-related injuries or illness.
Worker's compensation is federally mandated for all businesses that employ people. It may not be mandatory in some states if you are the only employee.
Nonetheless, it is still strongly recommended to have it. Costs fall in the $75 range for coverage up to $100,000.
Business Equipment Protection
A tree service business relies heavily on tools and equipment. Thus, protecting your assets with business equipment protection is a wise idea.
This policy type usually covers your equipment when not on premises. For instance, during transit from your yard or storage facility or while on the work site.
Coverage typically varies from $1,000 to $5,000, with the upper threshold adding around $23 per month to the overall insurance costs.
When adding it all up, tree service insurance costs $371 per month, on average. However, the actual price can vary from carrier to carrier and is based on specific conditions.
In broad lines, you can expect to spend anywhere between $1,500 and $5,000 per year.
---
Tree Service Insurance Pricing Factors
Insurance prices can vary from provider to provider.
However, there are a few factors that all insurance companies consider when calculating a quote:
Coverage Needs
How much coverage and the types of insurance you need are the primary factors that weigh in the final quote.
While there aren't any federal laws requiring tree service professionals or companies to carry insurance, you should have at least general liability and worker's compensation.
Additional options like commercial auto and commercial property insurance, business equipment protection and professional liability will drive premiums up.
Claim History
The next most important thing insurance companies consider when calculating a quote is your history.
Your premium will be higher if you've made multiple claims in the past.
If you're a sole proprietorship, the insurance company may also count any personal claims you made when calculating the insurance cost.
Company Size
General and professional liability insurance are also influenced by the number of employees you have.
Large companies that employ multiple professionals are seen as higher risk and generally have to pay more in insurance.
However, small companies aren't necessarily advantaged. If you haven't traded for a long time and had no previous experience as an arborist, the insurance company may still see you as higher risk.
Business Location
Your business location also plays a crucial role in determining the insurance premium. Tree service companies in areas prone to extreme weather are seen as higher risk.
Not only can tornadoes, severe storms, or floods damage your business premises, vehicle, or equipment, but your customers are also more likely to file claims against your work if adverse weather causes damage to their trees after you've trimmed them.
Annual Income
As a business owner, you may find it odd that the insurance costs go up as your business develops.
However, the reason is related to the business size mentioned above: the more employees you have, the higher the risk of running into trouble.
Some insurance companies may not require you to provide employee records, but use the income instead to measure the size of your business.
Credit Record
Your credit record also helps insurance providers calculate risks.
Most carriers consider payments made to credit cards, loans, but also whether you had an insurance policy canceled before or if you had troubles paying the installments.
Deductible
Insurers may also give you the opportunity to include a deductible in your policy. A deductible is a limit you agree to pay from your own pocket before the insurance company steps in and covers the rest.
With a $0 deductible policy, you don't have to cover anything from your own money. However, these insurances are the most expensive.
As a general rule, the higher the deductible, the cheaper the premium will be. Yet, you should never agree to a deductible you can't actually cover, or you could run into trouble in case of an accident.
---
What's Included In A Tree Service Insurance Policy?
A basic tree service insurance policy usually includes general liability alone. This policy type covers property damage and bodily injury caused to third parties (customers or customers' property).
Some insurance providers also include personal and advertising injury in the tree service insurance package, which covers competitors' claims against trademark infringement or similar offenses.
Product completed operations is another coverage type that could bundle up with the general liability policy.
This insurance protects against work done incorrectly or customers that claim you haven't addressed their concerns.
However, tree service insurances don't normally include professional liability, commercial auto insurance, worker's compensation, business equipment protection (inland marine insurance), commercial property insurance, or interruption of business.
While all agents enable business owners to bundle up all these insurance types, you'll essentially pay for all these coverages separately.
---
What Are The Risks For Tree Service Companies?
There are many risks and hazards associated with the tree care industry. Some of them regard your customers while others can affect you or your employees.
Falling and electrocution are two of the main risks for arborists. Cases of tree trimmers struck and crushed by tree limbs or sections are also frequent.
Damaging your customer's property can also happen while trimming trees near a building. Moreover, a falling limb or tree section could injure your customer or a passerby.
Road accidents and other transportation problems can affect your vehicle. Theft and burglary could damage your commercial property or leave you without tools and equipment.
Fire hazards and environmental risks are other things to account for.
A comprehensive tree service insurance policy can mitigate all these risks and help you recover your losses.
---
Types Of Coverage Required
Technically, your tree service company isn't legally required to have any type of insurance unless you employ people.
In this case, it is federally mandated for your business to have workers' compensation, unemployment, and disability insurance.
Some states may also require businesses in their jurisdiction to have general liability insurance, so you should check the local regulations before deciding which insurance type is mandatory for your business.
Additional Considerations
While most self-employed arborists aren't legally required to have insurance, your potential customers could refuse working with an uninsured business.
This happens due to the risks associated with tree trimming and removal services.
To stay on the safe side, you should opt for at least general liability, professional liability, and business equipment protection.
---
Tree Service Business Industry Classification
If you want to establish a tree service business but haven't registered your company, you should make sure your business is classified properly.
SIC and NAICS codes can influence premium calculations, and so can the suggested ISO general liability and worker's compensation codes.
Tree service businesses fall in the following classes:
SIC

: Code 0721 Crop Planting, Cultivating and Protecting or 0783 Ornamental Shrub and Tree Services

NAICS

: Code 561730 Landscaping Services

Suggested worker's compensation code

: 0106 Tree Pruning, Spraying, Repairing – All Operations & Drivers

Suggested ISO general liability code

: 99777 Tree Pruning, Dusting, Spraying, Repairing, Trimming or Fumigating
---
What Next?
General liability and worker's compensation are the minimum insurance types for a tree service business. However, you should also consider professional liability, commercial property and commercial auto insurance, as well as business equipment protection and – eventually – umbrella coverage.
Fill in the form on this page to compare tree service insurance quotes and find the best policy for your business.
Related Posts
General Liability Insurance Cost: 2023 Price Comparison
Top 7 Best Workers Compensation Insurance: 2023 Comparison