Box trucking offers excellent lucrative opportunities to enthusiast drivers with or without a commercial driving license.
Whether you have a CDL or not, the vehicle still needs insurance.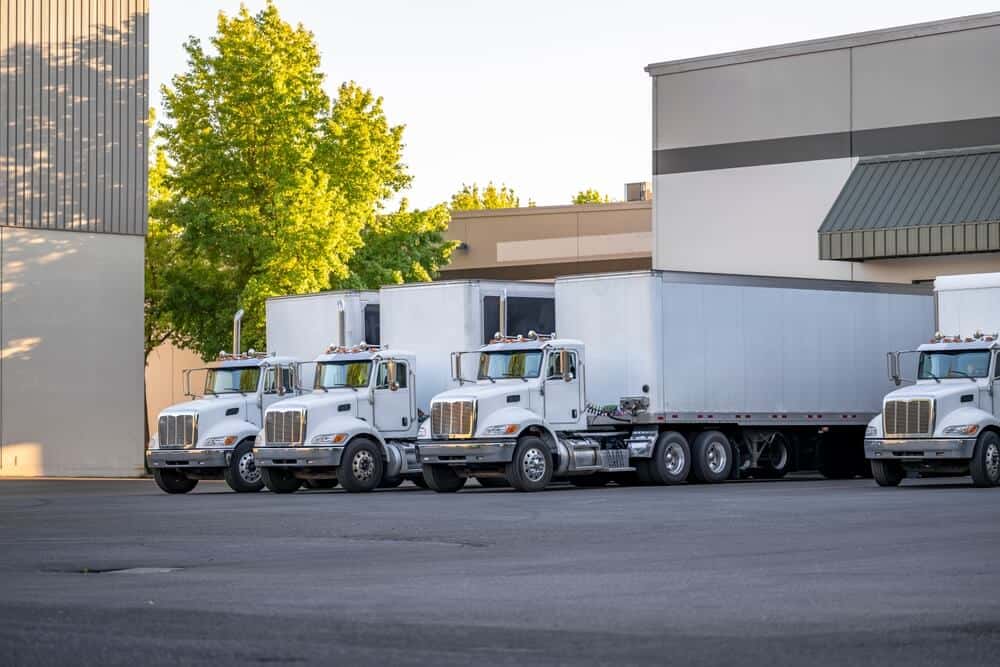 The average monthly cost of box truck insurance varies from $415 to $475, depending on the truck size. However, this amount only includes primary liability coverage. A policy including primary and general liability, cargo insurance, physical damage, collision, and occupational accident coverage typically costs over $1,000 per month. Nationwide, average premiums land around $12,400 to $17,900 per year.
How Much Does Box Truck Insurance Cost?*
The cost of insuring a box truck varies widely depending on the truck size, claim history, business size, cargo type, and a variety of other factors.
Non-CDL box truck insurance is often more expensive because of the higher probability of getting involved in an accident.
The table below shows a comparison of various coverage types for box trucking*:
| Coverage Type | Minimum Coverage | 16 Foot Box Truck | 26 Foot Box Truck |
| --- | --- | --- | --- |
| Primary liability | $750,000 | $415/month | $475/month |
| General liability | $300,000 (recommended) | $41/month | $50/month |
| Cargo insurance | $100,000 (recommended) | $250/month | $250/month |
| Physical damage | No minimum | 6.5% of truck value | 6.5% of truck value |
| Non-trucking liability | $100,000 (recommended) | $30/month | $90/month |
| Occupational accident | $300,000 (recommended) | $130/month | $130/month |
*The figures in the table are industry averages calculated based on quotes received from popular insurance carriers. They are correct as of October 2022 and are intended to use as reference only. Accurate quotes are provided by insurance carriers for each individual business and can be lower or higher than the amounts mentioned above.
Mandatory Box Truck Insurance
Whether or not you have a CDL and registered business or lease your truck to a transport company, the primary liability coverage is a federal requirement for all trucks with a gross weight above 10,001 pounds.
The minimum primary liability coverage required by the FMCSA is $750,000, unless you operate a truck lighter than $10,001 pounds.
In this case, the FMCSA may require commercial automobile coverage depending on the type of cargo you're hauling, with a minimum of $300,000.
Cargo insurance is also mandatory if you're hauling household goods or hazardous freight.
The minimum coverage for cargo is $5,000 per vehicle and $10,000 per occurrence. However, a minimum of $100,000 is recommended if you have a larger truck.
Additional Coverage Options
Primary liability insurance covers physical damage and bodily injury caused to other people and vehicles by you. It is an essential coverage to have in accidents that are your fault.
However, this insurance typically doesn't cover damages to your truck or truck driver injuries.
These are covered by physical damage and occupational accident insurances. Both coverages are add-ons to the required primary liability.
Occupational accident insurance typically covers medical expenses or gives a reimbursement to the driver's family in case of death. The cost varies based on the desired coverage, with an average of around $130 per month.
Physical damage coverage prices are not as straightforward. They are typically calculated as a percentage of your truck's replacement value and can vary from 3% to 10%, depending on truck age and driver's claim history.
Physical damage insurance covers most types of damages and theft, but it may not cover road accident damages. In this case, your carrier may propose collision insurance.
Non-trucking liability is another common add-on, covering you in case of accidents happening while driving the truck during non-working hours and for personal purposes.
Average monthly prices vary from $30 to $90, depending on truck size and various other factors.
General liability insurance is not mandatory, but you may want to consider it if you're a business owner hiring drivers.
This insurance type is different from primary liability and covers you in case of accidents that happen off the road, such as an employee injuring themselves at the headquarters.
When adding up all these types of insurance, except for physical damage, you can expect to pay around $866 per month for a 16 foot box truck or $995 per month for a 26 foot truck.
To this amount, you should add 6.5% of your truck's replacement value to calculate an approximate insurance price.
Box Truck Insurance Price Factors
Getting the cheapest commercial box truck insurance is often a matter of summing up various factors.
Here's what you should pay attention to.
Truck Age
One of the primary factors insurance carriers consider when calculating a quote is your truck or fleet age.
Old trucks are more likely to run into troubles, and they come with higher insurance premiums.
Carriers may also favor certain makes and models – based on experience, they usually know which trucks are more likely to have fabrication defects that could lead to accidents.
Typically, the newer the truck, the lower the premium. If possible, avoid using trucks older than 10 years.
Truck Weight
As highlighted in the comparison table above, smaller trucks come with lower insurance premiums.
This is because larger and heavier trucks are considered riskier since they are harder to maneuver.
Heavier trucks are also more likely to haul dangerous cargo; insurance providers account for all these risk factors and reflect them in the final price.
Driver's Experience
Another crucial factor is the driver's experience. However, hiring a driver with experience in the industry might not suffice if they have worked in a different state or covered different routes.
Insurance carriers also consider the experience the driver has on a specific truck type. Their familiarity with the route and equipment also factor in.
To keep insurance prices low, hire drivers that have worked on the specific truck model before and that are familiar with the routes you want to cover.
Driver's Age
Regardless of the driving experience, another factor to consider is the driver's age.
Statistics from the U.S. Bureau of Labor show that older drivers with an age between 55 and 64 years are more likely to get into accidents.
Similarly, insurance carriers charge higher premiums for young drivers who don't have sufficient road experience.
Typically, hiring drivers between 30 and 55 years of age can help keep insurance costs low.
Previous Coverage History
Insurance providers also check the previous coverage history and increase the premiums for customers that filed numerous claims in the past.
But that's not all that carriers check.
You may also pay more if you weren't diligent in making monthly payments in the past or if you had a policy canceled because of payment issues. Some providers may even refuse to insure your truck.
Years Of Operation
Operating for a number of years under the same name can also help keep insurance costs low.
Providers see established businesses with a proven track record and good coverage history as lower risk compared to a new business.
Route Locations
Where you operate is another factor that influences the premium. Insurance in some states are simply cheaper than others, while some routes are considered lower risk.
For instance, box truck insurance is cheaper in Georgia than Florida. However, within Georgia, routes in rural or small urban areas are lower risk than routes in metropolitan areas.
Cargo Type
The nature and value of your cargo also weigh in when calculating insurance premiums.
Very expensive or potentially hazardous freight costs more to insure than non-hazardous and cheaper cargo.
Safety Features
The existence and type of safety features in your box truck can determine the insurance cost, too.
Some features that can lower the quote include:
Blind-spot monitoring

Smart cruise control

Automatic emergency braking system

Air disk brakes

Lane-departure warning

Electronic stability control

Forward video monitoring
DOT Safety Record
Owner operators and companies also have a DOT safety record which basically includes Safestat and inspections, ISS-2 scores, violations, and more.
Insurance carriers can check this record and charge a higher premium if any violations have been recorded.
State Regulations
While the only type of federally mandated insurance is primary liability – and cargo coverage if transporting household goods or hazardous materials – state regulations may require additional coverage types.
For instance, your local regulations may require mandatory cargo insurance or general and occupational accident liability. All these add up to the premium.
Deductible
When concluding an insurance policy, most providers give the option of including a deductible. This is an amount you agree to cover from your own pocket in case of an accident.
The insurer then covers anything that exceeds the deductible amount up to the agreed insured limit.
The more deductible you can afford, the cheaper your box truck insurance will be. However, you should only agree to a deductible that you can actually afford if the worst happens.
Payment Preferences
Another factor that influences insurance costs is your payment preference.
Most carriers give you the option to pay upfront or in installments. Upfront payments almost always benefit from discounts.
What Is Box Truck Insurance?
Box truck insurance is a type of commercial automobile insurance designed specifically for owner operators and transport companies transporting cargo using a box truck.
This insurance type applies to all box truck categories and classes.
Types of Box Truck Insurance Uses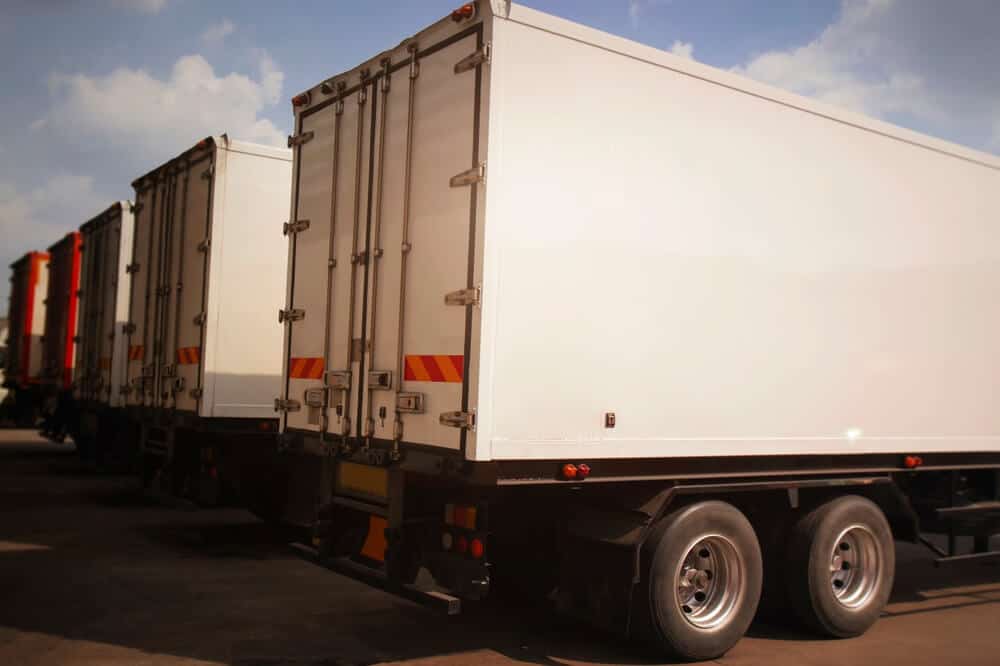 Owning an insured box truck comes with numerous lucrative opportunities.
Some box truck insurance uses include:
Box Truck Insurance For Amazon Relay
Amazon Relay is a program that gives truck owners and companies the possibility to transport loads for Amazon marketplace without limiting the alternative use of the vehicle.
Aside from primary liability, box trucking for Amazon Relay requires the following coverages:
Commercial general liability of at least $1 million per occurrence and $2 million in aggregate

Auto liability of at least $1 million per occurrence

Trailer replacement coverage of at least $50,000

Cargo coverage of at least $100,000

Employer liability of at least $100,000 per occurrence

Worker's compensation insurance – no minimum required
Owner Operator Insurance
Primary liability covers owner operators if they cause an accident.
However, you should also consider other insurance types, such as:
Physical damage

Medical payments

Downtime

Underinsured or uninsured motorist insurance

Truck cargo

Non-trucking liability
Rental Insurance
Like owner operators, companies that rent out their box trucks should consider specific insurance types such as:
Rental with downtime

Rental reimbursement

Damage waivers

Supplementary liability insurance

Auto tow protection

Personal accident and cargo protection
Renting Out Box Truck Insurance Requirements
If you want the benefits of an owner operator but don't have your own box truck, renting the vehicle is a valid alternative.
Before signing a lease contract, however, you should make sure the truck comes with the following types of insurance:
Supplementary liability

: This insurance type adds up to the mandatory primary liability, covering extra costs that the primary liability alone might not be able to cover in case of an accident.

Cargo coverage

: Reimburses your client's losses if their cargo has been damaged or lost during the trip.

Limited damage waiver

: This insurance covers damages or loss of the rented truck.
Next Steps
Box truck insurance prices vary based on truck size and age, driver's age and experience, claim history, and additional factors.
Fill in the form on this page to compare box truck insurance quotes and get the cheapest deal.
Related Posts
Hot Shot Truck Insurance Cost: 2023 Coverage Comparison