Specifications
Area: 2,300 sq. ft.
Bedrooms: 3
Bathrooms: 2
Stories: 1
Garage: 0-2
Welcome to the gallery of photos for a single-story, three-bedroom house. The floor plans are shown below:
Floor plan: main level
Floor plan: main level with basement
Floor plan: main level with garage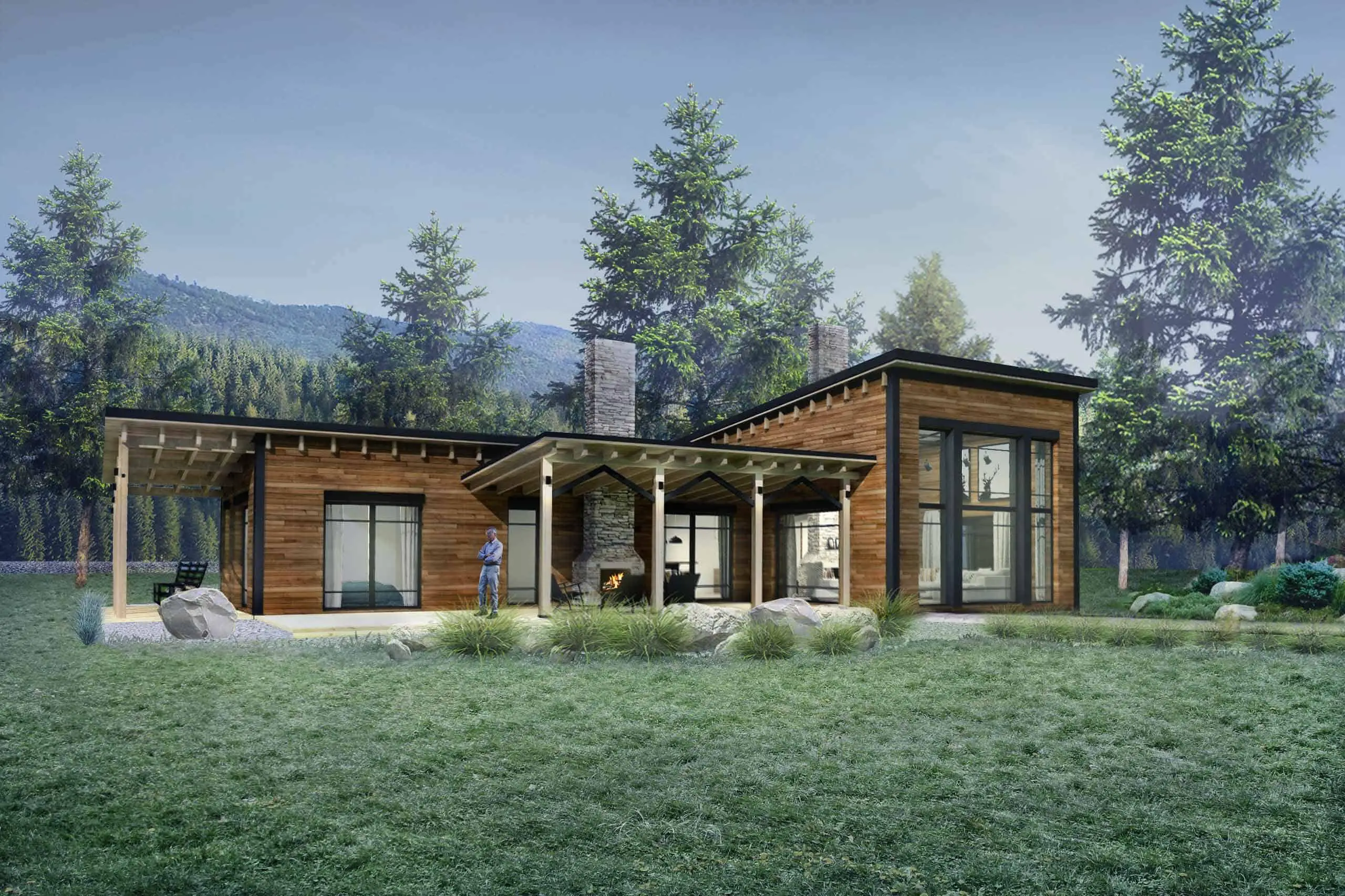 Front view of 3-bedroom house.
Front view of the house featuring covered porches and sloping rooflines adorned with exposed rafter tails.
Rear view of the house highlighting the angled layout of the covered porch.
Sketches depicting the elevation of a modern 3-bedroom cabin style single-story home.
Sketches depicting the elevation of a modern, single-story, 3-bedroom cabin-style home with a gable roof.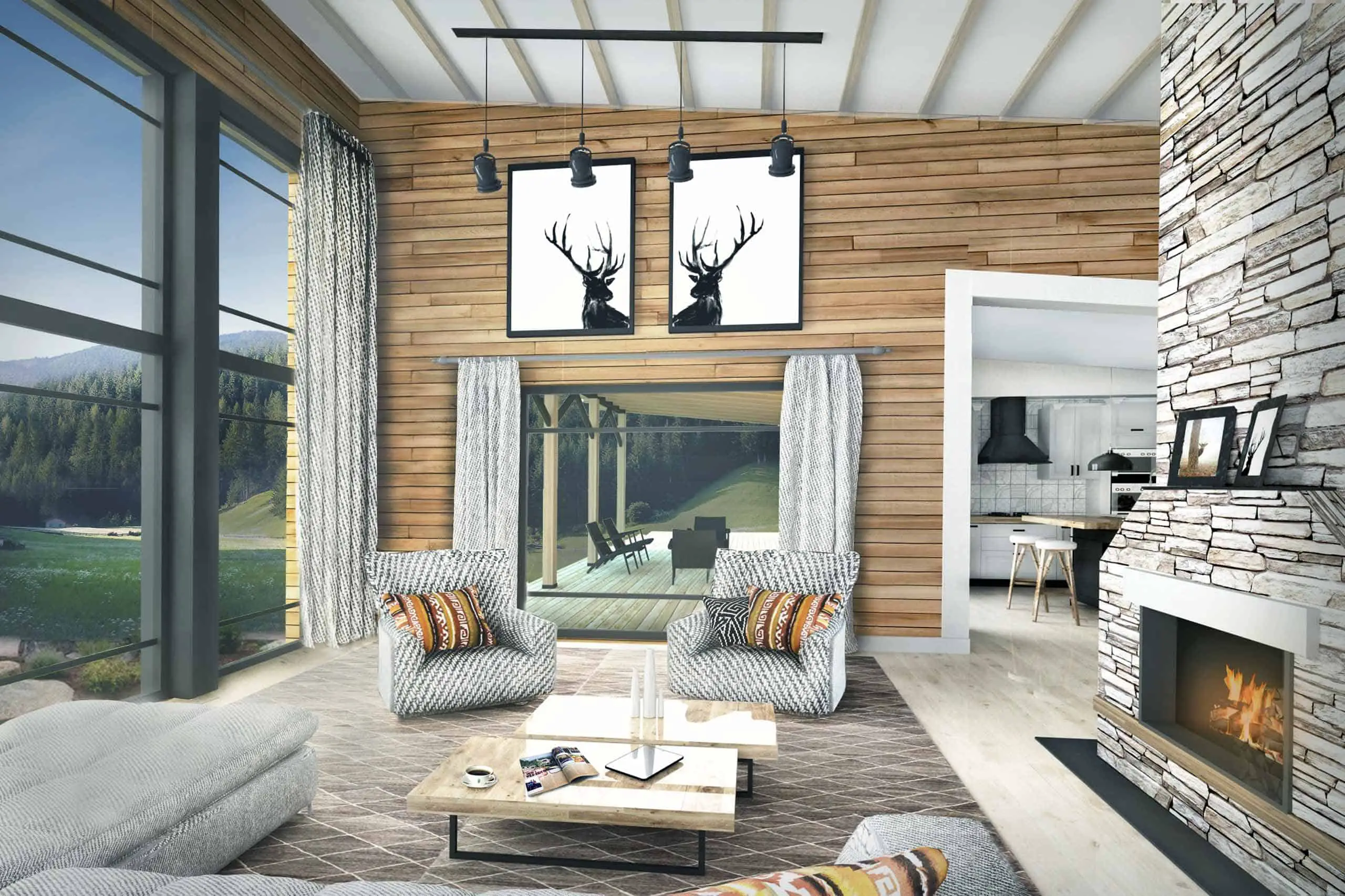 The living room features gray seating, wooden coffee tables, and stag artworks that embellish the wood plank wall.
The dining area is adorned with a modern dining set, complemented by an oversized dome pendant hanging above it.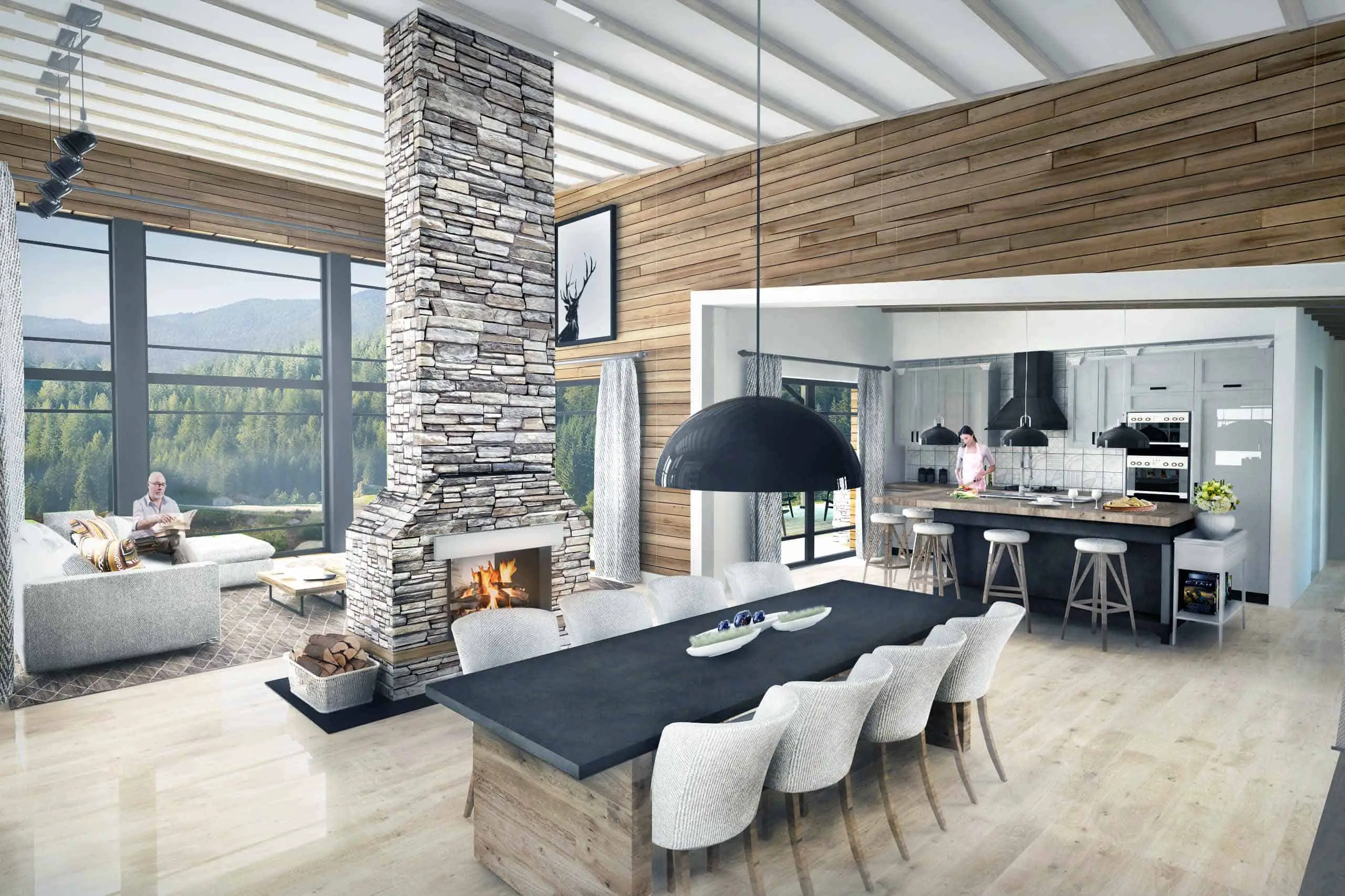 The open layout reveals a seamless integration of the kitchen, dining, and living room, accentuated by a double-sided fireplace.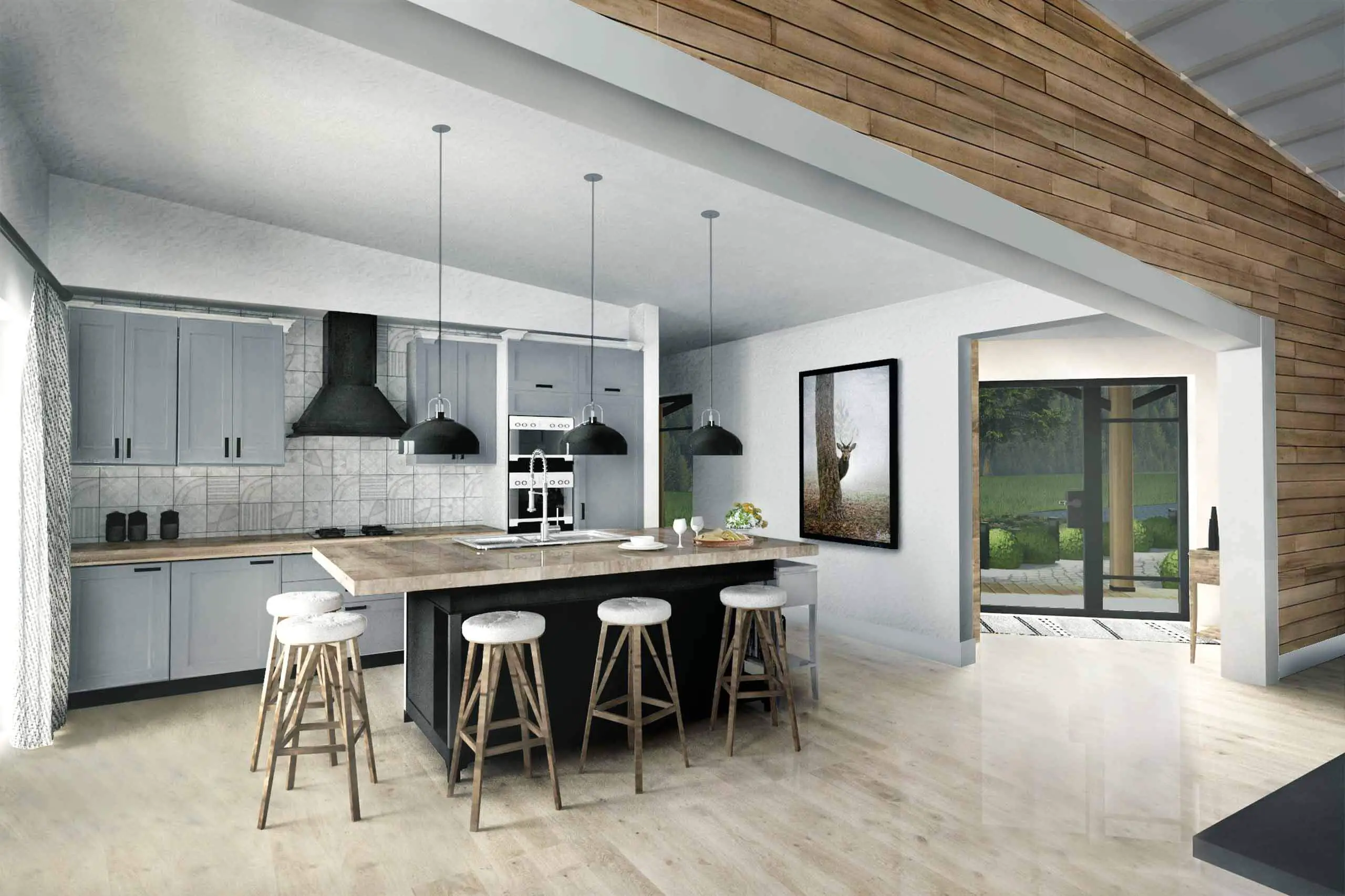 The kitchen boasts stylish gray cabinets, complemented by elegant wooden countertops. A central breakfast island is surrounded by sleek round bar stools, creating a welcoming and functional space.
The home office features a spacious desk for productive work, accompanied by comfortable gray seats; a built-in bookcase serves as a stylish divider separating the office area from the living space.
The primary objective of this house design was to craft a visually pleasing and contemporary residence that simultaneously prioritizes sustainability and energy efficiency. Additional insulation on the exterior walls contributes to its energy-saving features.
The modern cabin style is beautifully manifested through the seamless integration of indoor and outdoor spaces.
Expansive windows invite the outside scenery to gracefully permeate the open floor plan, while the lofty ceiling ensures abundant natural light fills every corner.
The heart of the home lies within the spacious living room, where a captivating fireplace serves as a sculptural centerpiece.
With a thoughtful layout, this home strikes a perfect balance for a family.
The master suite enjoys a private setting, distanced from the other bedrooms and entertainment areas. It boasts its own walk-in closet, bathroom, and a secluded master porch for moments of personal retreat.
The generously sized kitchen seamlessly connects with the dining area and the great room, offering a delightful space for gatherings.
The main porch, adorned with an outdoor fireplace, provides an ideal setting for enjoyable BBQ sessions.
Secondary zones, including a utility room and storage, are conveniently positioned at the far end of the house, allowing for easy expansion if desired.
Source: Truoba Class 115