If you want to open a barbershop, it can be a profitable business venture. However, with over 100,000 barbershops in the USA, you'll want to consider costs, local competition, and local demand before you get started.
Starting a barbershop can be a low-cost way to get into entrepreneurship. At the same time, it may take years to pay off.
The average cost of opening a barbershop in the United States is $50,000+. If you lease a building, hire cheaply, and budget your bar and supplies, you can start a shop for relatively cheap prices. However, you could also build your barbershop, invest in high-end interiors, and stock a large inventory, which could raise costs to well over $1 million.
How Much Does It Cost To Open A Barber Shop?
The startup costs for opening a barbershop can vary considerably based on location. Here, you're most likely best off renting an existing building. This guide assumes that you do, if not, you should cost out building a shop separately.
Here, your largest cost will normally be rent. In addition, you may want to have capital on hand to cover the first 3-12 months of employee salaries.
Inventory
Barbershop inventory includes goods that you use and sell to the customers. This includes shampoo, conditioner, bleach, dye, shaving powder and cream, aftershave, cologne, etc.
In many cases, you can reduce the total cost of this inventory by partnering with a supplier. However, depending on your region, you may not be able to do so because competitors have or there might not be enough demand in your area.
Therefore, it's important to reach out to hair product brands you would like for your shop to see if they offer affiliate or partnership and sponsor discounts.
Disinfectant

Strips

Capes

Clippers + Accessories

Trimmers

Shavers

Brushes

Combs

Hair shears (for thinning, blending, clipping)

Razors

Hair clips

Hair grips

Blow dryers

Spray bottles

Dusters

Talc

Shaving gel

Aftershave

Styling products
In either case, you'll probably spend between $5,000 and $15,000 on these types of supplies up front.
Electronics
Electronics can vary a great deal depending on how you set up your barbershop. For example, you may choose to have televisions as entertainment and you might need them now.
The following table covers many of the common types of electronics you might consider as a barbershop.
| Electronics | Cost |
| --- | --- |
| Hair Dryers  | $100+ (each) |
| Cash Register/Point of Sale | $300-$5,000 |
| Sound System | $400+ |
| TV(s) | $250+ each |
| Blowers  | $100-$5,000 each  |
| Phone Lines | $150+ |
| Computer | $500+ |
| Security System  | $400+ |
Licensing and Business Registration
Barbershops in the United States need a license to operate. This includes the following:
| License | Cost |
| --- | --- |
| Retail and Seller Permit  | $0-$100 depending on state  |
| Resale Permit  | $0-$100 depending on state  |
| Barber License  | $100-$150 depending on state  |
| Use and Occupancy License  | $50-$4,000 depending on city |
| Cosmetology Salon License  | $40-$150 depending on state  |
Of course, you'll also have to register your business, apply for an Employer Identification Number, etc. However, it is free to do so in every state, because you do so with the Federal Government.
Unfortunately, most cities charge their own local rates for a use and occupancy license.
In most cases, you can expect it to hover around $150. However, many cities charge based on square footage or other factors.
You might also pay extra if you are setting up on a very busy or popular street.
Insurance
Insurance is an important part of running a business. As a barbershop, you'll want several types of insurance.
Some of these are mandatory and others are not. However, requirements vary per state:
Public liability insurance – Protects you in case of client injury or damage to property
Professional indemnity insurance – If your client decides to sue the barbershop
Employers' liability insurance – This is required by law if you have employees
Business building insurance – Protects the premises. However, if you have a lease, it may already be covered
Business interruption insurance – Covers your business in case of flood, fire, or other disruption
In some cases, you'll have to look for individual insurance policies. In other cases, you can contact a provider and they will put together a package for your type of business.
Often, this will include a discount. However, you should always shop around to find out.
In most cases, you'll pay $50-$250 per type of insurance you have, or about $200-$400 per month total.
Lease
You'll almost always have to commit to a lease for a minimum of one year to get started.
Often, that will mean putting down a deposit or paying the full year of rent upfront. Here, rates will vary significantly depending on location.
However, on a national level, you can expect to pay $23+ per square foot. In a busy mall, though, you could pay as much as 5 times that.
So, costs will vary quite a bit based on a specific location, the value of the area, and expected foot traffic. On average, you can expect to pay at least $1500 per month for rent.
Marketing
Marketing is an essential part of starting any business because you have to ensure you have foot traffic from day one.
For barbershops, that means setting up a website (e.g. Shopify and similar solutions start from around $14 per month), local advertising, and merchandising.
This means creating signs, using digital ads to point people to your shop, and using campaigns to direct people to the new barbershop.
Interior Design
Good interior design includes paint, signage, banners, seating, and cutting areas. You'll want a mix of lounge areas for waiting, amenities (such as coffee and other drinks), spaces for barbers to cut hair, and toilets.
These costs can vary quite a bit based on how and what you do with the interior. However, you can expect costs to range between $5,000-$25,000+.
Opening Barber Shop Price Factors
The most significant factor in the cost of opening a barbershop is usually location.
However, other factors, like whether you decide to lease or build new can also be extremely influential on cost.
Location
The cost of rent will change by over 1,000% based on where you're trying to rent a building. For example, in Manhattan, retail rent rates range from around $100 per square foot to over $1,000.
In Los Angeles, the average price per square foot is $1,000. On the other hand, in Chicago, that drops down to $19.55.
This means you'll have to check the local cost of rent to see what you're going to pay.
In addition, even a specific location inside of a city or neighborhood can dramatically impact what you pay. The more desirable a location, the higher rent will be.
Lease or Build
If you choose to purchase a building rather than lease one, you'll have to calculate the cost of building into your startup costs.
Here, building costs average about $450 per square foot across the country. However, that will change based on building material, licensing, construction company, and location.
For example, you'll see significantly different rates if you use a metal prefabricated building versus a concrete or stone building.
Staff
In most cases, you should expect to have enough salary to keep your staff paid for at least 3-12 months.
Here, barbers earn an average of $33,500 per year. That ranges from about $29,000 to above $38,000 depending on location.
In addition, you'll likely need a receptionist to take calls, welcome people, and ensure that people waiting are being helped.
Here, you should expect to pay a median salary of about $32,000. However, salary ranges from minimum wage to about $16 per hour.
It's also important that you have the cash on hand to keep staff paid, because if you can't pay staff before business picks up, they will leave.
Services Offered
The more services you offer, the more you'll spend on setup.
For example, if you offer full salon services with cuts and dye, you'll have to invest in the tools and the training to offer that. If you offer simple haircuts and shaves, you'll need minimal equipment.
Most barbershops can get away with offering minimal services and adding on to options over time. And, often, the people who most impact what you can offer are the staff you hire.
Franchise
While you can start a barbershop under your own name, it's also possible to do so as a franchise. In this case, the merchandising and marketing design are handled for you.
However, you will have to pay a franchise fee and you will have to learn how to operate the franchise as it's intended to be operated.
Franchises can offer benefits in that you don't have to build a name for your business. However, they can also greatly add to the cost of starting up.
For example, most franchise fees start at around $30,000 and go up to over $60,000.
Marketing
Marketing, including posters, flyers, digital ads, social media, and web design is important. However, the scale and scope of your marketing can vary dramatically.
Depending on your strategy, you may prefer to rely on foot traffic, digital ads, or even flyers.
On average, you should expect a marketing budget to include at least $500 per month.
How Much Does A Barber Shop Franchise Cost?
Franchises normally include two fees. These are the "franchise fee" and the "buildout fee".
The franchise fee is what you pay to the franchise to license the usage of the name. These average between $30,000 and $60,000 for top barbershop franchises in the United States.
For example, Scissors and Scotch ($45,000), RazzleDazzle ($30,000), Sports Clips ($59,500 for three locations), etc.
Buildout fees are the costs to build a structure to the specifications of the franchise.
In most cases, these range between $100,000 and $450,000. Some don't have estimated build-out costs, but do require you have minimum liquid capital. That's usually somewhere around $150,000-$400,000.
Franchises also require that you purchase everything at full price, from an approved retailer, and brand new. This can increase costs over trying to budget out costs yourself.
However, it also means you'll have a trusted brand to help sell your business.
How Much Profit Do Barber Shops Make?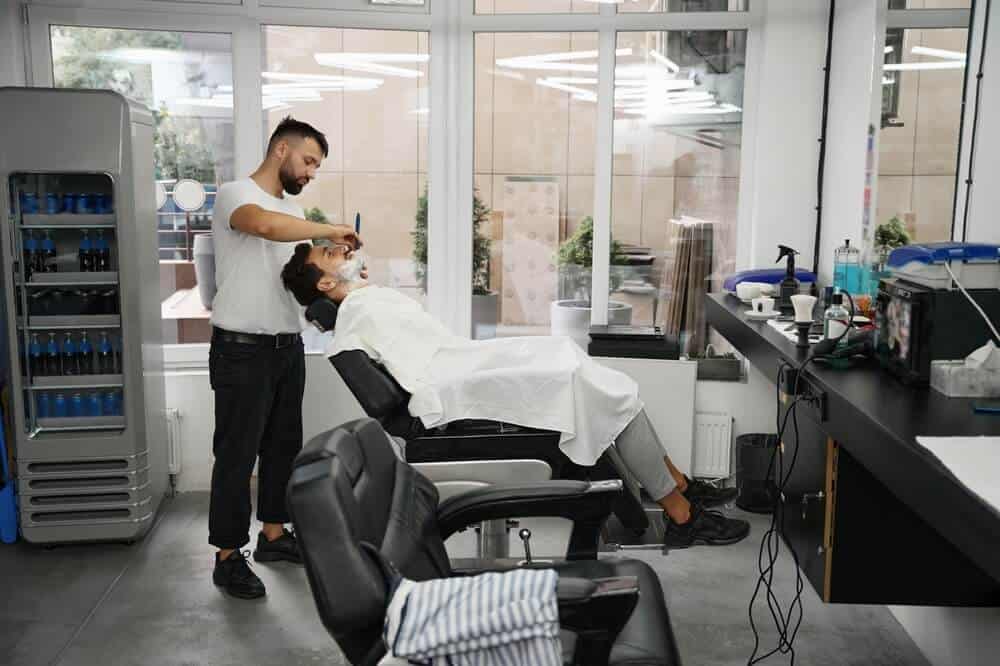 Barbershops earn significantly different rates based on location, competition, foot traffic, and what kind of service they offer.
For example, a low-end barbershop may offer cheap cuts for as little as $10 per haircut. Most charge around $25 each. And, high-end shops can charge several hundred dollars for the same service.
Here, rates often depend on the market, advertising, products, and the barbershop itself. If you want to charge high rates, you'll have to invest in an interior that reflects that.
On average, a haircut takes around 30 minutes, which might take up to an hour if someone wants a detailed cut.
If you charge $25 per cut and assume that your barbers will be busy three-quarters of the time they are in the shop, 8 hours a day, each barber can serve 14 clients a day.
If you pay a salary, most receive around $15 per hour. However, many barbershops offer a commission of about 70% of each cut.
This means that you'd earn about $7.50 per cut, on average 14 times a day per barber, or about $105. You'd have to deduct electricity, rent, and other operating costs from that.
But, if you have four chairs, that can turn into $11,000+ of revenue each month – which will still be a good income even after costs.
Of course, barbershops aren't the most profitable.
The average barbershop owner in the U.S. earns between $28,000 and $58,000 per year depending on location. In fact, cosmetology has an average profit of about 8.2%.
Monthly Expenses
If you're running a barbershop, you'll likely have significant monthly expenses. These include:
Electricity – $100-$500+ per month depending on location and size
Water – $50-$200
Television – $50-$150
Marketing – $400+
Lease/Rent – $1,200+
Bank Loan – $0-$600
Inventory – $100-$2,000
In addition, you may have extra costs like web hosting, point of sale software, web shop software, etc., that you have to pay.
For example, if you use Shopify with a Shopify Point of Sale, you'd pay around $44 per month for all three. If you source everything independently, that could be anywhere from $15-$500+.
Wrapping Up
Starting a barbershop can be a great way to launch a low-cost business, especially if you want to work in it. However, it's important to research local rent, check competition, and to make sure you have a market before you get started. Otherwise, you can expect to pay at least $50,000 to get started but up to $400,000+ if you want to build out a franchise.