If you're keen on tennis, like as much exercise as possible, and have the available space at home, consider building a tennis court for yourself and your family.
If you plan the project carefully, you can build a tennis court that will help save on club fees, transportation costs, and all the extra charges that come with using a commercial sports facility.
But how much does it cost to build a tennis court in your home?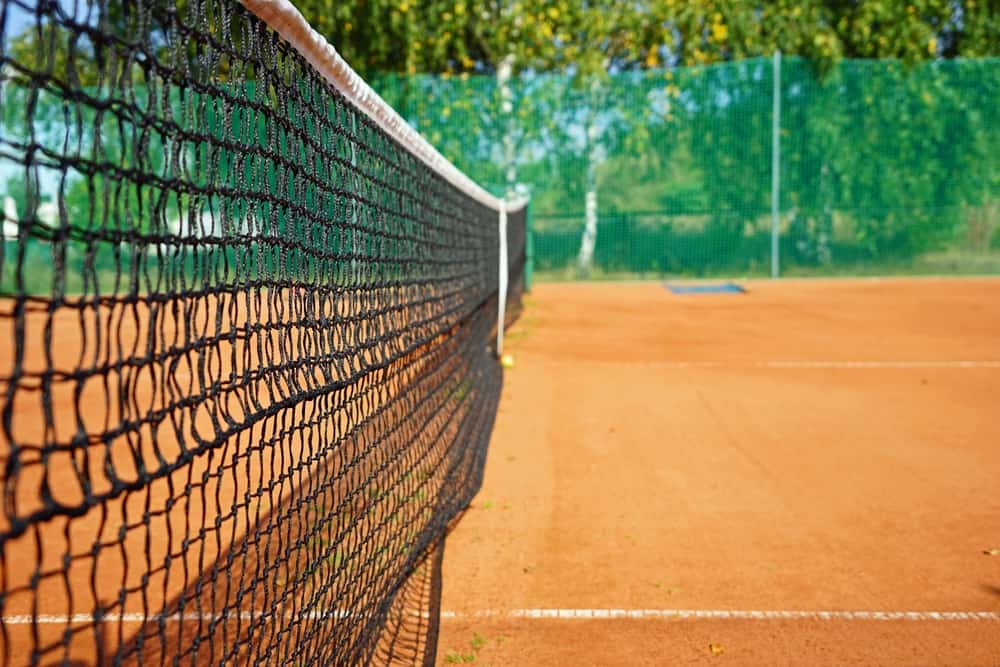 The cost depends on the court's size, the material you use for the surface, and several other features we'll discuss in this guide.
However, if you include space for side runs and runbacks, a regulation-size singles court costs around $63,000. In comparison, an average doubles court costs about $80,000.
*Disclaimer: The research in this article was correct as of July 2022. Where possible, we link our sources back to the original.
Cost to Build Tennis Court (By Type)
Clay
A clay-surfaced tennis court costs between $35,000-$80,000. However, laying a clay surface takes time and doesn't work well in areas with strong winds as the top surface quickly erodes and blows away.
A clay court has an indefinite lifespan so long as it's well-maintained.
Asphalt
An asphalt tennis court will cost between $40,000-$100,000, with an average cost of around $65,000.
It has a shorter lifespan and higher maintenance costs than concrete. But it's approximately 20% cheaper.
Typically, you can expect a lifespan of around 20 years.
Post-Tensioned Concrete
A post-tensioned tennis court costs between $60,000-$120,000, with an average of around $85,000. Doubles courts sit at the higher end of the range, while singles courts are near the lower end.
Concrete tennis courts are more expensive to build than other types. But, they need much less maintenance and have a considerably longer lifespan of around 40 years.
Artificial Grass
This surface looks similar to natural grass but with a narrower price range of $75,000-$100,000. It's pleasant to play on but doesn't compare to a natural grass playing surface.
However, it needs much less maintenance than grass and won't require cutting, rolling, or watering. Instead, sweeping and removing debris is the standard maintenance.
Expect a lifespan of up to 20 years.
Grass
Tennis courts made from grass cost between $50,000-$150,000. They need almost constant maintenance to provide a good playing surface. But, they're also one of the most sought-after.
Even though you might think they are the easiest to construct as a DIY project, they need specialist construction to produce a perfectly level surface. Therefore, you usually find a grass court in the homes of the very wealthy or in private clubs.
Like a clay court, grass also has an indefinite lifespan if well-maintained.
Factors Influencing The Cost

Design and Architecture
The design and architecture of a tennis court depend on your requirements and the material you choose for the surface.
On average, the cost for materials will be $10,000-$60,000, but it may be more. Also, consider the labor cost of excavation and land leveling, drainage installation, foundations and backfill, fence erection, surface installation, and landscaping.
Use a designer and architect who have experience in building tennis courts. But, before hiring, check that you have the space for a tennis court.
For guidance, you can buy Tennis Courts: A Construction and Maintenance Manual (2021) from the American Sports Builders Association online store.
Land Cost per Square Feet
It's unlikely for your tennis court to be priced per square foot. Instead, your quote will be for a finished court of a specific size.
The playable area for an average doubles court is 78 ft x 36 ft (2,808 sq. ft.). In comparison, a singles court playable area measures 78 ft x 27 ft (2,106 sq. ft.).
But, you also need room outside the playable area for side runs, runbacks, and items within the fence boundaries, such as the umpire's seat, drainage, etc.
Therefore, the average area increases to 130 ft x 55 ft (7,150 sq. ft.) for a singles tournament court and 130 ft x 70 ft (9,100 sq. ft.) for a doubles tournament court.
The following table assumes an average asphalt tennis court cost of $8.73/sq. ft.
| Tennis Court Size | Average Cost |
| --- | --- |
| Singles (130 ft x 55 ft) | $62,420 |
| Doubles (130 ft x 70 ft) | $79,440 |
Permits/Fees
Most cities and towns require permits for major outdoor construction projects such as tennis courts. If the courts are part of a commercial tennis or country club, you need additional licenses after commercial use approval.
Typically, most construction companies will obtain the required permits and add the cost to the bill or ask for upfront payment.
However, even if your contractor handles all the permits, it's sensible to contact the local government offices for current prices, required permits, and the necessary documentation, as you're ultimately responsible.
You can incur hefty fines and other penalties if you don't get it right.
If you intend to apply for permits, select a registered architect or certified building designer to prepare drawings. Then, download a permit application from your local government website.
The cost of planning permission, permits, and inspection fees will depend on the state or city.
Plumbing and Electrical
Building a tennis court isn't just about moving earth and laying a surface. Other things to install, such as surface water drainage, drinking fountains, and electric lighting, need licensed tradespeople.
Plumbers charge $70-$130/hr for their services. In comparison, electricians demand $40-$120/hr. Additionally, both these trades require a $75-$100 call-out fee, which you can negotiate depending on the amount of work.
Their hourly rate depends on their experience and whether the project requires specialist knowledge.
Labor Cost
The average labor cost for installing a tennis court ranges from $25,000-$35,000. This amount depends on the surface, the court's size, and its various features. And, remember every state has different labor rates, which you should research beforehand.
Tennis court construction is a civil engineering project requiring appropriately skilled personnel to create a quality product. Typical trades and their average labor rates include:
Some jobs require a team of operatives, which costs more as these labor rates are per person. In practice, hiring a company skilled in constructing tennis courts is wise.
You can find details about certified sports surface designers and builders on the American Sports Builders Association website.
Components
The following are some components influencing the total price of your new tennis court.
Fencing
Fencing around the court is essential to prevent lost balls. Typically, use vinyl-coated chain link fencing reaching at least 8 ft high. However, a bare galvanized chain link is acceptable.
The price to fence a court is $5,000-$18,000, with galvanized prices at the lower end and various types of vinyl at the higher end.
Lighting
Lighting is essential if you intend to play at night or in poor light. Lights, switches, and wiring costs between $2,000-$6,000 for residential courts, while a commercial or club court might exceed $10,000.
It's also essential to choose the correct lighting. Regulation brightness for clubs and official matches ranges from 350-450 lux, while recreational courts can use 250 lux.
Water fountains
Water fountains are helpful features for a tennis court, whether club, commercial or residential.
During any exercise, you must replace fluids lost through sweat and evaporation. Therefore, installing a water fountain is practical and doesn't cost much.
Expect to pay $1,000-$4,000 depending on the distance to the utility supplies and the fountain model.
Nets & Practice Aids
Every tennis court needs nets to separate the two opposing playing areas. But, you must use nets that can be manually tensioned to account for changes in elasticity due to humidity and wear.
Usually, initial net installation costs $5,000-$10,000, with replacement nets at $500.
Rebound nets are a training tool that provides a true rebound when hit with a ball. You can use them in your backyard or on the court when you're without a partner.
They're a tilted net on a mobile frame that operates by changing the rebounded ball's direction, thus helping develop ball skills.
Typically, rebound nets cost $300-$1,000.
A backboard is another helpful practice tool. It's a vertical board with a horizontal line painted to represent the net. Also, some have various targets marked for aiming practice.
You could use a smooth solid wall to practice your shots, but unlike a backboard, a wall isn't mobile and has a limited position. Depending on size and accessories, a backboard costs $2,000-$10,000.
Both rebound nets and backboards help develop:
Hand-eye coordination

Specific forehand, backhand, and volley shots

Easier communication with a coach when not separated by the court net

Good warm-up skills before competitive matches
They're essential for good training programs.
Clocks and Timers
Clocks, timers, and scorekeepers are essential for competitive tennis. They allow the competitors and audience to keep track of the playing time and the score.
Prices vary from $100-$1,500.
Umpire Chair and Benches
If you play competitively or expect an audience, you need seats for the umpire and onlookers.
Chairs come in various styles and sizes and cost $200-$3,000.
Covers
Covers protect the court from weathering and considerably prolong its lifespan.
Typically, expect to pay $500-$1,000.
Surfacing
Use an acrylic sealed top layer with rubberized additives if you want to provide a durable surface on your concrete or asphalt tennis court.
The acrylic improves the ball's responsiveness, helps players grip better, and is cheaper than resurfacing in the original material. Typically, acrylic surfacing costs $5,000-$10,000, usually included in a new build quote.
However, if you resurface an existing court with acrylic, you might need to factor in repair costs for cracks and holes in the original surface.
Drainage
If your tennis court is made from asphalt, concrete, or has an acrylic surface, you must install side drainage to remove surface rainwater.
Depending on the type of drainage or soakaway, the price can be $3,000-$10,000.
Other Components
Maintaining the painted lines satisfactorily costs $350-$650 per court.
If you live in a region with weather conditions making it unsuitable to play outdoors, such as rain, wind, snow, or too much sun, you might prefer to build an enclosure for your court.
Several variables affect the price of building an enclosure, but expect to pay $20-$150/sq. ft.
If you don't want to build a permanent enclosure, try a tennis bubble instead. It's inflatable and costs $5,000-$50,000.
Tennis Court Maintenance Costs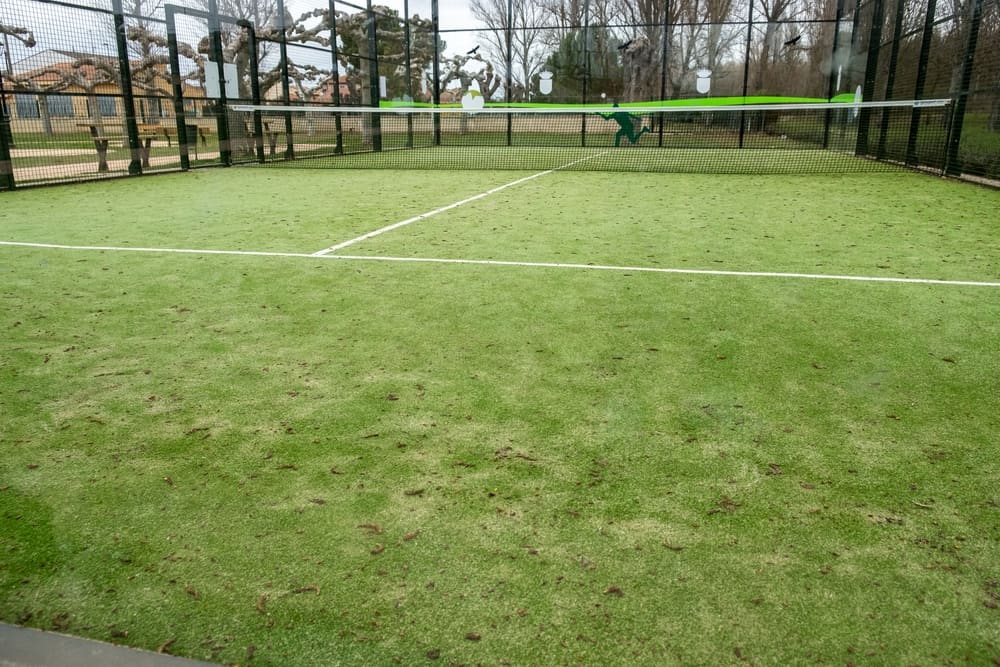 The costs of maintaining your tennis court depend on several factors:
The surface material

The court's age and condition

Local climate
Generally, indoor courts and those in mild climates have lower maintenance costs than outdoor courts and those in regions that experience extreme weather conditions.
Grass courts need maintenance almost daily, requiring weeding, watering, rolling, and cutting to produce a smooth and flat playing surface.
In contrast, concrete courts need little care except for removing an occasional weed, sweeping debris, and repainting lines.
The following list highlights typical maintenance for each surface:
Clay

– If allowed to dry, clay becomes powdery and is subject to wind damage. Otherwise, all that's needed is sweeping and removing dust. But, if the surface erodes, it requires additional clay surfacing costing

$1,000-$2,000 per annum

.

Asphalt

– cracks over time and requires resurfacing after a few years. Typically, asphalt sinks in places and needs refilling and resurfacing. Maintenance costs are

$1,000-$2,000 per annum

.

Concrete

– requires sweeping with a resurface after a few years.

Artificial grass

– Remove general debris from the surface regularly.

Grass

– must be regularly weeded, mowed, rolled, fed, and watered to keep it in the best condition.

Acrylic

– An acrylic surface needs little maintenance besides removing accumulated debris.
Eventually, there will come a time when your tennis court requires resurfacing. To repair and resurface, costs $4,000-$10,000.
FAQs
There are many questions that people ask. Here is a selection.
How long does it take to build a tennis court?
The duration varies depending on the surface material and the type of ground it's built on. Allow groundwork to settle, consolidate or cure at various stages before continuing to the next step.
Therefore, expect the duration of constructing a tennis court to be at least 8 weeks.
How many acres do you need for a tennis court?
An acre comprises 43,560 sq. ft. Therefore, a singles tournament court of 130 ft x 55 ft (7,150 sq. ft.) needs 0.164 acres.
In comparison, a doubles tournament court of 130 ft x 70 ft (9, 100 sq. ft.) needs 0.209 acres.
What is the standard size of a backyard tennis court?
The standard size of a singles tennis court is 78 ft x 27 ft (2,106 sq. ft.), while a doubles one is 78 ft x 36 ft (2,808 sq. ft.).
However, this doesn't allow for player overrun space. Therefore, enlarge the dimensions to 130 ft x 55 ft (7,150 sq. ft.) and 130 ft x 70 ft (9,100 sq. ft.) respectively.
Final Thoughts
If you are a tennis fanatic with space and money, try building a tennis court.
However, you need to know the various surface installation costs and how much care they need over their lifespans. Then, you can choose the correct surface for your budget.
Knowing how much the entire project costs will enable you to keep within your budget while enjoying playing on a proper court at home.