From Kart to Spec Miata and professional Formula One and NASCAR, America is obsessed with racing. But, if you want to invest in a race track as a business model, doing so could require significant investment.
In fact, a race track is one of the most costly forms of roads you can build. For many, there's no real feasible way to make a profit from a race track unless you invest in significant side businesses at the same time.
Here, you can expect the average cost to build a racetrack to hover around $100,000 to $1 million per mile. Those costs depend on whether you're building a track for karts or cars. In addition, most full-size racetracks cost $7 million or more to build.
Disclaimer: The research in this article was correct as of November 2022. Our sources are linked to throughout the article.
Cost To Build Race Track (By Surface)
In most cases, the cost of surfacing your track will be one of the most significant cost factors.
For example, asphalt usually starts at around $0.75-$2.00 per square foot to lay – or roughly $340-$380 per ton before mixing with aggregate. Asphalt weighs about 2 tons per cubic yard.
The following chart outlines average costs for a two-lane 1-mile, circular track.
| Type of Surface | Minimum Cost | Maximum Cost | Average Cost |
| --- | --- | --- | --- |
| Artificial Turf | $580,800 | $2,323,200 | $1,742,000 |
| Asphalt | $87,120 | $2,323,200 | $1,974,720 |
| Concrete | $319,440 | $1,597,200 | $980,000 |
| Dirt | $145,200 | $313,612 | $220,000 |
| Grass | $92,989 | $209,088 | $160,000 |
| Ice | $17,424,000 | $40,656,000 | $29,040,000 |
Importantly, those costs don't include the foundations of the road or the earthworks. This is just the cost of the materials for the road surface.
Additionally, the bottom "ice rink" cost calculates in the cost of installing cooling to keep the track operational year-round.
If you were to simply rely on cold weather for part of the year, the costs would be closer to those of a concrete rink plus water and management.
Cost By Type Of Race Tracks
Different types of racetracks will always have different requirements. That means costs will change significantly depending on what the track is for.
Here, you can normally expect that the heavier the vehicle and the faster it goes, the more expensive the track will be.
| Type of Race Track | Minimum Cost | Maximum Cost | Average Cost |
| --- | --- | --- | --- |
| F1 Race Track  | $250,000,000 | $1,000,000,000 | $750,000,000 |
| Drag strip  | $1,000,000 | $4,000,000 | $2,500,000 |
| Speedway  | $700,000 | $4,000,000 | $2,000,000 |
| Figure 8 Course  | $750,000 | $2,000,000 | $1,000,000 |
| Hillclimb  | $400,000 | $3,000,000 | $1,500,000 |
| Paved Oval  | $270,000 | $180,000,000 | $4,000,000 |
| Sprint  | $120,000 | $2,000,000 | $750,000 |
| Short Track  | $300,000 | $7,000,000 | $1,500,000 |
| Velodrome  | $500,000 | $30,000,000 | $18,000,000 |
| Horse Race Track  | $270,000 | $5,000,000 | $600,000 |
Building A Race Track Cost Factors
Racetracks can cost anywhere from $120,000 to over $700 million. The discrepancy normally lies in what type of track you're building.
However, land, cost of foundations, materials, and other factors are all extremely important as well.
Land
Land can be one of the most significant costs of building a race track, depending on where you are in the U.S. However, it might also be significantly lower than the cost of the foundations and earthworks.
On a national scale, you can expect to pay about $12,000 per acre. If you move into an urban area, that can go up significantly.
In a city, you can expect an average rate of $784,000 an acre. That will change depending on where you're at.
A half-mile track needs 17.5 acres, a 5/8ths track needs 27 acres, and a mile track needs 55 acres. On the other hand, if you want a simple 400-yard track, you could get away with as little as 5 acres.
Length
Most racetracks can use a cost assessment based on length to determine the total price.
That's because materials like concrete, gravel, clay, and asphalt are very often priced based on the square footage of the materials.
In addition, any kind of track can be built longer or shorter. A 1/8th mile drag strip is always going to cost less than a mile-long speedway.
Here, you can expect the excavation to cost close to $2 per square foot. From there, you'll have to pay for subgrade. That usually costs $3-$5 per square foot.
Then, you'll add a stress foundation to minimize wear and tear on the surface. This can cost anywhere from $5-$20 per square foot. Asphalt will cost anywhere from $2-$12 per square foot.
Considering most racetracks are 22-85 feet in width, you can easily calculate rough estimated costs by the length you want your track.
For example, a mile track that's 65 feet wide would be 343,200 square feet of track. Or, at $40 per square foot including labor, 13,728,000 in construction costs.
Track Type
Importantly, these costs can change significantly based on who's competing and why.
For example, it's unlikely you'd want to build a professional Formula One Racetrack. If you do, costs average in the hundreds of millions, with millions in yearly maintenance.
Often, that's because different types of roads require different amounts of support. BMX and carting tracks require minimal investment, because you can use thinner layers of asphalt or packed dirt.
Figure eight and speedway racing requires significant investment into the road foundations – because otherwise the asphalt will crack.
If you need thicker asphalt, for example for an F1 track, you'll also have to install asphalt in layers.
You need 8+ inches of asphalt, but you'll have to install it in layers of 1.5 inches and 2 inches to improve strength. That can significantly add to the cost of labor because it takes a lot more time.
Simple dirt and turf tracks will always be the cheapest. In addition, motorbikes may need a track that is as simple as a concrete pour or compacted dirt. This means some race tracks are affordable to build.
Materials
Building a race track can require an astronomically large amount of materials. For example, Forbes shares that the F1 Circuit of Americas moved over 4 million cubic yards of earth to start building.
Most tracks are made up of asphalt. Here, about 4-5% of the asphalt mixture used to pave the track will be asphalt. The rest will be an aggregate, normally concrete, gravel, or even crushed glass.
Here, the asphalt itself costs about $380 per ton. Aggregates cost an average of about $7 per ton.
Using the metric, a 1-mile 8-inch-thick track costs about $84,000 per mile, per lane. That's for "just" the asphalt and aggregate, without substructure. Most racetracks are at least four lanes wide.
On the other hand, concrete usually averages $6-$10 per square foot. If you're using bare concrete, you're looking at something closer to $67,000.
On the other hand, many circuits simply use tarmac. This is a cheaper alternative to asphalt, but generally is also rougher.
Many types of tracks also use compacted dirt or gravel, artificial turf, turf, and other materials. These all vary significantly in cost, with the cheapest starting at around $0.84 per square foot.
Foundation
Laying the foundation for a race track can be time-consuming and costly. For example, you'll have to ensure there are no gas lines or water pipes under the track that might become damaged with soil compaction.
You'll also have to replace or remove any volatile soil layers. For example, clays are normally removed because they can expand and contract too much with heat and cold – and that could damage the integrity of the track.
Then, you'll have to excavate the site. This normally costs around $50-$200 per cubic yard. Here, costs will also depend on how deep the sublayer should be.
Unfortunately, the depth of the structure must be updated based on local factors. These include temperature changes, soil types, water table height, and springs.
For example, if the water table is very high, you'll have to use extra layers of the base material.
On average, an asphalt track has 8-12 inches of base. A concrete track normally has about 12 inches of the base material. This might change depending on the specifics of your build site.
Construction
Construction costs can be a significant portion of any building project. Nationally, the average cost of labor is $18 per hour.
However, that can drop as low as $14 and go as high as $120. If you're paying for union labor, you should expect to pay about $94-$100 per person, per day.
For a big project, like a Formula One racetrack where you have over 1,000 people on the job, that can translate into $960,000 a day in labor. Often, you'll pay much less. But, it's important to keep the local cost of labor in mind.
Here, it's quite often the case that your construction company will include access to equipment in the rate they charge. This means that the excavators, rollers, and backhoes you need to build your race track will be included in the rate.
That does save you from having to rent that equipment. However, it is important to check, because many will also add it on extra as part of your day rate.
And, many construction companies will charge a flat rate per day or per project – which means some days you may have more or fewer people on the job.
Electrical Work
Lighting a racetrack can require significant power, which means you'll have to have an electrical network designed to capacitate those lights.
Here, costs can vary significantly. You should expect to pay $45-$125 an hour for an electrician to draw up plans and have cabling installed during the site buildup.
This cost is normally included in the total rate. However, you'll have to plan increases for amenities like electric car charging, food service sites, computer sites for electronics and administration, signage, etc.
Equipment
Racetrack equipment can cost thousands of dollars over the cost of "just" building the track. For example, you may need grandstands, pit buildings, barriers, fencing, sound barriers, vehicles, and track sensors.
You'll also need signage, including digital billboards, signage for marketing and merchandising, lights, etc.
Most tracks also eventually want equipment for mechanics, basic speed sensors, air pumps, and other miscellaneous equipment. This can cost anywhere from a few thousand to over a million.
For example, costs for a Formula One racetrack normally total between $20-$30 million.
If you need a media center with recording and broadcasting equipment, you'll have to factor those costs in as well. For example, it's unlikely you'd be able to invest in a media center for less than $30,000.
Alternatively, you don't have to do so upfront, as you can normally rent media equipment for $950-$1,250 per hour instead.
Facilities
Most racetracks earn money by having facilities to sell food and drinks. You'll also want to have medical care on hand in most cases. Here, you can expect to spend anywhere from $50-$300 per square foot of facility.
What you build normally depends on factors like the size of the track and what other amenities you have.
For example, if you're building a mile-long oval track, you could probably benefit from having two food stands plus additional vending machines for drinks.
In addition, if you're installing a course with different kinds of tracks, cart racing, and motorbike racing, you can expect that your venue would be a common family destination.
For that reason, you'd probably be able to add to revenue by installing a restaurant or another sit-down eatery.
However, these kinds of facilities can be significantly expensive to install. In most cases, you can expect to add anywhere from $200,000-$1,000,000 for a full-service food area.
In addition, many race tracks need additional facilities like a media center, medical center, secure buildings to store equipment, pit buildings, garages, grandstands, hospitality buildings, etc.
Permits/Fees
If you're building within city limits, you'll always have to get a building permit and a Certificate of Occupancy from the local city.
However, in any case where you're hosting racing, you'll also have to approach your local DMV for a permit. These can range in cost.
In addition, the DMV may deny your permit if your track is not clearly separated from the road by barriers. Or, if you don't have enough sound barriers in place.
In addition, some cities will refuse a permit if your track is too close to a residential area.
It's also important to keep in mind that if your race track crosses county lines, you'll need permits from each county.
You'll also always need:
An insurance certificate

A copy of the insurance policy

A certification from the site inspector

Track blueprints

Fire inspection certificate
In addition, requirements vary from state to state. However, on average, you can expect that you'll have to file for a permit at least 60 days before the first race and up to 90 days before the first race.
In addition, if you want to race a specific type of race like NASCAR or Formula One, you'll need a license from that official body.
Most have very strict requirements for the track, its safety, and its amenities. In addition, racing with a Formula One or other license can cost thousands of dollars for naming and promotion rights alone.
Maintenance Cost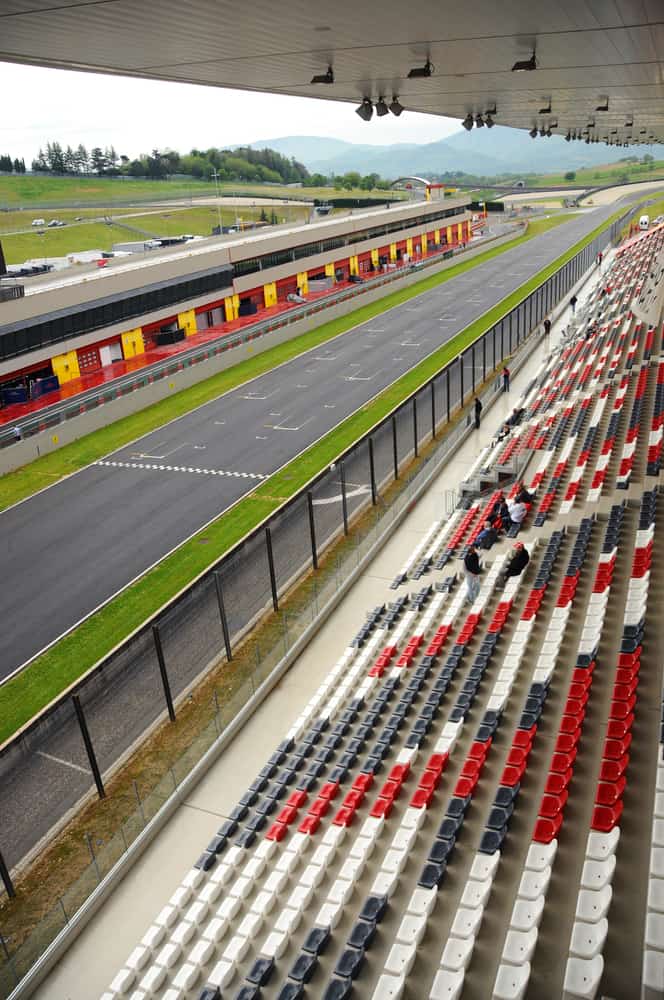 Maintaining your race track will not be a small investment. Here, many tracks require regrading, repaving, but that's only about every 5 years.
Of course, resurfacing your track will be significant and will cost several hundred thousand dollars. But, regular maintenance will also be a consideration.
For example, barriers and sound barriers might require rebuilding. You might have to clean and repair drainage facilities.
Parts of the foundation might start to flood. Or, lighting and facilities might have to be cleaned and repaired. And, painting buildings and road lines are all important.
Weather-based care is also essential. For example, you'll most likely have to salt the asphalt to prevent it from freezing over in the winter.
Spraying and preventing the asphalt from shrinking on extremely hot and dry days can also help to maintain it for a longer period. And, the tracks, stands, and facilities have to be cleaned regularly to prevent damage.
This can cost anywhere from $10,000-$3 million+ per year depending on the size of the venue and the number of tracks.
Is Owning A Racetrack Business Profitable?
Is owning a racetrack profitable? That depends.
Some people make a racetrack a profitable business. Many others do not. Here, profits normally depend on the business model:
Renting to events

Selling food and drinks

Memberships (these range from $50 per month to well over $1,000 per month, but most tracks should not expect anything near the rates commanded by clubs like Monticello Motor Club in New York, which has a starting fee of $77,500 and annual dues of $7,200.)

Different types of racing to keep the track busier

Drivers education and training

Training and teaching facilities
For example, the main attraction might be a figure eight track with races hosted twice a month.
But, if you can also book drivers who just want to enjoy the track, train individuals who want to get involved in amateur racing, and host BMX or Kart racing on cheaper tracks, you can drive additional revenue to help pay for daily maintenance.
Related Questions
If you have additional questions, this FAQ should help.
How much did the Miami track cost?
The Miami International Autodrome is a temporary circuit in Miami Gardens, circling the Hard Rock Stadium.
This 3.363-mile track features 19 corners and interesting special details, like a water-effect loop on the track. It also cost $40 million to build.
Who built a race track in their backyard?
While it seems like something that might have only happened once, at least two separate people have built a racetrack in their back (or front) yards.
Alan Wizig built a 1.15-mile track in his front yard. The build cost $7.5 million. He also had to pay over $500,000 in legal fees after neighbors objected.
However, he's not the only man to ever do so. In 2018, John Wicks, Ford Performance program launch manager and retired racer, built a track in his backyard. His track is smaller in scale, full dirt, and just half a mile long.
Final Thoughts
Racetracks are big investments. That also means they're usually passion projects rather than simple business investments. Still, if situated somewhere with demand, a racetrack can drive a lot of revenue. However, with costs often above $7 million for a track and facilities, significant ongoing costs, and no guarantee of a return, racetracks require a lot of planning and investment to be made profitable.