Sheds are an essential structure in most properties. They provide storage space for outdoor tools and equipment that homes with gardens or kids need to control their clutter. But sheds aren't only storage buildings.
Many gardeners use them as a workplace for planting seeds and repotting them when they've grown.
Alternatively, people use sheds as home offices, gyms, hobby rooms, pet or caged bird shelters, or somewhere to get away from noisy kids and find some peace.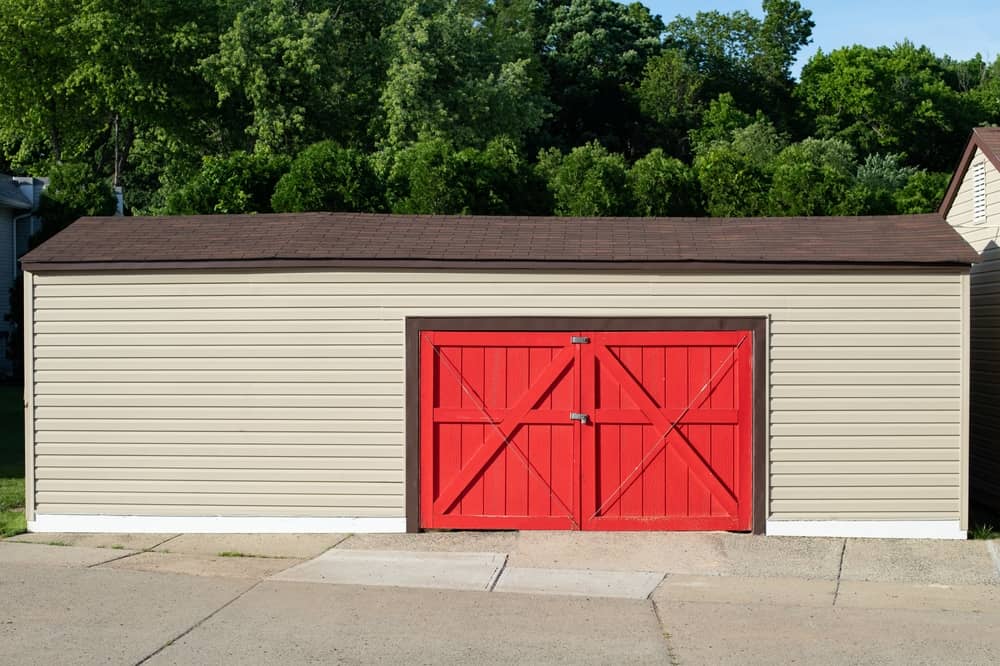 The price of building a shed depends on its size, purpose, construction material, and several other factors.
Overall, the cost to build a shed is anywhere from $200 to $30,000, with an average of $4,000. You can also choose a DIY kit or build it from scratch.
This guide covers these factors and helps you decide how to get the best use from your shed.
*Disclaimer: The research in this article was correct as of July 2022. Where possible, we link to official sources throughout the guide.
How Much Does It Cost to Build a Shed?
The cost of building a shed depends on several factors. The following are some of the most significant.
Type of Shed
You can buy a ready-assembled shed, a kit, or build one from scratch. The choice is yours.
Because of the wide range of sheds, there's a wide range of costs.
Storage Shed Cost
A small plastic shed, suitable for garden tools or bikes, delivered ready-assembled to your home costs around $500.
Alternatively, build a large, fully customized shed for a workshop, garage, or home gym for up to $30,000.
Garden Shed Cost
There are many garden shed designs. From simple tool storage to a fully customized potting shed with room for a lawn mower, leaf blower, ladder, and more.
Typical garden sheds cost from $100-$1,000 depending on size and features.
She-Shed Cost
Many women who need work or hobby rooms often choose to build and decorate a She-Shed. It costs the same as a regular shed but contains added personalized features.
Depending on your location and the She-Shed's purpose, it can also have insulation, utilities, and drainage. Prices for a She-Shed range from $6,000-$25,000.
Horse Run-in Shed Cost
A horse run-in shed is a small barn. It incorporates high ceilings, stands on good-draining and durable ground, and has large stable doors, making the entire shed well-ventilated and a pleasant place for your horse.
You could also make it larger and add a tackle room to store and maintain saddles, bridles, and reins.
Typically, these sheds cost, on average, $20-$100/sq. ft. or $1,500-$10,000.
Estimated Costs
The table below shows the estimated average costs for various shed sizes, based on a cost to build a shed per square foot of $50/sq. ft., including labor.
| Shed Size | Estimated Cost |
| --- | --- |
| 6x4 (24 sq. ft.) | $1,200 |
| 6x6 (36 sq. ft.) | $1,800 |
| 6x8 (48 sq. ft.) | $2,400 |
| 8x8 (64 sq. ft.) | $3,200 |
| 8x10 (80 sq. ft.) | $4,000 |
| 10x10 (100 sq. ft.) | $5,000 |
| 10x12 (120 sq. ft.) | $6,000 |
| 10x16 (160 sq. ft.) | $8,000 |
| 10x20 (200 sq. ft.) | $10,000 |
| 12x12 (144 sq. ft.) | $7,200 |
| 12x16 (192 sq. ft.) | $9,600 |
| 12x20 (240 sq. ft.) | $12,000 |
Here are some factors influencing the overall finished quote for the build.
Materials
Several construction materials are common throughout the shed building industry, which you can find on shed vendors' websites.
For a typical 10 ft. x 12 ft. shed with similar features. All prices include labor.
Plastic
Plastic sheds are low maintenance, durable and lightweight. We recommend you buy this shed as a kit or ready-made, as working with plastic requires specialist skills. Therefore, have customization done in the factory.
The average price of a plastic shed kit is $800-$1,200, which is generally affordable. However, these have limited sizes, colors, and styles, and won't always contain flooring. Thus, it needs suitable foundations and flooring, which increases the overall cost.
Metal
If you buy a metal shed kit, it will generally be flimsy and not suitable for zones with snow or high winds. It's much better to build a pressure-treated wooden framework and cover it with metal sheeting.
These sheds perform better than plastic and need little maintenance if the outer skin stays intact, protecting the wooden frame. Furthermore, a wooden-framed shed is infinitely customizable if you have good woodworking skills or use a professional carpenter.
Metal shed kits have limited styles and colors and don't arrive with flooring. Therefore, construct suitable foundations and flooring. Wooden-framed metal sheds cost $4,000-$5,000, depending on the style.
Wood
Wooden sheds are the most popular type, and with good woodworking skills, you can build a wooden framework, to easily customize a kit into almost any style.
Although sheds with wooden siding and floors need more maintenance than other materials to prevent weathering, rot, and insect damage, additional PVC siding adds extra weather protection.
A custom-built wooden shed costs $5,600-$6,400. However, extra customization increases the price accordingly.
Concrete
Concrete sheds can be custom-built from concrete blocks by a masonry contractor. Alternatively, buy prefabricated prestressed concrete kits, easily assembled onto a concrete base.
Generally, concrete isn't attractive, so clad it with sidings and use attractive roof options. However, it's solid and durable and, when insulated, protects a home gym, work room, or office against extreme temperatures.
Concrete sheds cost on average $16,000-$20,000.
Brick
You can build brick sheds solely from brick with a cavity wall. Or, construct a wooden frame clad with brick, which is more decorative than concrete.
Skilled bricklayers can custom-build a shed using your exact measurements to suit the shed's purpose. Brick is an expensive construction material, so expect the cost to be $23,500-$24,500, including labor.
Style
A basic shed is usually for storage, so doesn't need any fancy trimmings.
However, it must look good and match the remainder of your property. So, select siding and roof to complement your overall house design for maximum effect.
Look out for free shed plans online.
Labor and Permits
People sometimes overlook these two factors.
Labor
If you're a DIYer, labor costs nothing apart from specialist work needing a licensed tradesperson like an electrician.
Typical labor needed includes:
Carpenter – $70/hr, or $10-$20/sq. ft.

Handyman – $70/hr.

Bricklayer/concrete contractor – $2-$5/sq. ft.

Plumber – $50-$200/hr, or $4.50/sq. ft.

Electrician – $50-$150/hr, or $6-$8/ft.
Permits
Unless you have strict neighborhood homeowners association's bylaws, you probably won't need permits to build a storage shed of less than 100 sq. ft. But, exceptions exist, and you should always check beforehand.
For example:
Sheds visible from your neighbors' property or the public road

A shed connected to your house

Shed to be more than 15 ft. from the side boundary or 10ft from the rear boundary

Its proposed use

Sheds intended for accommodation

Plumbing

Electrical work

Construction methods must withstand local weather conditions
Each city has different zoning laws. So, contact your local government offices for advice, or look on their website. Usually, you'll find that the website has a section describing the available permits.
This DCRA (District of Columbia) page shows the information necessary for buying a shed permit. It lists the permit description, the submission requirements, and the application process.
Permit prices vary depending on where you live, the shed's size, location, and purpose, and how much work you intend to do. However, minimum fees range from $50-$100, while more extensive fees cost up to $3,000.
Land Clearing and Excavation
Select a location for your shed while considering the amount of land clearing and excavation necessary to produce a level and firm foundation.
Surface vegetation and underground roots can be severe as they disrupt flooring and foundations. Therefore, you must remove all vegetation from the proposed shed area.
Then, remove the topsoil layer for the flooring, and excavate foundation trenches in compacted subsoil. Foundation excavations should be level. But, if the ground slopes, dig the trenches in steps to accommodate the gradient.
Level ground requires less excavation and will cost less than ground with a gradient.
Typically, land clearance costs about $100/hr; Land leveling costs around $5-$10/sq. ft., and excavation costs $5-$40/sq. ft.
Foundation
To prevent floor subsidence, causing shed doors and windows to move out of square and providing excessive stress on the walls and floor, you must provide a strong and stable foundation.
Generally, a 10 ft x 12 ft shed, even when made from concrete blocks, won't need more than 4″ of reinforced concrete as a foundation.
When the concrete has cured, build bricks or concrete bocks up to ground level, keeping them level at all times. Then, fill the floor cavity with compacted hardcore, gravel, and sand up to 4″ below the top of the bricks.
Finally, pour concrete up to the bricks' top surface. You now have a stable and strong base to build your shed.
Foundations cost around $5-$25/sq. ft.
Electrical and Plumbing
Even a basic storage shed needs electric light. But, anything else will probably need switched sockets, security lights, and circuit breakers rated for exterior use.
If you attempt electrical work without qualifications, you risk causing electrical fires, potentially life-changing injuries, or death. So, use a qualified and licensed electrician every time.
Depending on the project's size, licensed electricians cost $50-$150/hr.
Many sheds also require plumbing and drainage. Offices, hobby rooms, workshops, and plant potting sheds usually need a sink, running water and drainage, and sometimes HVAC installations. So, use a professional who knows what they're doing.
Qualified plumbers cost $50-$200/hr depending on project size.
Insulation
Storage sheds don't usually need insulation unless you intend to store items requiring protection from extreme temperatures, such as cars or foodstuffs.
However, structures used as offices, workshops, playrooms, or gyms will need insulation to maintain a comfortable temperature.
Insulation comes in many forms, and you should select the type that suits your project:
| Insulation | Average Cost |
| --- | --- |
| Fiberglass | $0.30-$1.50/sq. ft. |
| Cavity wall | $1-$2/sq. ft. |
| Reflective | $0.25-$1/sq. ft. |
| Rigid foam | $0.25-$2/board foot |
| Spray foam | $0.50-$2/board foot |
Typically, expect to pay more than $200 to insulate a basic shed.
DIY Shed Cost Calculator Examples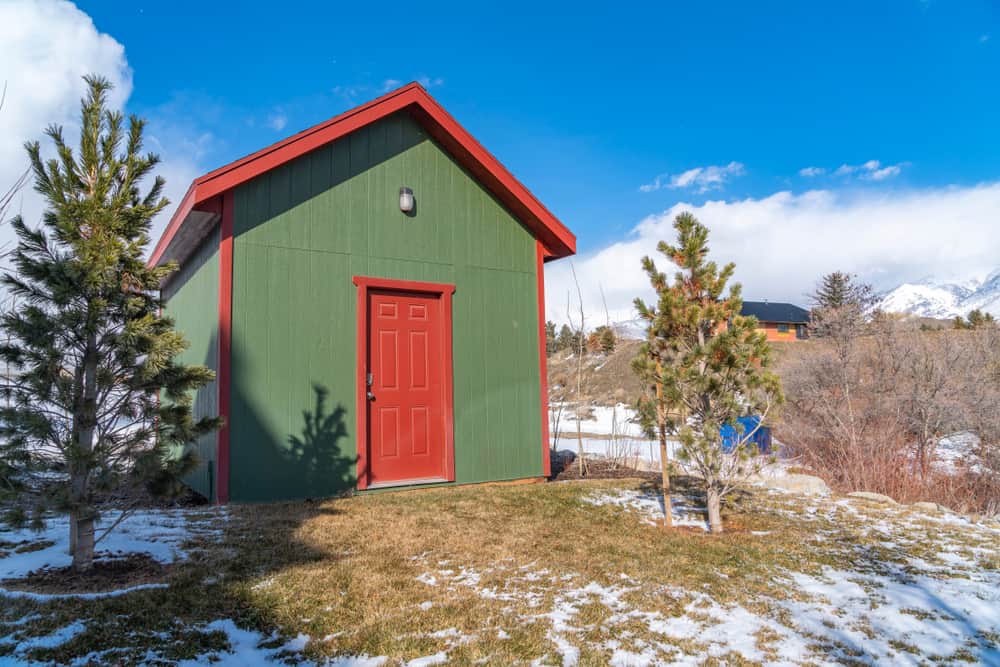 Some people have enough DIY skills to build a shed rather than purchase a kit or hire a professional. However, many DIYers stumble when calculating the price even if they have the required practical skills.
Estimating requires knowledge of arithmetic, mechanical and civil engineering, trigonometry, and the ability to visualize the structure in 3D.
To help, we have found two online calculators. Don't expect any calculator to produce a precise solution, mainly because there are many variables, approximations, and assumptions in calculators such as these.
However, they can create an approximate estimate.
Use this

online estimator

from the

vCalc

calculator database as a starting point. The calculator uses established formulae, and the civil engineering vCalc database is suitable for many applications.

The

SHED Calculator

is another database that should provide a valid estimate. SHED Calculator also includes access to helpful

professionally developed shed plans

.
The following table shows some examples of DIY shed costs. We use the shed size vs. estimate cost data table shown previously without installation labor costs of $20/sq. ft.
Remember, many variables are involved in shed construction, so only use this as a guide.
| Shed Size | Estimated Cost | Carpenter's Labor Charge | DIY Cost |
| --- | --- | --- | --- |
| 6x4 (24 sq. ft.) | $1,200 | $480 | $720 |
| 8x10 (80 sq. ft.) | $4,000 | $1,600 | $2,400 |
| 10x12 (120 sq. ft.) | $6,000 | $2,400 | $3,600 |
FAQs
The following are based on many readers' questions.
What is the cheapest shed to build?
The cheapest shed is a wooden lean-to, especially when built against an existing wall. A freestanding lean-to shed has three walls and a sloping roof.
In comparison, when built against an existing wall, it uses two walls and a sloping roof supported by a length of 2×4 inch lumber fixed to the wall to replace the third wall.
A lean-to shed is ideal for a firewood store or wet weather animal shelter.
Can I build a shed on a concrete slab?
You can build a shed on a concrete slab if the concrete is strong enough to bear the shed's weight. However, the answer doesn't stop there.
Concrete absorbs water, especially when it doesn't dry out in the winter. Therefore, the shed's timber walls absorb the water and rot when placed directly onto the slab. Furthermore, the water finds its way inside and causes damp issues with the contents.
The way around this is to place treated wooden bearers onto the slab and the shed's floor joists onto the bearers. This arrangement provides ventilation space under the shed allowing dampness to dry out.
What material is the cheapest to build a shed?
Plastic is the cheapest material to build a shed. The kit consists of ready-made panels that slot or bolt together.
The manufacturer produces the wall and roof panels from molds in a factory, with little or no human intervention. But, this automated process makes a product difficult to customize.
The price of a simple plastic shed costs around $1,000.
Bottom Line
Most American households find a shed handy for storing the overflow clutter, bikes, garden tools, and a heap of other uses. But choosing whether to build one as a DIY project or hire a professional is a question only you can answer based on your skills and budget.
Preformed plastic sheds are cheap to buy and simple to assemble, so they're easy for most people to build. However, for any other shed type, we recommend a professional.
Therefore, find a qualified shed erector near you to ensure you have the best possible finished product.