Roller coasters form the heart of nearly every theme park – providing visual and ride entertainment. But, if you're planning to build one, you can often expect costs to be extremely high.
Some of the world's most popular rollercoasters cost upwards of $100 million to build. While most won't cost that much, you can still expect prices to be high.
So, how much does it cost to build a rollercoaster? On average, about $5 million. That works out to an average of $1,000-$2,000 per foot. In addition, pre-built roller coasters often cost between $700,000 and $1,500,000 each depending on size.
*Disclaimer: The research in this article was correct as of November 2022. Our sources are linked to throughout the article.
Cost To Build A Roller Coaster (By Type)
Roller coasters vary significantly in design, style, and size.
For this reason, you can pay significantly different rates based on the technology behind the coaster.
| Roller Coaster Type | Minimum Cost | Maximum Cost | Average Cost |
| --- | --- | --- | --- |
| Accelerator Coaster | $12,500,000 | $25,000,000 | $16,000,000 |
| Flying Roller Coaster | $12,000,000 | $50,000,000 | $18,000,000 |
| Bobsled Roller Coaster | $2,000,000 | $12,000,000 | $5,000,000 |
| Stand-Up Coaster | $3,000,000 | $14,000,000 | $5,000,000 |
| Floorless Roller Coaster | $8,000,000 | $20,000,000 | $15,000,000 |
| Dive Coaster | $9,000,000 | $25,000,000 | $12,000,000 |
| Inverted Roller Coaster | $6,000,000 | $28,000,000 | $14,000,000 |
| Pipeline Roller Coaster | $3,000,000 | $20,000,000 | $14,000,000 |
| Wing Coaster  | $12,000,000 | $30,000,000 | $20,000,000 |
Importantly, these rates are based on large-scale non-portable installations.
All rates are based on existing costs to build rollercoasters of this type.
Cost To Build Roller Coasters (By Size)
Often, the size of your roller coaster will be one of the most important factors in pricing the project.
For example, the Kiddie Coaster at Rye Playland is just 300 feet long and 16 feet high. It cost just $2,537.50 to build in 1927. Adjusted for inflation, that works out to $43,284.50, today.
On the other hand, Son of a Beast, a record-breaking wooden rollercoaster opened in 1999; in today's dollars, it would have cost $35,631,212.48. But at 7,032 feet long and 218 feet tall, it's also significantly bigger.
For example, the following chart details the costs to build a steel roller coaster by size:
| Roller Coaster Size | Minimum Cost | Maximum Cost | Average Cost |
| --- | --- | --- | --- |
| Small | $30,000 | $12,000,000 | $4,000,000 |
| Medium  | $120,000 | $20,000,000 | $5,000,000-$6,000,000 |
| Large  | $750,000 | $35,000,000 | $12,000,000-$15,000,000 |
Roller Coaster Building Cost Factors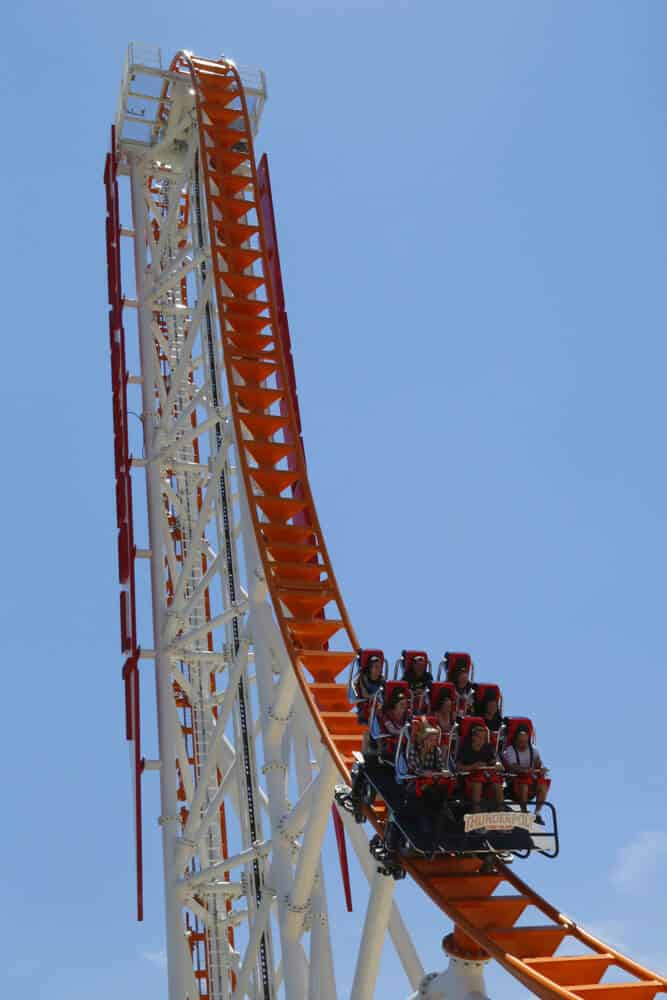 There are dozens of factors that impact what it will cost to build a rollercoaster.
For example, a simple prefab coaster can cost as little as $30,000. On the other hand, the "average" cost for a rollercoaster is around $5 million.
Design
The design or theme of your roller coaster will be an extremely expensive part of the total cost.
For example, most "simple" coasters, consisting of rails and a cart cost somewhere between $4,000,000 and $12,000,000. Bigger coasters with themed displays can cost well over $30,000,000.
The Expedition Everest at Disney's Animal Kingdom in Florida, for instance, is one of the most expensive roller coasters ever built.
At $100,000,000, it's out of budget for almost any theme park but Disney. But at 199.5 feet, with almost 4,000 feet of track, it's also massive. And, the artificial mountain contains over 38 miles of rebar and 10,000 tons of concrete.
Not all designs have to be that expensive. Many coasters feature no embellishments at all. Others feature simple blinking lights.
But, any design you opt for will have to be drawn up and brought to life.
Engineering/Architecture
Most organizations building roller coasters purchase a roller coaster design or technology. They then modify the track and design to meet their speed, height, and theme needs.
However, even prefabricated roller coasters can be extremely expensive. For example, Intamin's famous prefabricated wooden roller coasters start from about $10 million.
In other cases, you can buy a prefabricated steel coaster for as little as $30,000 for a small one. You're much more likely to pay somewhere between $750,000-$1,250,000.
If you want to pay to have one designed especially for you, you'll pay significantly more.
Here, mechanical engineers, electrical engineers, and civil engineers have to work together to create a design that is structurally sound, functionally sound, and "fun".
Each of these people will require a salary ranging between $50 and $150 per hour.
In addition, with no guarantee on how long it takes to design something creative, the amount of design time can vary significantly.
The standard is to purchase a design, work with the company to scale it or modify it to suit your needs, and then have it installed by that company.
This means that the same company designing the coaster also does the work and inspections – so you know all work meets design standards.
Roller coasters are extremely specialized equipment and many roller coaster design companies deliver special or custom training to the mechanical engineers they hire.
For example, your engineers must consider the g-force exerted at every part of the coaster to ensure it stays safe and fun.
Here, it's also important to consider designing for ground space, how the coaster fits into the land you have, and air space. If you have trees, the coaster has to move around them.
If you have local aviation requirements, you have to design under that or make a coaster that meets those requirements.
You have to ensure as well that your coaster threads through existing park attacks or rides in a way that looks good. This can mean an impressive amount of custom design goes into every roller coaster you install.
Materials
Nearly all coasters are made of wood, steel, or a combination of the two. All coasters will also use concrete for the foundations.
However, every aspect of building a roller coaster has to be considered. Those material costs can be immense.
For example, the Pepsi Max Big One Coaster contains 2,215 tons of steel and over 1,270 wooden piles. The Expedition Everest contains over 5,000 tons of steel and 10,000 tons of concrete.
So, material costs can be extremely significant in building your coaster.
| Material | Cost Per Square Foot |
| --- | --- |
| Steel | $6-$120 |
| PVC | $4-$8.50  |
| Wood Lumber  | $2-$18 |
| Plywood (Cars) | $4.50-$18 |
| Concrete (reinforced) | $4-$12  |
| Fiberglass  | $0.88-$1.54  |
| Rebar  | $1.40-$2.55 |
| Piles  | $12-$819 |
Considering you may need several hundred thousand square feet of any one of these materials, material costs are normally the largest cost factor in your build.
Land Preparation
Before you install your coaster, you'll have to clear and prep the land. Often, this means correctly measuring and marketing support areas for the coaster.
Then, you can clear the land and dig holes for foundations and support piers. In addition, if you're in an area with soft ground such as very wet or very sandy ground, you'll have to prep the ground for piles.
This may require significant drilling and digging before you even begin building. This can range from $1.45-$3 per square foot to clear the land. You can also expect to pay $18-$60 per foot for drilling or driving piles.
Electrical Work
Electrical work, including wiring, lighting, circuit boards, etc., can be considerable. In most cases, wiring is done during construction.
Electrical engineers typically work for $44-$125 per hour in the United States. In addition, electricians can earn anywhere from $18-$125 per hour in most parts of the U.S.
Foundation
Most roller coasters use a series of smaller foundations designed to maximize support for the coaster, while minimizing the amount of land to be cleared.
In other cases, you'll have a large foundation underground, so that support piers end underground. This allows you to grow grass or other greenery over the foundation, improving the look of the park.
Whichever route your park takes, you'll need significant foundation work. These include piers or piles driven into the ground to add additional support.
You'll also need reinforced concrete (rebar and concrete or concrete and steel mesh), which usually averages $4-$12 per square foot.
Finally, you'll pay $24-$900 per foot to have piles driven (including materials). Here, the upper cost is a 20-inch diameter steel pile while the lower cost is a 14-inch diameter PVC pile.
Plumbing
Most coasters need drainage, wire protection, and other plumbing installed. That becomes more impactful if your coaster has water features such as spray or waterfalls.
In either case, you should consult with your design team to see if water drainage is part of the design or must be installed separately.
Construction and Labor
Construction and labor costs are also a significant part of labor. For example, some rollercoasters can take years to build. The Exploring Everest took 6 years to construct.
Most will go up much more quickly. However, you're still looking at thousands of dollars in labor.
In fact, depending on the location, labor rates per hour go from $14-$120 per hour. You'll also have to pay managers, pay regulators for site inspections, and safety inspections.
Actual labor costs will also heavily depend on whether you're cutting and welding the steel on-site or having it prefabricated. Here, prefabrication is the most common.
In both cases, you'll need an average of 100 people on your building site.
Here, prefabrication can raise the cost of steel to over $3,400 per ton. However, it does mean that when the steel arrives at your park, you can simply weld it together.
In some cases, those pieces are already significantly assembled, so they can be lifted with a crane and welded onto the structure. T
hat significantly reduces impact on the park, meaning you can minimize downtime – sometimes even finishing full assembly on-site in a single down season.
Still, you can expect labor costs to total between $11,200 and $125,000 per day, with an average of about $30,000-$40,000.
Maintenance Cost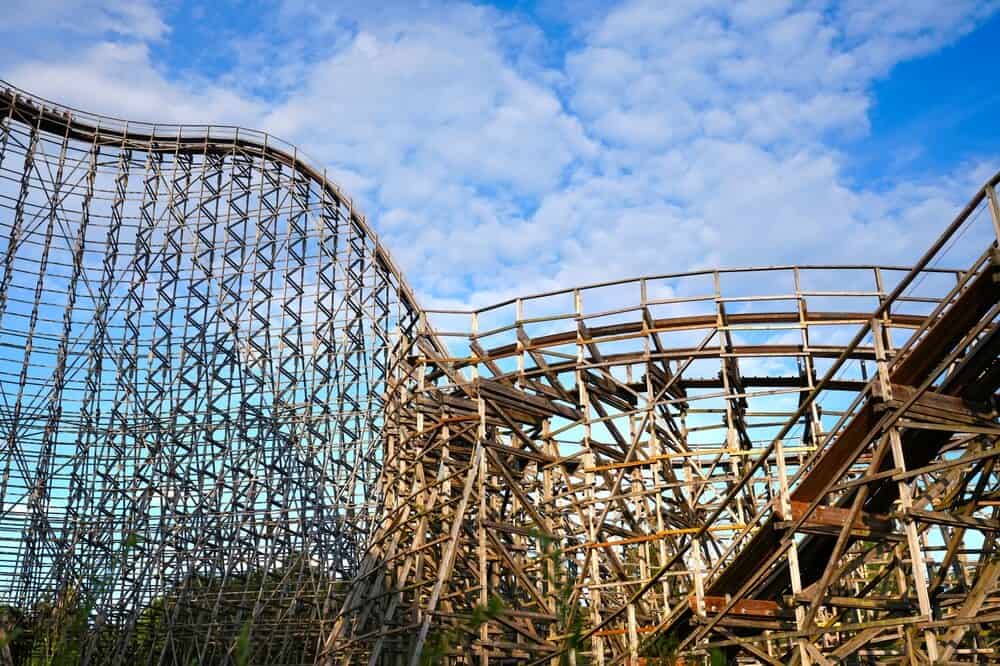 Any rollercoaster will require significant maintenance costs over time. However, those costs will change depending on what kind of rollercoaster you have.
For example, wooden rollercoasters require significantly more maintenance than other types.
That's because you'll have to re-track them, the timber can become loose, and you'll have to continuously maintain the paint or the protective coating.
However, even steel roller coasters require significant maintenance. Most involve a daily inspection to check electronics, brakes, drive tires, anti-rollback features, wheels, etc.
You'll also have to do regular track and car inspections. Weaknesses in cars can result in death if a side panel flies free at the wrong moment. And, wear and tear on wheels or on the track could result in potentially fatal slippage.
In addition, modern coasters use computers to ensure safety, to stop cars on time, and to shut down the coaster if something goes wrong.
That software must also be maintained and checked daily to ensure incidents don't happen.
You might also have locally mandated safety inspections. This may include regular government inspections of the coaster with tests to ensure everything is still performing to safety standards.
However, the actual costs of maintenance can vary significantly. Depending on the size and material used for the coaster, you might need anywhere from $10,000-$100,000+ per year for maintenance.
FAQs
If you still have questions about how much it costs to build a roller coaster, the following answers may help.
How long does it take to build a roller coaster?
Roller coasters can take anywhere from about 3 months to over 6 years to be built. In most cases, build time averages around 2-3 years. However, wooden roller coasters can be built much more quickly.
In addition, prefabricated roller coasters, which are sold pre-welded, can go up in a matter of months.
In this case, once you have the foundation in place, you can simply large-scale weld large pieces onto the piles – meaning construction goes quickly.
However, themed roller coasters can take several years longer to build. Sets, mountains, and artwork all take time to design, build, and decorate.
Who designs and builds roller coasters?
Most roller coasters are made and built by 19 different companies. These include:
S&S Worldwide

Bolliger & Mabillard

Bradley and Kaye

Chance Morgan

Dynamic Structures

Fabbri Group

Gerstlauer

The Gravity Group

Great Coasters Internatioanl

Intamin

Mack Rides

Maurer Rides

Philadelphia Toboggan Coasters

Premier Rides

Preston & Barbieri

Rocky Mountain Construction

Vekoma

Zamperia

Zierer
However, some companies also sell prefabricated roller coasters. These are not on this list and may use modified designs from the companies on this list.
Others will offer custom coasters or coasters built using designs directly purchased from one of these companies.
Some parks choose to have their own engineers and designers. However, almost all existing roller coasters are designed by one of those 19 companies or a company that has since gone out of business or sold to another.
Even major theme parks normally have a company like Vekoma or Intamin supply the engines, chain lifts, and rails – even if they are custom designed.
What is the most expensive roller coaster ever built?
The Expedition Everest is the most expensive roller coaster ever built. This Disney roller coaster was completely custom designed and built for Disney by Vekoma.
It features 3,884 feet of length, is 199 feet high at the tallest point, and has an 80-foot drop.
It also takes some 2,050 people per hour. And, the queue features 8,000 artifacts from Nepal as part of a museum-quality exhibit.
The full ride, including the thematic 199.5-foot mountain prop cost $100,000,000 to build.
Final Thoughts
Building a roller coaster normally takes 3-5 years and around $5 million in total investment. However, if you're building a small kiddy coaster, you could spend closer to $30,000. In addition, wooden roller coasters can go up in as little as 8 months.
On the other hand, if you build a massive, themed coaster, costs could go into the tens of millions. Therefore, roller coasters costs go up and down based on what you want from the coaster. However, on average, you should expect to spend $3-$5 million for a basic large coaster.