Sinks are generally often used in the kitchen and may add to the overall appearance as well as efficiency. You want to consider an undermount sink for a contemporary and elegant kitchen. With no visible mounting deck to catch food and debris, undermount sinks are a great choice. They also show off the elegance of countertops made of granite and marble since there is no lip overhanging the surface.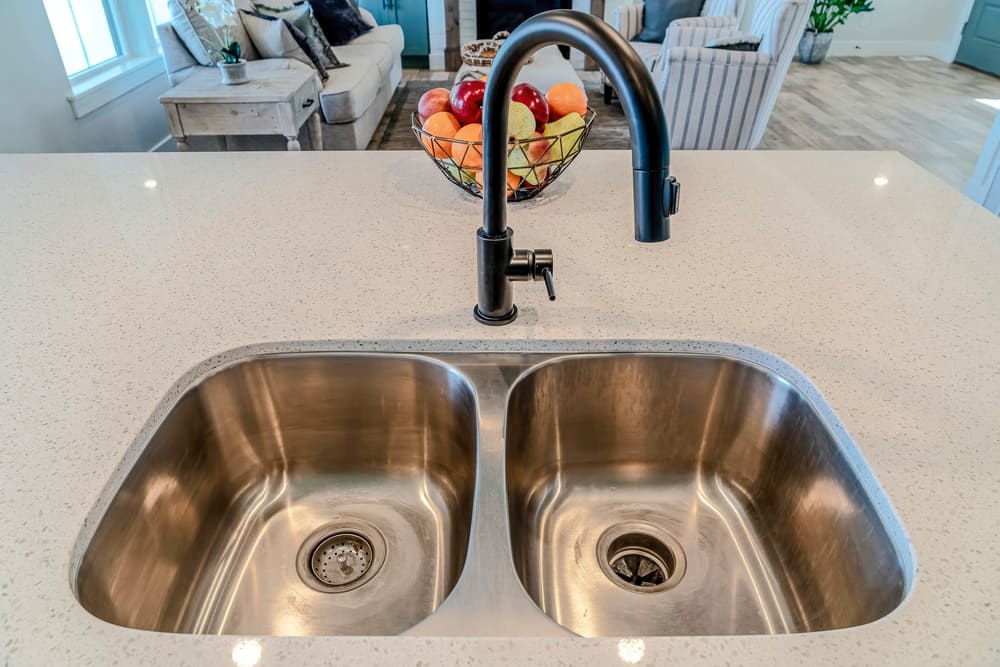 Here's a quick list of top undermount sinks for your kitchen:
Kraus Undermount Granite Composite Kitchen Sink with Accessories
Ruvati 30-inch Undermount Double Bowl Stainless Steel Kitchen Sink
ZUHNE 32-Inch Stainless Steel Undermount Kitchen Sink
KOHLER Whitehaven Farmhouse Self-Trimming Undermount Kitchen Sink
BLANCO Double Bowl Undermount Kitchen Sink
MR Direct Undermount Stainless Steel Kitchen Sink
Kraus Standart Pro 16 Gauge Undermount Single Bowl Kitchen Sink
This article will review some of the top-ranking undermount kitchen sink brands and models. We also made sure to include some of the pointers you want to consider before purchasing an undermount kitchen sink.
1. Kraus Undermount Granite Kitchen Sink with Accessories
Designed in Italy and made to the highest standards, Bellucci™ sinks are a beautiful addition to any kitchen. It's one of the best-rated undermount kitchen sinks you'll find in the market.
The Bellucci Undermount workstation reinvents granite sinks with improved utility and contemporary elegance. Like other mid-range models, the sink comes with many accessories, such as the versatile roll-up dish drying rack.
It also has a rugged composite cutting board that lets you chop ingredients directly over the sink without filling up the extra space. Drain assembly with filter and mounting hardware are also included as accessories.
Integrated ledges on the workstation allow you to move custom-fit accessories over the sink. Ultimately, this makes your kitchen workflow more efficient when preparing meals or cleaning.
This large-capacity sink is made of a cutting-edge quartz composite material that resembles a genuine stone in look and overall feel. The novel technique produces a rugged, smooth, compact, and non-porous surface.
As a result, the spots for hiding waste particles are limited, resulting in a neat kitchen. Most of all, this contemporary granite sink is infused with antibacterial silver ions that keep your kitchen healthier.
Its highly durable structure resists impact, heat, and thermal stress. The softly sloping bottom prevents water from accumulating in the sink. Rustic in design, this sink is stain-resistant and simple to clean.
Material- Composite granite
Design- single bowl
Dish drying rack
Sturdy cutting board
Finish-Stainless steel
Installation method- Undermount
Size- 33" inch
2. Ruvati 30-inch Undermount Stainless Steel Kitchen Sink
If you prefer a double bowl undermount sink, then look no further. Consider a double-bowl sink for easier sorting and washing of dishes. The Ruvati Nesta series has square bowls with zero radius corners. It ranks high among the stainless undermount kitchen sinks.
This gives a modern, fresh appeal to any contemporary kitchen space. The rear drain and exquisite drain grooves contribute to the sink's utility.
Its smooth satin finish and solid undercoating make it ideal for contemporary kitchens. Because the partition is lower than others, it provides extra space for doing dishes and loading big pots.
In addition, the sides are curved, which makes regular cleaning a breeze. The Ruvati Low-Divide offers a separator for handling two tasks while also allowing you to wash large cookware such as pans easily. In other words, it's a cross between a single-basin and a double-basin sink.
Its heavy-duty, sound-proofing covering and thick rubber cushioning help to reduce noise and dampness. Also, compared to the typical satin finish, its brushed texture is more forgiving of scratches and blends in nicely with your other kitchen equipment.
The undermount sink also includes two basket strainers and two rinse grids, earning it a spot among the most acceptable kitchen sink bargains around.
Finish & Material- Stainless steel
Installation method- Undermount
Size- 30" inch 50/50
Design- Double-bowl
Noise reduction padding
Two basket stainers
Warranty- Lifetime
3. ZUHNE 32-Inch Stainless Steel Undermount Kitchen Sink
Zuhne is a well-known name in high-end sinks and faucets. The brand is a top-tier contender in the undermount double bowl kitchen sinks category.
Despite the industrial-grade construction and apparent focus on functionality, it's one of the most contemporary and distinctive-looking sinks on the market.
Architects, designers, and homeowners choose Zuhne sinks for their durability. Zuhne sinks are made of pure surgical-grade ultra-performance rust and corrosion-proof stainless.
It's needless to say that rust-prone cookware like a cast iron pan left in standing water might rust the sink. No need to worry; the rust deposit will not be permanent. You can clean it with a stainless cleaner.
This sink comes in 10 different sizes. However, a 30-inch length x 18-inch breadth x 10-inch depth is a good fit for most homeowners.
The model, like others of its like, reduces or eliminates garbage disposer noise and vibration. Plus, the cabinet's condensate damage is reduced pretty significantly.
Another stunning feature is the sink has a grooved and slanted base for quicker water and residue drainage. To ensure proper drainage, check if the sink is positioned evenly and whether the plumbing trap is unblocked.
Pick this model to save time cooking and cleaning with its unique accessories that reduce clutter and maximize space.
Material- Stainless steel
Installation- Undermount
Drain location- Rear set
Mounting hardware
Warranty- Limited lifetime guarantee
Finish- Matt
Design- 60/40
4. KOHLER Whitehaven Undermount Kitchen Sink
One of the most popular kitchen sinks for a modern farmhouse is the Kohler Whitehaven. An apron-front sink is a must-have in every country kitchen.
The Whitehaven apron-front undermount kitchen sink has a sleek and flexible farmhouse design that will go with most décor ideas. It's arguably one of the best undermount kitchen sinks for granite countertops.
This sink is exceptional because of its enameled cast-iron build that provides long-lasting durability.
The Self-Trimming design needs a basic rough cut to create stunning finishes, overlaying the cabinet front. It features a shorter apron that allows for installation on most new or existing 33-inch standard cabinets, making it ideal for renovation projects.
It's worth mentioning that the sink is 36 x 21.5 x 9.5 inches and, therefore, should be installed under your counter. The Whitehaven sink has a slanted basin and an offset drain to improve the workspace. Its sloping bottom assists drainage and cleaning.
What's also incredible about Whitehaven's single bowl sink is it accommodates large pots and pans. KOHLER guarantees the sink to not chip, crack or burn. So, rest easy knowing you can use it for anything from cooking to cleaning and prepping.
You can select from a wide range of colors to match and enhance any countertop.
Size- 33" inch
Warranty- Limited lifetime
Installation- Undermount
Style- Farmhouse
Finish- white
Material- Cast iron
Shape- Rectangular
Self-Trimming(R) design
5. BLANCO Double Bowl Undermount Kitchen Sink
The DIAMOND line combines a range of shapes, sizes, and features to reflect your style while demonstrating BLANCO's unrivaled quality and artistry.
And if you're scouting for the best undermount kitchen sinks for quartz countertops, this model would be a perfect match. The BLANCO DIAMOND undermount kitchen sink has a 60/40 bowl design that provides enough space for rinsing, cleaning, spraying, or soaking chores.
So just you know, the 60/40 bowl split design leaves enough legroom for larger cookware while leaving the smaller bowl accessible.
It's heat resistant and can tolerate temperatures up to 536°F, surpassing conventional boiling and cooking ranges. The sink's non-porous surface also repels dirt and debris while keeping the natural stone look and feel.
This undermount sink, like those from other renowned brands, is backed by Blanco's limited lifetime guarantee. It's also worthy to note that the kitchen sink is built of SILGRANIT, a trademarked, certified granite composite material designed to withstand the most intensive kitchen duties.
Each essential feature, such as the vast basin capacity or the easy-to-clean, lasting SILGRANIT surface, seems to have been well thought out. Blanco SILGRANIT sinks are unfazed by sharp objects or even a hot pan.
Material- Granite
Shape- Rectangular
Finish- Matt
Installation- Undermount
Style- Traditional
Color- Truffle
Dual bowl
6. MR Direct Undermount Stainless Steel Kitchen Sink
Are you looking to install a huge single bowl sink in a tiny area? Consider the MR Direct 1823. It's probably one of the best undermount single bowl kitchen sinks. With a 3-1/2 in. corner radius and a nine-inch depth, this elegant stainless steel undermount basin gives plenty of useful sink area in small spaces.
An MR Direct twin bowl sink is quite handy. The sink easily accommodates multiple pots and pans. It's a perfect fit if you're on a strapped budget and don't want to compromise on build quality.
The 1823 mounts beneath the counter pretty well. MR Direct sinks are made of 304-grade cold-rolled stainless steel. Its 18-gauge thickness can easily withstand inadvertent dents and shock.
Chrome content increases repair efficiency and gives the steel its 'stainless' characteristics. As a result, the nickel in the steel resists corrosion. A brushed-satin finish adds sparkle and hides minor scratches. The bottom has dense noise-dampening pads and an insulating layer.
Its exterior is treated with an anti-condensation agent to enhance the overall durability. It's easy to clean this undermount sink. All you require is a light abrasive cleaner, water, and a soft cloth. The offset drain hole and channel grooves keep the sink clear of standing water.
Installation- Undermount
Material- Stainless steel
Sound dampening reinforcement
Single bowl type
Brushed finish
¾" corner radius
Shape- Rectangular
7. Kraus Standart Pro Undermount Single Bowl Kitchen Sink
Overall, the Standart PRO™ Series by KRAUS provides the functionality of pricey kitchen sinks without the steep price tag. It's one of the best stainless undermount kitchen sinks in the market. Like the others on this list, the sink is installed under the counter for a stylish and flawless appearance.
Kraus's ultimate goal is to revolutionize affordable kitchen and bath design by providing all consumers a broad choice of clean, contemporary, high-quality sinks.
The sturdy T304 stainless steel and extra-thick TRU16 genuine 16-Gauge construction give this Kraus sink a longer lifespan. You also won't need to worry much about dents.
It has award-winning Noise Defend technology, which insulates the basin and provides outstanding soundproofing. Kraus' sound dampening technology includes thick cushions covering over 80% of the sink for added insulation.
The basin is remarkably deep, providing plenty of space for all of your dishes. Its softly rounded edges make it simple to clean. Moreover, the commercial-grade satin finish protects the sink for years and adds a gorgeous gloss to any kitchen design.
Its rear-set drain offers efficient drainage even with dishes in the basin to maintain a clean and quick-drying sink. Alongside the undermount sink, you get a KBG-100-26 sink grid, an ST-1 basket strainer, mounting hardware, a cutout template.
Type- Single bowl
NoiseDefend Technology
Color- Stainless steel
Installation- Undermount
Warranty- Limited lifetime
Finish & Material- Stainless steel
Mounting hardware
What to Look for in an Undermount Kitchen Sink
Size
Choosing the right sink size can be tricky due to a few variables. Consider the basin's length, breadth, and depth. The sink's overall dimensions and counter depth are also worth noting. Each kitchen has its own sink space. If you don't get a suitable-sized sink, it will be difficult to install it accurately.
Design
Consider a double-bowl sink if you have the room and the money. It helps you separate dirty dishes from the usable sink area, making the cleaning process much more straightforward. However, both single and double basin sinks have benefits and drawbacks.
With double basin sinks, you may have equal-sized basins or one tiny and one huge. Triple basin sinks are available for big kitchens. Single basin sinks provide you with more space to work with, which is good if you use a lot of pots and pans.
Drainage
The location of your drain affects under-sink storage, faucet noise, and the ease of dish stacking. So, avoid kitchen sinks with inadequate drainage. Otherwise, you'll have a difficult time cleaning the sink. Installing undermount sinks with centered drains is much easier.
Installation
Sinks are installed using different methods, depending on the design, which you might not anticipate at first glance. With undermount sinks, for example, the sink is affixed below the countertop, providing a flat, seamless look that will appeal to homeowners with more contemporary aesthetic tastes.
Material
Stainless steel is the best material for kitchen sinks. For undermount kitchen sinks, stainless steel is the most often used material because of its durability, resistance to scratching, adaptability, and denting. As you may be aware, the kitchen sink can withstand a great deal of debris. As a result, make sure your kitchen sink is made of stainless steel. Stainless steel is resistant to stains and debris.
Undermount Kitchen Sinks FAQ
Which is the Most Durable Undermount Kitchen Sink?
Several influential brands make solid and dependable undermount kitchen sinks. Narrowing it down to a particular model would be strenuous. Choose a granite undermount kitchen sink for a lifetime of use. It's one of the most rigid materials out there.
The Krauss granite sink, for instance, is heat resistant, affordable, and attractive. A stainless steel undermount kitchen sink like the Ruvati is also an excellent option for your kitchen. Its steel look will modernize and glam up your kitchen.
Why Pick an Undermount Kitchen Sink?
They free up counter space. This sink style allows your kitchen or bathroom countertop to stretch to the sink, giving you additional countertop space. In tiny kitchens or bathrooms, this is quite useful.
In addition to the seamless design, many individuals choose undermount sinks for their kitchen remodeling ideal. The sink's lip is flat, with the tabletop installed beneath. This type of sink is ideal for a sophisticated or contemporary house design.
Do You Need a Special Faucet For an Undermount Sink?
An undermount sink requires no particular faucet. The reason is that the faucet is higher than the undermount sink while the undermount is in the other direction. It's best to consider if the sink can withstand the water pressure from the faucet, and if not, a unique faucet is required.
The undermount sink fits a standard 24-inch wide kitchen countertop like a rimmed kitchen sink. If your undermount sink is 20 inches or less wide, you can easily attach a faucet.
Undermount or Overmount Kitchen Sink?
With undermount sinks, the countertop reaches the sink and beyond. Undermount is an ideal option if you're short on space and need every inch of counter space. However, one of the most annoying features of undermount sinks is the space at the top where it meets the counter. This gap is typically sealed with silicone sealant, although not always level with the surface. Therefore, a depression that harbors food debris will emerge.
On the other hand, if you place a overmount sink into a cutout inside a benchtop, the lip will prevent the sink from falling through and clattering to the ground. Top-mount sinks are also known as drop-in sinks.
As long as the dimensions match, homeowners can install or replace the existing model with a drop-in kitchen sink. Caulk the hole, center the sink, and fix it with clips below the countertop.
While an identical size replacement is easy, there are factors to consider. Replacing an old sink isn't always straightforward. You can cause damage to the countertop. The sink's depth must also be addressed, and you might need to change the plumbing drain connection underneath the sink.
Final Thoughts
So, which is the best undermount kitchen sink to buy? When choosing an undermount sink, there are numerous factors to consider. The material, design, and drainage are some of the pointers you want to work with. Undermount sinks appear to be becoming better and better with time, with heat- and scratch-resistant bodies. Any of the above-listed models would look terrific in your kitchen.
Erica is a writer with a solid background in the latest home decor trends, home technology, and interior design. Through unbiased, independent research, she creates useful and actionable product reviews to assist consumers in making purchasing decisions.