Whether you want to open your first checking account or have recently moved to Alabama and look for a local bank, deciding which financial institution is worth your trust is often challenging.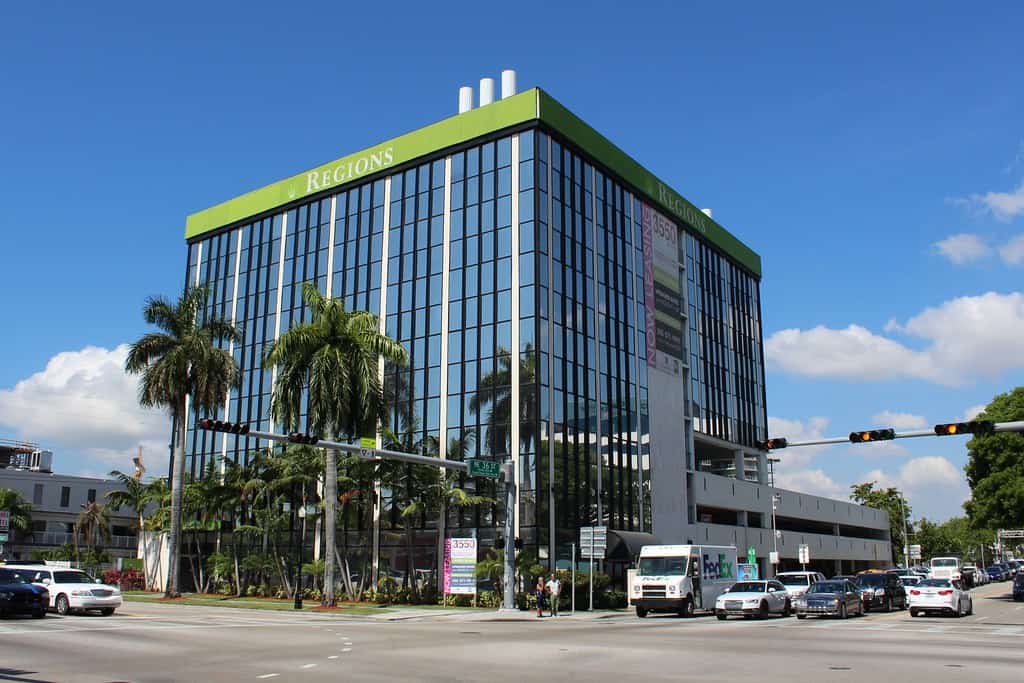 You don't have to spend hours on end researching, though. From small local players to nationwide and online banks, this guide can help you find the best bank in Alabama for you.
The comparison table below shows a list of the top banks in Alabama:
| Bank | Number of branches | Number of ATMs |
| --- | --- | --- |
| Regions Bank | 235 | 322 |
| Peoples Bank of Alabama | 26 | 35 |
| Bryant Bank | 18 | 18 |
| First Community Bank of Central Alabama | 8 | 7 |
| CB&S Bank | 26 | 24 |
| Liberty Bank Alabama | 6 | 6 |
| Truist Bank | 70 | 66 |
| Wells Fargo Bank | 206 | 248 |
| PNC Bank | 115 | 220 |
| Trustmark National Bank | 43 | 46 |
| BancorpSouth Bank | 48 | 37 |
| CIT Bank | 0 | 100+ |
| Axos Bank | 0 | 85 |
| Ally Bank | 0 | 100+ |
Note: Banks are not ranked in any particular order. Data is sourced from the official branch and ATM locators provided by each individual bank and is correct as of May 2022.
1. Regions Bank
One of the best banks founded in Birmingham, Alabama, Regions Bank is one of the largest local financial institutions. It operates from 235 branches and has over 320 ATMs throughout the state. But the best thing?
Region Bank is present in almost 1,500 locations and has close to 2,000 ATMs across the nation, so you can bank in all peace of mind even when you're traveling.
The most common financial products from Region Bank include personal checking accounts and small business banking.
Most personal checking accounts ask for a minimum opening deposit of $50. Monthly fees vary from $8 to $18, based on the account type. However, if you have basic banking needs, the Now Checking Account only costs $5 per month, and you can open it with a $10 initial deposit.
Students and seniors over 65 years benefit from dedicated banking options with small or no monthly fees.
Website: Regions Bank
---
2. Peoples Bank of Alabama
As one of the best business banks in Alabama, Peoples Bank offers a variety of checking and saving accounts to new and established business customers.
You can also choose from multiple loaning options at competitive rates. Solutions include business credit cards, lines of credit, arranged overdrafts, as well as term loans for small businesses. In addition to financial products for managers and business owners, you can also open accounts or require additional credit cards for your employees.
Personal customers can also choose from various dedicated products.
Not only can you opt for various checking and saving accounts, but most checking accounts come with no monthly fees and no monthly balance requirements.
Those looking for a mortgage provider may also find a trustworthy partner in the Peoples Bank of Alabama. The institution accepts applications and provides quick evaluation and approval directly online. Alternatively, you can schedule an in-branch appointment with a mortgage specialist.
The bank has 26 branches and 35 ATMs across the state, and besides being a small bank, it is also one of the best banks to work for in Alabama.
Website: Peoples Bank of Alabama
---
3. Bryant Bank
Founded in 2005, Bryant Bank has managed to become one of the best banks in Tuscaloosa (and the rest of Alabama) in under two decades.
It only has 18 branches and ATMs, but we wouldn't be surprised to see it expand further over the next few years. In fact, it brags with total assets of over $1,5 million.
Its greatest strength is the no-monthly-fee checking account. You can open one with an initial deposit of $50 and don't have to pay a dime if you receive a monthly direct deposit and opt for e-statements. Alternatively, you must maintain a minimum daily balance of $750, or you'll be charged a monthly fee of $8.
Customers can also waive the monthly fee for an interest-earning checking account, as long as you maintain a minimum daily balance of $1,000 or an average collected balance of $5,000 in each statement period.
Business checking and saving accounts also come with low fees and good interest rates.
Moreover, the bank does its best to keep up with the time. You can use it online or integrate it with Apple, Google, Samsung, and Fitbit Pay.
Website: Bryant Bank
---
4. First Community Bank of Central Alabama
Local businesses and personal customers who want to bank locally might find what they look for in one of the best Alabama community banks, the First Community Bank of Central Alabama (FCBCA).
The financial institution was founded in 2001 in Wetumpka and now operates from seven other locations, for a total of eight branches and seven ATMs.
While small compared to other banks, it knows how to attract customers with its hands-on approach.
This bank strives to understand the community and come up with financial services dedicated to personal customers and local businesses.
The First Checking Account is ideal for first-time clients. You can open it with a minimum deposit of $100, and there are no monthly fees. Other accounts have fees, but the bank offers ways to waive them.
Business checking accounts come with free debits, credits, and deposits (up to certain limits), no maintenance fees as long as a minimum balance of 1,000 is maintained, and a small initial deposit of only $100.
Website: First Community Bank of Central Alabama
---
5. CB&S Bank
A leading community bank with over $2 billion in assets, the CB&S Bank doesn't give off the same "small community" vibe as FCBCA, but it still appeals to local customers and small family businesses in Alabama.
The bank has 56 total branches in three states, 26 of which are located in this state. The headquarters are in Russellville, but this is one of the top banks in Huntsville, Alabama, too.
Whether you need a personal checking account, a business account or loan, or look for an institution to manage your wealth, the CB&S Bank could be it.
Personal checking accounts offer tailored solutions for professionals, students between 15 and 25 years, and seniors (50 years and over). Opening an account is straightforward, either in-branch or online.
Business banking varies from checking accounts to merchant services, such as wireless smart terminals for brick-and-mortar premises or online payments for e-commerce businesses.
Website: CB&S Bank
---
6. Liberty Bank
One of the best banks in north Alabama, Liberty Bank opened its gates in 1971. Like FCBCA, it has established itself as a trustworthy community bank catering to individual consumers and businesses in the area.
Despite being the smallest bank in the state – it only has six branches, and six ATMs – Liberty Bank Alabama attracts customers with competitive checking and saving accounts.
In addition to standard accounts, some of which come with no monthly fees and good interest rates, you can also opt for personal investments in the form of Certificates of Deposit and IRAs.
Business banking options are limited to checking accounts, but customers can still apply for credit cards and overdraft arrangements.
Borrowing is not as straightforward as with larger banks, but Liberty Bank still offers a selection of unsecured loans.
Or, if you have the money and want to make an investment, you can contact your local branch to see what bank properties you can buy.
Website: Liberty Bank (Alabama)
---
7. Truist Bank
Headquartered in Charlotte, North Carolina, but operating across the US, Truist Bank is often the preferred choice for those who like the community bank feel but need in-branch support from their financial institution even when traveling.
Founded in 1872, the financial corporation brags with $509.228 billion in total assets. Thus, you can expect a wide range of financial services from them.
A checking account is very easy to open with a minimum deposit of between $20 and $50, based on the account type. Students don't have to make a deposit and have to pay no monthly fees. Regular account fees are also easy to waive.
Startups and small businesses can also opt for a free checking account that is easy to open online.
Merchant services cover in-person, online, and on-the-go business types, so you can accept payments from customers in the easiest possible way.
Other financial services for both personal and business clients include investments, lines of credit, retirement plans, and more. No doubt, one of the best banking options in Alabama.
Website: Truist Bank
---
8. Wells Fargo Bank
Wells Fargo is one of the largest financial players in the US, so it doesn't come as a surprise that it is popular in this state, too.
Considered one of the best banks for small businesses in Alabama, Wells Fargo offers a variety of products for local business owners and startups.
While all business checking accounts come with a monthly maintenance fee, they all include generous free allowances for transactions and cash deposits. The monthly fee can also be waived by maintaining a minimum daily balance or an average ledger balance per statement period.
Opening a business checking account with Wells Fargo is also easy and cheap – you only need to deposit $25.
Personal customers can also choose from multiple checking and saving account options.
Wells Fargo is also a leader in the lending sector, offering secured and unsecured loans and both private and business mortgages. The institution also welcomes big corporations, offering tailored financial services and loans.
Website: Wells Fargo
---
9. PNC Bank
Part of the PNC Financial Services Group, Inc., this is one of the best banks in Mobile, Alabama.
Mobile aside, the bank has 115 branches and over 200 ATMs across the state. However, its best service is the Virtual Wallet checking (or checking and savings) account, which lets you manage your finances directly from your mobile.
This app connects to your checking account and allows you to set spending limits, take care of standard transactions, access your statements, and even save money.
The Virtual Wallet also includes a low cash mode developed to help customers avoid overdraft fees and comes with no monthly service charge if you maintain a minimum monthly balance of $500 – or if you receive a monthly direct debit of the same amount.
Students can opt for a dedicated Virtual Wallet with dedicated banking options. It goes without saying that you can select the right product and open an account online.
Note: PNC acquired BBVA Compass in 2021. For long considered one of the best international banks in Alabama, BBVA Compass still operates under the Spanish name in a few locations. However, all branches will soon be rebranded by PNC.
Website: PNC Bank
---
10. Trustmark National Bank
Founded in 1889 and headquartered in Michigan, the Trustmark National Bank is one of the oldest banks in Alabama and the rest of the US.
Diversified financial services range from checking and saving accounts to wealth management, insurance solutions, and lending.
Checking accounts come with free online and mobile banking. Students can opt for a dedicated account that comes with a $25 bonus, and a Health Savings account is ideal for those who want peace of mind in case of a sanitary crisis.
Business products address companies of all sizes, including small businesses that would benefit from a free checking account.
The bank also offers mortgage loan options and home equity lines of credit for homeowners.
Website: Trustmark National Bank
---
11. BancorpSouth Bank
Headquartered in Mississippi, BancorpSouth Bank is today one of the best banks in south Alabama and the rest of the state. It has 48 branches and 37 ATMs in all major cities, including Mobile, Montgomery, and Birmingham.
Keeping up with the times, BancorpSouth Bank impresses with a variety of digital and mobile banking products.
Checking and saving accounts are easy to open online with a minimum deposit of $50. The greatest downside is that all checking accounts come with monthly service fees that you may not be able to waive.
Business services include checking and saving accounts, loans and credit lines, cash flow management options, and employer solutions for easier payment of wages. The bank also offers merchant services so that you can accept direct and online payments.
If you're not sure which product is right for you or need money management advice, BancorpSouth Bank's advisors can help you either in-branch or with information and tips shared through the financial blog of the institution.
Website: BancorpSouth Bank
---
12. CIT Bank
Online and mobile banks have gained popularity in the past years, and one of the major players is CIT Bank.
As one of the top online banks in Alabama, CIT addresses busy customers who don't have the time to visit a branch. From opening a checking account to applying for home loans, everything is done and approved online.
Not only does CIT make banking easy, but as a division of the First Citizens Bank, this financial institution also gives peace of mind to those who don't fully trust digital banks.
CIT Bank doesn't offer as many checking account options as other financial institutions, and this is perhaps the reason why it only made it to the top 15 rather than the top 10 banks in Alabama. Nevertheless, the eChecking account is easy to open with as little as $100.
The bank account also integrates with Zelle® and other mobile payment services, such as Apple Pay, and comes with a convenient debit card. If it's still not enough, know that CIT Bank doesn't charge fees for online transfers, overdrafts, mailed checks, incoming wire transfers, or the monthly service.
Website: CIT Bank
---
13. Axos Bank
A pioneer in digital banking and one of the best digital banks in Alabama, Axos is a federally chartered savings and loan association and direct bank headquartered in San Diego, California.
Founded in 2000 with the sole purpose of becoming a leader in technology-driven finance, Axos Bank guarantees quick access to your funds 24/7, personalized services for each account, and a variety of checking, savings, and investment options.
Loans – whether personal or small business – are easy to apply for and come with competitive interest rates.
Large corporations and established businesses who're tired of traditional banking can also open an account with Axos Bank. Commercial banking and lending services include treasury management, lines of credit, equipment finance, and more.
Integrated software solutions even address HOAs, property management, and non-profit customers.
Your Axos Bank account is easy to access and manage from a computer or mobile device.
Website: Axos Bank
---
14. Ally Bank
Another popular bank in Alabama with free checking accounts is Ally Bank. Similar to Axos and CIT, Ally is a fully digital financial institution with no brick-and-mortar branches. Nevertheless, it offers a variety of financial products and services that can compete with most traditional players.
Personal checking accounts come with no monthly service and overdraft fees. You won't be charged for ACH transfers either and are not required to maintain a minimum balance.
Opening an account from the comfort of your home is as easy as it gets, with a minimum deposit that can be as low as $1; there is no minimum amount requirement, but you are required to make a deposit at the end of your application.
Once you put money into your account, the bank will also send you a free debit card if you want one. While Ally has no ATMs, you can still withdraw money free of charge from a variety of partners. Simply check the ATM locator tool on the bank's website or in your app to find an ATM near you.
Ally Bank doesn't offer specific checking and saving accounts for business customers, but it offers various business solutions such as corporate finance, ventures, and dealer services.
Website: Ally Bank