Click To Compare Steel Building Quotes ➤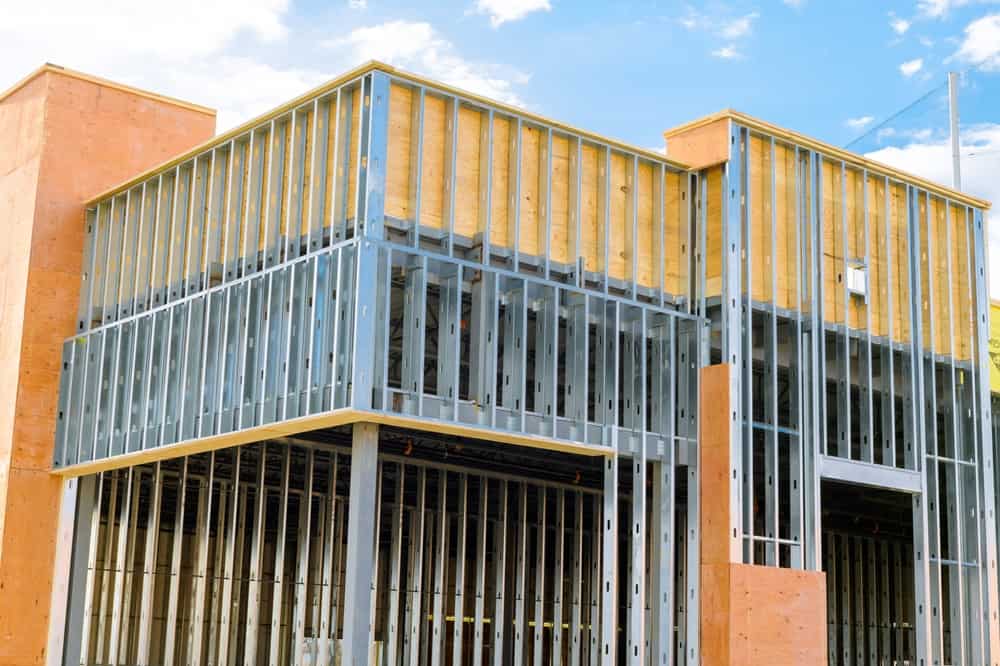 Steel buildings are a fast and affordable alternative to traditional buildings. However, buying them can be complex. Prefab metal buildings come in almost as many variations as traditional buildings. Therefore, getting set pricing and standardized sizing can be difficult. That means if you want to compare steel buildings or their costs, you have to decide on what you want. In addition, you have to choose size and foundation type. Furthermore, do you want to put it up yourself or not?
Comparing industrial or prefab metal buildings can be difficult. That's why we've made a thorough pricing guide to help you understand what metal buildings you might want and why.
The average steel building costs $17,500-$20,800, or $16-$20 per square foot. However, you might expect to pay as little as $4,000-$6,000 for small metal buildings. Plus, a larger metal building costs upwards of $80,000. On the other hand, you can expect to pay between $14 and $25 per square foot regardless of size. For example, most fall within $16 and $19.80 per meter with all costs included.
Small steel buildings – $4,000-$6,000
Large scale storage – $36,000-$45,000
Metal garage (workshop) – $19,000-$30,000
Metal airplane hangar – $40,000-$80,000
Insulated Commercial Building – $74,000-$120,000+
In most cases, the labor cost for erecting a metal building is $3-$6 per square foot. However, many manufacturers already work this into the quote.
Steel Building Prices
The following steel buildings price list includes the most common pricing for these buildings. It is subject to change. In addition, the cost calculations are based on benchmarks from suppliers across the nation. This means your exact costs will vary. However, steel building costs will normally fall in these ranges. Here, we're using an average cost of $16 per square foot.
| Building Size (feet) | Estimated Average Cost | Low Cost | High Cost | With Extras (e.g., insulation) |
| --- | --- | --- | --- | --- |
| 20 x 20 | $6,400 | $4,800 | $10,000 | $16,000 |
| 24 x 24 | $9,200 | $6,900 | $14,400 | $23,040 |
| 20 x 30 | $9,600 | $7,200 | $15,000 | $24,000 |
| 20 x 40 | $12,800 | $9,600 | $20,000 | $32,000 |
| 24 x 40 | $15,360 | $11,520 | $24,000 | $38,400 |
| 30 x 30 | $14,400 | $10,800 | $22,500 | $36,000 |
| 30 x 40 | $19,200 | $14,400 | $30,000 | $48,000 |
| 40 x 50 | $32,000 | $24,000 | $50,000 | $80,000 |
| 40 x 60 | $38,400 | $28,800 | $60,000 | $96,000 |
| 60 x 100 | $96,000 | $72,000 | $150,000 | $240,000 |
However, very small buildings, such as those under 20×20 might be significantly cheaper. For example, some manufacturers offer prefab buildings under 5,000 square feet for $7-$9 per square foot. If so, it could almost halve these costs.
Metal buildings range significantly in price depending on several factors. These normally include the current cost of steel, building size, and roof type. You also have to consider whether you're putting the metal building kit together yourself. For example, you might save as much as 60% over these estimates if you already have a foundation and supply installation yourself. However, your own costs are important. Therefore, some points to consider include:
Foundation costs, including concrete, machinery, etc.
Insulation
Building permits
Cost of labor
Cost of delivery
In most cases, you should expect to pay an average cost of $16-$20 per square foot. Importantly, if you need insulation, special doors, or other customizations, that might go up to $40. On the other hand, if you want a simple, small steel building, it might be as little as $7-$12 per square foot.
Steel Building Cost Factors
The cost of metal buildings depends on a range of factors. While you can expect to pay within a set range, what you want also affects price. For example, building width, doors, insulation, height, etc., all impact costs. The following include many of the factors impacting the cost of steel buildings.
Building Width – It's always more expensive to build wider than longer. For example, 60 (W) x 40 (L) is more expensive than 40 (W) x 60 (L). Why? Wider supports are more expensive to build. In addition, very wide buildings need support columns and arches to support the weight.
Price of Steel – The cost of steel per square foot makes up 25-40% of total costs. However, steel prices vary considerably based on location, stock market, and availability. In some cases, steel prices can fluctuate daily. You certainly won't likely see much price difference on a day-to-day basis. However, pricing one month and buying another can result in noticeable differences.
Regulations – Local coding, zoning, and building regulation affects building structure. For example, engineering buildings for different requirements including local wind speed changes costs. Therefore a building from one company might be cheaper in one area than another. For instance., buildings in Juno must be rated for 120 lbs. of snow. On the other hand, buildings in Denver only have to be rated for 45 lbs. Similarly, in Dallas, it would hardly be a consideration.
Accessories – Accessories greatly impact costs. These include but are not limited to doors, windows, gutters, drains, and plumbing. Consequentially, some companies recommend saving 10-20% of your budget for these extras. This is especially true if you need custom opening sizes.
Other Finishes – Most metal building manufacturers offer a few siding color options. Basic colors are the cheapest. On the other hand, you may pay several hundred dollars more for different finishes.
Insulation – Insulating and finishing a building can be costly. In most cases, you'll pay an additional $2-$7 per square foot for insulation.
Roofing – Roofing types are important. For example, flat roofs are cheaper than gabled. Arch supports are more expensive than square. Factors like gabling, eave height, and height of the roof can considerably impact costs. However, many manufacturers only sell prefab options. This means you will have fewer choices for customization and fewer price variations.
Example Cost Calculation
Buying a prefabricated metal building involves numerous cost factors. Understanding how these factors impact costs allows you to get a better idea of what your own project should cost. The following price estimates cover a 40 x 60 steel building with a garage door opening and a gabled roof.
Prefabricated Metal Building Kit – $6-$9 per square foot
Concrete Slab Foundation – $4-$6 per square foot
Framing with doors & insulation $3-$6 per square foot
Insulation– $2-3 per square foot
Accessories (Walk-in-door) –
Freight Costs – $100-$400+
Letters of Certification & Building Permit – $300
In this case, you're looking at $15-$25 per square foot, plus freight costs and permits. In addition, you can normally expect to pay about 10-15% of total building costs in delivery. However, you can sometimes reduce total costs by building the foundation yourself. On the other hand, not all manufacturers will allow you to self-install. On the other hand, if you need engineer-stamped plans for city building regulations, you might need the manufacturer to do the work. Essentially, it's important to look up and understand local regulation before determining costs.
Top 5 Steel Building Manufacturers & Suppliers
While there are thousands of steel building installers across the United States, most operate on a local scale. The following include some of the largest steel building companies in the U.S. If you want a more detailed look at local options, we can offer that too. Use our request a quote form to receive information from local vendors servicing your area. Please note that the list below is in no particular order.
1. Morton Buildings
Morton metal buildings offer:
BBB accredited, ENERGY STAR® partner, and LEED® Accredited Professional
5-Year wind warranty, 35-Year paint warranty, 50-year snow warranty, 20-year panel warranty
Full-service steel buildings
Full customization & custom project builds
Steel building repairs & upgrades
Morton Buildings is one of the oldest prefabricated steel building manufacturers in the U.S, with roots dating back to 1903. The company is based in Morton Illinois. However, with over 100 construction centers, delivers to most of the U.S.
Plus, with 7 U.S.-based manufacturing plants, Morton can quickly meet nearly any order.
Morton remains at the forefront of innovation. For example, if offers numerous patented techniques for pre-fab buildings and foundations. As fully American-made, Morton starts on the pricey side. This means you pay around $15-$36 per square foot. However, Morton offers one of the most extensive customization and accessory selections available. Morton's buildings range from a small 10×10 to well over 300 feet in length.
2. Armstrong Steel Buildings
Armstrong steel buildings:
BBB Accredited, ENERGY STAR Partner
40-year wall panel warranty, 40-year paint warranty, 50-year structural warranty
23+ paneling options
Direct Buy steel pricing
Full customization & engineering services available
Armstrong Steel is a relatively new steel building manufacturer. However, it is one of the largest in the U.S. The company launched in 2005. While recent, it has since become the largest supplier of budget steel buildings in the country. In addition, they're the 11th fastest growing construction company in the nation according to Forbes.
Armstrong claims to have installed over 7 million buildings. It operates from its headquarters in Colorado and diverse construction facilities. Armstrong does not offer upfront pricing. However, it does offer a full range of building sizes and models.
Armstrong Steel Buildings Website
3. Meuller, Inc.
Meuller, Inc. commercial metal buildings include:
BBB Accredited, IAS accredited, ENERGY STAR accredited
12-Month 0% interest financing
5–30-year paint warranty, 1-year limited warranty on prefab buildings. Plus 1-year limited warranty on roll up doors, 1-year limited warranty on vents
Roll up (metal) available separately
Meuller Steel offers custom steel buildings, prefab kits, and roofing to the southwest. With over 33 locations, Meuller can quickly distribute and set up buildings. However, the brand primarily only serves the American southwest.
Meuller stands out with dozens of options for buildings. These include extremely strong customization options. In addition, Meuller offers a specialty in roofing, and over 85 years of experience. Meuller Inc quotes $4,295 to $5,595 for a 24 x 24 building (10 foot high). However, prices depend on wind resistance needed. In addition, this does not include delivery.
4. American Buildings
American steel buildings offer:
25-year exterior material & finish warranty, manufacturer's warranty, added premium warranties
IAS accredited, MBMA member,
Very large building support
Roofing panel and in-house accessories
American Buildings was founded in 1947. Today, the brand is part of Nucor Corporation, the nation's largest steel manufacturer and recycler. Plus, with four full-service plants across the U.S., American Buildings has the reach to offer full-service across the USA.
American Buildings offers more building types than most competitors. For example, they do complex custom builds. These include multi-story and other very large constructions. If you need a two-story steel building, American Buildings is one of your few large-scale options.
5. General Steel
General Steel buildings include:
50-year warranty
BBB accreditation, Structural Steel Fabricator Accreditation. IAS accredited
Standardized "out-of-the-box" building kits
Direct buy steel prices
General Steel is one of the largest companies in prefab steel buildings. The metal buildings company boasts customers including NASA, Disney, and the White House. As one of the largest suppliers in the country, General Steel is reliable, accessible, and generally affordable.
General Steel also offers transparent pricing. For example, they have listed rates between $8 and $40 per square foot. Like other suppliers, rates depend on the type of structure, wind resistance, and accessories.
General Steel Buildings website
Advantages of Steel Buildings
Prefabricated steel buildings can be advantageous to business. For example, they're popular because of price, reduced cost of construction, and speed of construction. The following cover some reasons you might want this building material.
Eco-Friendly – Many steel buildings are incredibly eco-friendly. For example, many qualify for ENERGY STAR and LEEDS certification. In addition, steel is normally 98% recyclable. Most steel buildings are 30% more efficient at insulating than wood. And, steel reduces construction waste from 20% to an average of 2%. This means steel supplies short and long-term benefits for the environment.
Long-Lasting – Many steel building suppliers offer frame warranties for up to 50 years. In addition, you get paneling warranties up to 40 years. That's impressive considering compared to traditional siding options. Especially considering these typically require replacement or upgrade every 10-30 years. Steel buildings don't rot. In addition, they're less prone to damage from natural disasters. Finally, steel is more capable of surviving fires and other emergencies.
Affordable – New buildings typically cost $50-$150 per square foot. On the other hand, steel buildings average $16-$40. While you'll have to add in interior walls and furnishing, total building costs will be significantly lower than wood or cement. Most steel buildings offer these low prices because they are mass-produced. Here, an engineer designs one building. This is built at the factory and then shipped to you for installation. That's a lot cheaper than using blueprints to build a new house, on-site, every time. In addition, it reduces waste by about 170%.
Modular – Most steel buildings are incredibly modular. For example, windows, doors, and entryways can be added anywhere. Plus, steel frames support significant weight. This means that adding new levels, additions, or other changes is a simple process. Here, an engineer only has to assess and modify the frame to support more weight. From there, adding a new floor is as simple as bolting the module on.
Types of Steel Buildings
Steel buildings are manufactured to every size, spec, and need. Many suppliers will simply design a custom steel building that precisely meets your needs. And, steel building kits are available in dozens of sizes and configurations. These might even offer interior layouts mapped out for different industries. The largest difference is type of structure. This factor also affects pricing. Some of the most common types of steel buildings include:
Agricultural
Industrial metal buildings
Garages & Workshops
Commercial Steel Buildings
Airplane Hangars
Custom Metal Buildings
Steel Building Structure Options
Steel buildings use numerous structure options. These affect how the building is built, support, and other factors. While some suppliers offer multiple options, others offer just one. In most cases, this will affect price, although "how much" depends on the manufacturer.
Arch – The frame arches to offer more roof support with less metal. These are affordable but have a sloping roof. Therefore, arch frames are smaller inside than squared options.
Open Web – These frames use v-cross sections to support center beams. While more affordable than I-beam, they also support less weight.
Hybrid Open Web Truss – Hybrid solutions use a combination of I-beam and v-cross section support for a mix of value and support.
Tube Steel – A simple tube structure to support a light roof. These are ideal for covers and carports. However, most do not include siding.
C-Channel – These frames used flanged beams to bow slightly upward, creating a "c" shape. C-channel frames are popular for warehouses and garages, where a mix of support, durability, and interior space is needed.
Rigid Frame – These frames use I-beams to support the sides and building, offering a maximum of support. Most steel buildings offer this option. Here, you can choose single span (beams extend to one joist) or multi span (beams extend over multiple joists). Multi-span or continuous span offers more durability, but costs more.
Agricultural Metal Buildings
Large metal buildings used for barns, warehousing, and storage. These buildings range from 40×50 to 60×300 or larger. Expect to pay from $32,000.
Warehouse
Barn
Farm Building
Riding Arena
Pole Barn
Barndominium
Stables
Industrial
These large metal buildings house factories, warehouses, and large-scale workshops. While size varies, most are very large. In addition, prices for 60×100 industrial buildings start at around $72,000.
Warehouse
Welding shop
Manufacturing Facility
Construction Equipment Storage
Tool Storage
Garages / Workshops Metal Buildings
A garage or workshop steel building averages 40 x 60 and costs from $28,000. However, you're more likely to pay $32,000 and up. This is especially for insulated workshops. These buildings are suitable for mechanics, carpenters, and other craftsmen using heavy tools.
Auto garage
Auto workshop
Vehicle parking
Carpentry or milling workshop
Commercial Steel Buildings
Steel buildings are very suitable for stores, warehouses, and other commercial buildings. While size depends on business type, most are 60x 100 or larger. Expect pricing to start at around $72,000.
Offices
Warehouses
Storage
Mini or Self Storage
Winery, Brewery, Distillery
Greenhouse
Retail Store
Restaurant
Event Venue
Car Wash
Garage
Fitness Center
Metal Church
Airplane Hangar Metal Buildings
Purchasing a steel building is an affordable alternative to paying for a hangar long-term. Because light planes vary from a 35-85+ foot wingspan, your needs will vary. Plan to go bigger rather than smaller. Here, costs should be around $16 per square foot. However, you should plan for more if you insulation.
Classic Hangar
Private hangar
Custom Metal Buildings
Most manufacturers offer significant customization options. In fact, you can order a completely custom metal building and have it pre-engineered. Customizations can include simple color and style changes. On the other hand, they might be massive updates to load weight, truss style, doors, openings, or internal fittings or accessories. Because changes can be extensive, pricing these buildings is difficult. However, most suppliers don't charge more for customization. Instead, you'll get a price quote within the company's normal ranges for materials involved.
Common Building Sizes
Metal buildings are versatile. Normally, the only differentiator between a building used for one purpose and another is size. This chart outlines some common uses for different building sizes.
| 30x30 ($10,800-$24,000) | 40x60 ($28,800-$96,000) | 50x50 ($28,800-$96,000) | 50x80 ($72,000-$240,000) | 60x100 ($72,000-$240,000) | 80x200 ($192,000 - $640,000) |
| --- | --- | --- | --- | --- | --- |
| Shed | Garage | Storage | Garage | Retail store | Industrial storage |
| Small storage | Workshop | Retail | Storefronts | Offices | Manufacturing |
| Carport | Storage | Small churches | Fitness center | Restaurant | Warehouse |
| Personal workshop | Office | Small barns | Farm workspace | Plane hangar | Sports complex |
| Temporary office | Small storefront | Stables | Homes | Church | Casino |
Metal Building Company Services
Most steel building companies offer three different services. Some companies only offer one of these services. On the other hand, others offer all three. The type of service affects the prices on steel buildings. For example, if you're looking for a traditional building, it will cost much less than a full-service solution.
Traditional Building – Traditional steel buildings are prefab or building kits. The manufacturer pre-engineers a building (this might be custom) and ships it to you. This is cheap. However, the buyer is responsible for assembly, framing, foundation, etc.
Full-Service Companies – Full-service steel building companies are increasingly popular. These companies either source a builder network or hire their own. Therefore, they deliver and set up your steel building. This typically includes laying the foundation and full constriction of the building.
Bespoke Building Services – Many steel building suppliers offer custom buildings. These are designed to your specifications. However, some companies charge more for this, especially if requirements are very specific or unusual.
Building Codes, Permits, & Regulations
If you're planning to place a building within city limits, you will need to conform to local building codes. You'll also have to meet regulations. Normally, you also need to apply for a building permit.
Local building permit, application fees range from $50 to well over $400
Local building regulation (these change from city to city, request a copy at your city hall)
IBC/ICC building codes for your region. This is regional to reflect local wind, snow, and other load issues
AISI and AISC specifications. Check that your builder is certified
Applying for a building permit normally requires having engineer-stamped copies of the plans. Many steel builders supply these as a matter of course. However, if the city declines your building on any grounds, it may incur additional costs to adapt the building to the area. Check to ensure your builder already meets local standards or offers a local regulation guarantee. Depending on your building and region, you'll also need permits for plumbing, electricity, and HVAC.
The Metal Building Manufacturer's Association offers more guidelines. In addition, MBMA Certified builders almost always meet local specifications in areas they deliver to.
Metal Building Certifications
There are dozens of metal building certifications, some of which are quite complex. For example, many builders have different state-level certifications. On the other hand, others have certifications based on specific types of steel. Some of the most common metal building certifications include:
MBMA – The Metal Building Manufacturer's Association offers accreditation. It covers companies offering IAS quality assurance. MBMA also suggests local regulation acceptance, and involvement in regulation. In addition, MMBA membership is a good sign that your dealer is involved with and aware of regulation and building needs.
AISC – The American Institute of Steel construction certification is for builders. It means that the builder's work meets standards of quality and safety for steel building.
AISI – The American Iron and Steel Institute is for manufacturers. It mandates quality standards for manufacturing and steel production. Any steel your builder uses should be AISI certified.
LEED Certification – Leadership in Energy and Environmental Design certifications mean buildings meet eco standards. These include improving energy savings and reducing water usage.
Steel Building Q&A
How Long do Steel Buildings Last?
Most steel buildings have warranties ranging from 25-50 years. With proper care, your steel building could last much longer. For example, the average building in the United States lasts for 120 years.
Do Steel Buildings Require Foundations?
Yes. Foundations prevent ground from sinking and causing structural collapse. In addition, the foundation protects the steel from deterioration and oxidation from water in the ground.
What is the Best Metal Building Kit on the Market?
Depending on what you need, several kits might be "best" for you. Research what you need and choose a supplier who meets your local building needs.
Are Steel Buildings Safe?
If steel buildings follow regulation and meet local load (wind, snow) codes, yes. Look for AISC and AISI certification on any building you buy. Steel buildings that are not constructed to code are prone to collapse when steel beams are overloaded. You also have to meet local temperature regulation codes to ensure changing temperatures don't weaken the steel.
How Long Does It Take to Build a Steel Building?
That depends on building size. If you have a three-man crew, expect to take about 5 days to erect a 40×60 building. On the other hand, you need at least a week if your building is 60×100. However, this timespan does not include laying the foundation.
Can I Build My Own Metal Building?
Yes. However, costs can be very high. Engineering and designing your building are costly. You'll also have to take on sourcing your steel. And, milling and drilling steel for fitting is costly and time-consuming without the right tooling. If you compare costs, you might find that buying a pre-engineered building is faster and cheaper.
How Much Does it Cost To Put Up a Metal Building?
This heavily depends on the size of the building. Our research shows that nationwide averages are $16 per square foot. This includes an all-in installation with slab, building regulation, and other costs. However, if you want insulation and plumbing, you need at least $40 per square foot.
How Much Does It Cost to Pour a 40×60 Concrete Slab?
Concrete slabs cost $3-$7 per square foot. So, a 40×50 concrete slab will cost at least $7,200. This normally includes leveling and packing the foundation. However, it may or may not include extras like rebar reinforcement for the foundation.
Is It Cheaper to Pour Your Own Concrete?
Sometimes. Get a quote from local suppliers. However, it's important to ensure your quote reflects all materials. Your builder might be quoting extras like reinforcement, integrated studs, or truck rental. If you're doing it 100% yourself, check the cost of renting a cement truck and cement. Concrete averages $172 per cubic yard. You'll also have to pay driver fees and worker fees. And, you'll have to pay to have the site leveled and packed or rent the equipment yourself. Because a 40×60 concrete slab requires about 37 cubic yards, you'll pay about $6,364 for concrete alone.
Get Quotes
Steel buildings can be a great way to quickly finish a building for a relatively low price. The cost of steel buildings is significantly lower than wood or brick. At the same time, you still want to ensure you're getting the best deal and the best quality.
Fill in the form at the top of the page and we'll request quotes on your behalf. Our network includes top national steel builders as well as quality local suppliers. This allows you to see a full picture of options and pricing possibilities.
Click To Compare Steel Building Quotes ➤