If you're looking to start a business selling shipping containers, you'll have a lot to do in terms of getting started.
Sea or ISO containers are in-demand, popular, and very unlikely to ever stop being popular.
In fact, with global supply issues and increases in demand for container homes and other non-commercial use, demand for shipping containers is only going up.
That means container-selling companies are a safe investment, providing you invest in marketing and sales.
Here is the process for selling shipping containers:
Starting Up
Starting a container-selling business can be a lot more complicated than it sounds.
That's often because there are dozens of ways you could structure your business.
Do Market Research
The first step to starting a business should be to do market research.
This research should answer questions like:
What is the demand for containers like in your area?

How do you want to sell containers? Used? New? Modified? Into what? Likely you already have this worked out. There's a large difference between selling container homes and buying wholesale containers for resale. However, you should work out why you're selling containers this way, if you should be selling more options, etc., before getting started.

In what condition are you buying containers?

Where will you source containers? Can you source from several wholesale or secondhand suppliers to ensure a steady supply? Or are you fully relying on one provider?

What are your total costs per shipping container?

What are your total costs to deliver a shipping container within X miles?

What is your projected profit per container?

Based on demand, what is your projected budget to spend on marketing and sales per container?

What kind of equipment do you need to move and deliver shipping containers? How much will that cost? If you already own a truck, how will you work that out as part of business assets? If you have to buy one, how long will it take to pay off?
You'll need this kind of information to decide how much you can spend, what your profit margin is, and if demand for containers is high enough in your area to warrant starting a business.
In addition, if you want funding from a bank, you'll need a business plan detailing these answers.
Start A Business
Once you know what your business will be selling and why, you can choose a business structure that best suits your needs.
Here, you won't have to officially register a business if you're operating as a sole proprietorship. However, there are a lot of reasons you might want to, like reducing personal liability.
In addition, it will be easier to separate your assets from that of the business, to share the business with a partner, or to divest losses if you have a registered business. Registration requirements also vary by state.
Finally, officially registering as a business can add a lot of legitimacy to your business. That may mean people are more likely to do business with you.
Register your business with your state, using your Doing Business As name.

Request a State Resale Number from your state.

If your business is a sole proprietorship and you have no employees, you can use your SSN as a taxpayer number. If you have another business structure such as a partnership or Limited Liability Corporation, or if you intend to hire employees, you'll have to request an Employer Identification Number from the IRS. This is free and you can do it online from the IRS website

here

.
Get Insurance
Containers are large investments and they can be damaged. It's important that you get insurance to protect yourself in case of a loss of investment.
For example, if your shipping containers fall off of the truck and get damaged. Or, if you pre-order shipping containers and they are damaged at sea. Or, if your crane or delivery truck is damaged.
Insurance should be based on the volume of inventory you have and its condition. However, you should also protect your stock, equipment, and other things you need to do business.
Invest In Supplier Networks
It's important to invest in your supplier networks. That's because supply and demand go up and down.
If you source wholesale containers from one company, a single production delay could mean you have no inventory to sell.
If you always buy second-hand containers from one company, you could have the same issue. Therefore, you should invest in supplier networks, attend events, and get involved with other businesses selling containers.
Here, you can join several associations like:
Intermodal Association of North America

Bureau of International Containers

National Portable Storage Association
Many areas also have their own associations and events.
Figure Out Delivery and Storage Options
It's important to establish how you intend to store and deliver intermodal containers before buying them.
This should involve working out how many containers you can store at once, how many you should store to make a profit, and whether you need a permit or permission to do so in your area.
For example, you don't need a building permit to store a shipping container, but if you intend to store them in your backyard, your neighbors could have a legitimate complaint regarding zoning and usage of property.
In addition, you should work out the logistics of delivery. For example, you may be able to use load boards to outsource delivery.
On the other hand, you may want to invest in your own delivery equipment, so that you can more easily control costs.
Set Up Payments
In most cases, you'll want to be able to accept credit cards. That means setting up a business bank account, choosing a payment processor, and signing an agreement with them.
If you're using an online website, options like Square, Stripe, and Shopify are extremely portable and offer mobile payment solutions for credit cards.
Where To Sell Your Shipping Containers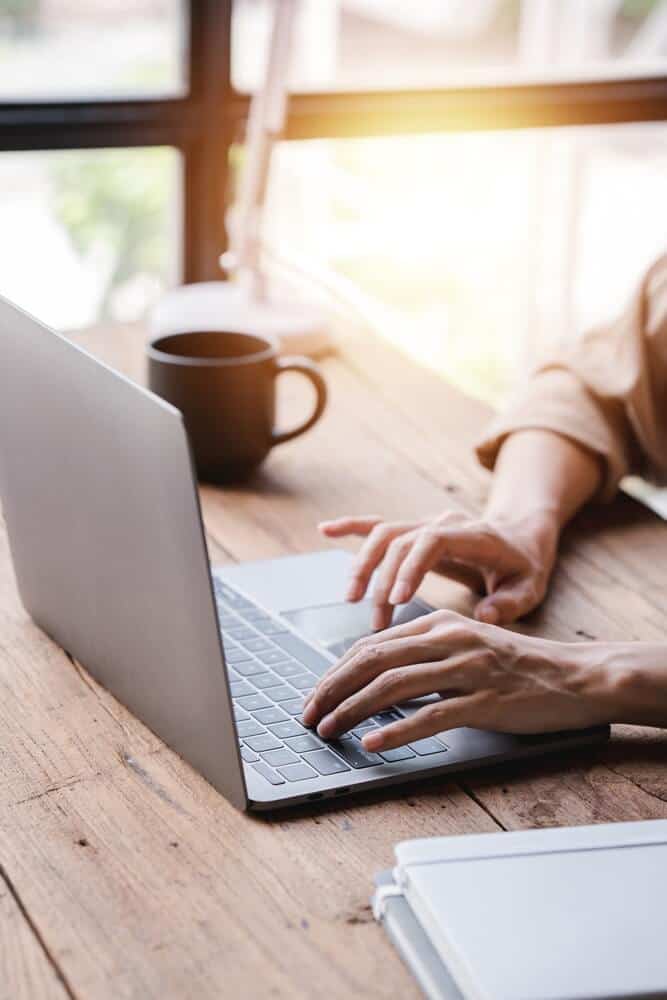 Deciding where to sell shipping containers normally involves a significant amount of business research and considering demand.
Here, you'll want to consider practicality, your capabilities, and fees and associated costs.
Online
Most people start research online, which means you'll need to have a digital presence.
However, it's up to you whether you sell shipping containers online or not. If you do, you'll have to figure out eCommerce, accepting online payments, and how delivery should work.
Website
Building your own website is relatively easy and allows you to either advertise your products online or sell them directly.
Here, tools like Shopify, BigCommerce, Zyro, and Wix allow nearly anyone to drag and drop to build a website. From there, you can create products, add photos, and literally allow your customers to click to add products to a shopping cart.
Here, online sales can be quite complicated. Delivery usually costs a flat rate per mile.
Therefore, you'll either have to work in a calculator with a cost-per-mile delivery fee and a maximum delivery radius or you can't allow online sales unless the buyer comes to pick their container up in person.
For this reason, most shipping container sellers do not allow for eCommerce sales of their shipping containers. Instead, you have to call or request a quote, which will include custom delivery fees.
Here, you'll have to consider costs including hosting, website maintenance, payment fees, and merchandising (product photography, website copy, etc.).
Auction Sites
Auction sites or online marketplaces like eBay, Craigslist, etc., can be great places to get started and slowly move some of your inventory. These sites can help you to make sales before people are aware of your business.
However, some do include high fees. In addition, working with delivery costs can be difficult, so you'll most likely want to require in-person pickup.
In Person
Storage containers require a physical lot to store. In some cases, your storage won't be convenient to also sell from.
However, if you can set up a business location with a lot that customers can easily visit, offering in-person sales can be beneficial as well.
Here, you'll have to consider accessibility. Can customers easily drive around to see inventory?
You'll also need a business office where customers can sign paperwork and make the purchase – even if that office is a converted container.
However, you should keep in mind that you'll still need a digital presence and advertising.
Even if your business is set up in a highly visible area such as next to an Interstate, you're much more likely to make sales if people can look your business up online.
Scaling Your Container Company
Once you start a container-selling business, it's important to invest in scaling that business. That means working towards creating consistent sales by generating leads and converting them into customers.
While there are many ways to do that, the following include basic steps.
Invest In Marketing
Good marketing programs target people who are most likely to want or need to buy containers. Marketing also varies a lot.
For example, you can invest in social media and establish an online presence. You can use Google AdWords to show your containers to people looking for containers in your area.
You can invest in content marketing and search engine optimization.
Alternatively, you can also invest in banners, flyers, and magazine placement at relevant events. Even showing up at events can be considered marketing.
Build An Online Presence
Having a digital presence is a crucial part of modern marketing. Here, you'll want to ensure that your business is searchable, that it looks legitimate, and that you start to get reviews.
For most businesses, that means:
Having a social media page you post to at least once a month but preferably more often

Registering with the Better Business Bureau

Having a website listing your delivery and service area, different types of containers you sell, and conditions

Using SEO on blogs and websites

Registering with Google Business and building a profile so you show up in searches and can collect reviews

Investing in reviews by following up with customers to request them
Nurture Leads
Often, online research means that people are looking to purchase a container but not right now. If you don't have a way to capture and nurture leads, you will lose that business.
Here, capturing a lead means getting a way to contact them. Tools like HubSpot and Mailchimp allow you to do this by creating a form on your website.
You can offer content (Pricing Guides, Delivery Guides, Container Guides), discounts, or calls for a quote in exchange for this information.
From there, you can use these same tools to follow up with your contacts to remind them you and your containers exist, which is known as nurturing.
Invest In A Lead Generation Program
Lead generation programs help you to find interested buyers for your business. That can be important if you don't have the sales and marketing expertise to find those leads yourself.
If you can allocate a budget to a company that specializes in doing so, they can much more effectively spend that money to find interested buyers.
Of course, you'll still have to connect with them, follow up, and make the sale – but someone else will be sending them your way.
FAQs
If you still have questions about getting started selling shipping containers, this FAQ should help.
Is selling shipping containers profitable?
Shipping container sales can be extremely profitable. However, many companies also use leases, which can be even more profitable.
Of course, like with any business, there are many risks and potential ways that your business might not be profitable.
For example, if you don't advertise well, or if you end up spending too much on storage costs and don't sell inventory fast enough to cover those costs.
For this reason, it's always important to do market research upfront.
How big is the market for shipping containers?
The global shipping container market was valued at $6.41 billion in 2020.
It's also set to grow at a compound annual growth rate of 12% until 2028. Of these, almost all are dry containers, with the next largest being reefer or refrigerated containers.
Essentially, the shipping container market is very large and is only set to grow.
Next Steps
If you're getting started selling shipping containers, it's important to do your research. Understanding your competition, possible market, and potential buyers is important. You'll also have to figure out where you're sourcing containers, how you're moving them, and how you're storing them.
Once you do that, you can set up and start selling from almost anywhere. At the same time, it will be important to continue to manage costs, to make sure you make sales quickly enough to cover those costs, and to make your business profitable.