According to Statista.com, in recent years, the supply of self-storage space across the US has increased to almost 60,000,000 sq. ft. While in 2020, the average rent increased to $1.18/sq. ft.
Furthermore, the two largest self-storage companies in the US, Public Storage and Extra Space Storage generated combined revenue of more than $3.8 billion in 2020.
Therefore, now is probably a good time to consider building or buying self-storage facilities. But how much do they cost?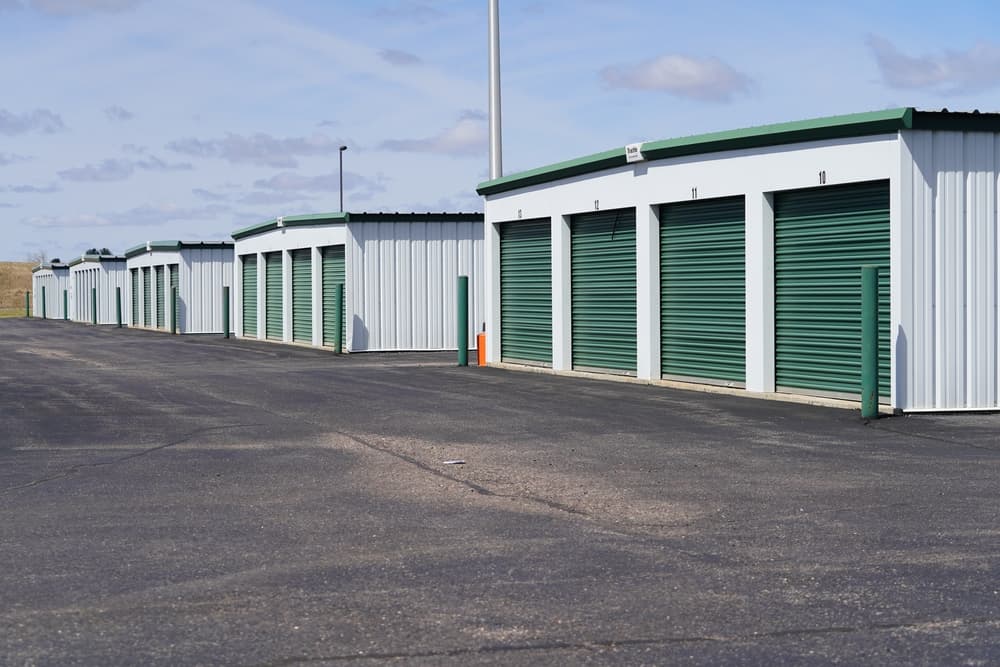 In 2022, the average cost to build storage units ranges from $220-$1,700, plus installation, but not including land price.
In comparison, average rental charges range from $50 to $250/month, depending on location, size, storage-unit accessories, and the rental compound's facilities.
Self-storage units are convenient for those needing storage for their goods.
Most facilities offer a range of sizes at different rental prices, where customers can store almost anything, from a postage stamp collection or clothes to an RV or motor boat, with the facility owner providing the security.
Furthermore, customers take responsibility for delivering items to-and-from their unit.
This guide will compare the price of buying and building self-storage units with a typical rental unit in an already established facility.
*Disclaimer: The research in this article was correct as of July 2022, with historical information being dated accordingly. Where possible, primary sources are linked throughout the article.
How Much Does It Cost to Build Storage Units?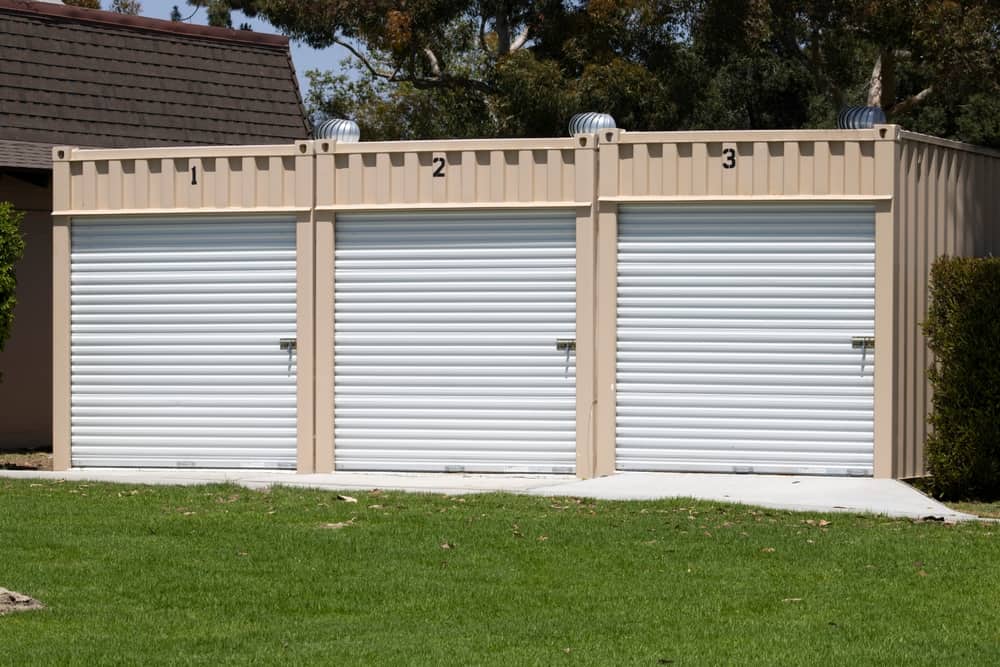 Apart from construction, the significant cost to consider is the price of land. Generally, this varies with your location. You can expect land to be more expensive in places like California than in industrial or rural areas.
States such as New York, California, and Hawaii typically charge an average of $165-$175/month. In contrast, the cheapest, Oklahoma, averages around $65/month, Arkansas charges around $75/month, and storage units in Nebraska charge about $80/month.
When building a self-storage facility, there are several expenses to consider.
For a typical 108,900 sq.ft. (2.5 acres) facility, let's see how much it costs to build storage units.
| Category | Estimated Total Expenses | Approximate Cost/sq. ft. |
| --- | --- | --- |
| Land | $354,000 | $7 |
| Construction | $2,700,000 | $25 |
| Architecture/Engineering | $79,000 | $0.72 |
| Permits/Fees | $32,000 | $0.29 |
| Testing/Surveys | $12,500 | $0.24 |
| Insurance | $5,000 | $0.05 |
| Advertising | $7,000 | $0.06 |
| Office Equipment | $22,000 | $0.19 |
| Legal Expenses | $21,000 | $0.19 |
| Closing Cost | $37,500 | $0.72 |
| Interest | $120,000 | $1.10 |
| Total | $3,385,000 | $31.08 |
Land
Land is essential for any storage facility. However, unlike many other commodities, you can't make more. So, it's often the most expensive item to buy.
Land costs vary depending on where you buy. Places like California will cost much more than somewhere like Arkansas. Although you have to buy (or rent) enough land to house your facility, only 40% or so actually earns revenue.
The remainder provides driveways, walkways, facility offices, etc. The approximate land cost for our 2.5-acre facility is around $3.25/sq. ft. However, allowing for 40% coverage, the price rises to $7/sq. ft.
Construction
Construction costs include land development (excavating, clearing, leveling, etc.) and facility construction.
Generally, for a facility renting single-story structures, construction costs $25-$40/sq. ft. Alternatively, multi-story units cost $45-$70/sq. ft. Also, consider amenities such as lighting and roadways.
Architecture & Engineering
This involves planning the facility, how to build the structures, excavation, storm drains, utilities, etc. Usually, an architect, in collaboration with a civil engineer, handles this work.
According to the Parham Group, specialists in self-storage construction, the cost is $0.72/sq. ft. or a 2.5-acre storage facility, $79,000.
Permits
Like all buildings, self-storage facilities require permits before construction begins. However, they won't need as many as other buildings, being solely for storage, rather than residential or commercial.
But, the owner must abide by the general zoning restrictions and purchase the appropriate permits. Remember, local code permits will vary depending on the facility's location.
Typical permits include:
Zoning fees

– These depend on your facility's location.

Payroll tax registration

– You must register the business and employees for tax purposes.

Occupancy permits

– These allow a company to operate from a specified location.
According to the Parham Group, typical permits cost about $0.29/sq. ft., which for the 2.5-acre facility will cost around $32,000.
Insurance
All companies and business premises require insurance.
Typically, the central insurance policies required include General Liability Insurance for legal fees and compensation in case of damage to property, injury, or death, and Property Insurance to cover the physical structure.
Many insurance companies offer umbrella policies that include everything you need. The required insurance coverage varies by state, so research what you need.
The approximate cost is about $0.05/sq.ft. or from $5,000 for a 2.5-acre site.
Equipment
Most self-storage facilities don't need much equipment. However, some hire forklifts or similar mechanical handling equipment.
But in practice, the only equipment you need will be for the office:
Furniture and furnishings

Computers

Phones
These items don't cost much and be around $0.20/sq. ft. Or, for our facility, this will be approximately $22,000.
Advertising
Every business needs adverts and marketing materials to attract customers and show what the company offers. Typically, advertising can be physical such as signs, billboards, posters, and business cards, or digital such as websites, emails, and online adverts.
Inside Self Storage, the online hub for self-storage professionals, suggests budgeting a minimum of 2%-5% of gross revenue. But, increase this amount to more than 20% in highly competitive markets.
Let's assume for our 2.5-acre example that the income on simple units is around $1.25/sq. ft. and you spend 5% of revenue. Therefore, your advertising expenditure should be approximately $7,000 per annum or $0.06/sq. ft.
Legal Fees
All businesses use lawyers. The primary legal involvements are acquiring a business license and registering the property. Once the company is up and running, you also need a cast-iron contract for your customers.
Estimating legal fees for a self-storage business is tricky because they vary by state and what documents you need. However, according to the Parham Group, typical legal fees are usually around 0.20/sq. ft., or $21,000.
Financials Costs
Unless you've plenty of cash in the bank, you must fund your project elsewhere. Lenders favor self-storage entrepreneurs with experience.
But, don't worry if you haven't. Lenders look at the Return on Investment (ROI) rate on storage facilities, averaging 16.9% per annum from 2009 to 2018. This ROI is much higher than other real estate, so finding a lender should be no problem.
According to Global Investor Networking, a self-storage business generates profit margins of 11%-41%. This margin speaks for itself, especially when other small businesses make 3%-5%.
Financial costs depend on the type of loan you take out. But, it's usual to select a commercial property loan. If you want to borrow $5 million or less, the best is probably an SBA 7(a) loan from the Small Business Administration.
Furthermore, the federal government covers up to 75% of the loan if your business fails.
Typically, for our 108,900 sq. ft. facility, with a low-interest rate of 3% on a loan of around $4 million, expect to pay $120,000 interest on your loan or $1.10/sq. ft. We must stress that this amount depends significantly on the current interest rates.
Cost to Build Storage Units per Square Foot
Using the figures calculated previously, the cost to build a storage facility of 2.5-acres needs about $3,385,000 or $31.08/sq. ft.
Is It Cheaper to Build or Rent to Buy a Storage Facility?
Before you build a storage unit, there are a couple of issues to satisfy first:
You must make a relatively large up-front payment.

You need land on which to build.
However, there is another option, Rent-to-Buy, or Rent-to-Own. You make rental payments. Then, once these have finished, you own the unit outright.
Let's consider this by example.
If it costs you around

$60/month

to rent a small 5 ft. x 5 ft. storage unit, that's

$2.40/sq. ft. In comparison, a 10 ft. x 10 ft. unit costs $110

, a hefty chunk from your monthly wages. And as the units get larger, the overall cost increases, although the cost per square foot decreases. Over five years, you've paid

$6,600

with nothing to show for it.

Now consider Rent-to-Buy. You purchase a 10 ft. x 12 ft. unit with a metal roof and vinyl siding (both are low maintenance) for around

$85/month

. Over five years, you've spent

$5,100

and now own the unit.
How Much Does It Cost to Buy a Storage Unit?
If people want long-term storage, they often choose to buy a storage unit.
The following table shows the average purchase prices to buy and build a metal storage kit.
| Item | Low End | High End | Average Cost |
| --- | --- | --- | --- |
| Kit Cost | $220-$480 | $1,000-$1,700 | $550-$1,000 |
| Size | 4 ft. x 8 ft. | 10 ft. x 16 ft. | 8 ft. x 10 ft. |
| Flooring Frame | $70 | $160 | $110 |
| 4 ft. x 8 ft. x 0.75" O.S.B. Flooring Board | $15 | $20 | $18 |
| 4 ft. x 8 ft. x 0.75" Flooring Plywood or MDF | $30 | $35 | $32 |
| Electrical lights, etc. | $100 | $500+ | $300 |
| Permits | $0 | $150+ | Depends on Building |
| Handyman Costs without Floor | $250 | $500 | $380 |
| Handyman Assembles Floor | $60 | $170 | $120 |
However, although buying a storage unit is cheaper overall than renting, the significant disadvantage is finding the long-term space to locate it. Therefore, you could consider purchasing a ready-built facility if you want an income.
The precise cost varies with multiple factors. However, on average, a self-storage facility sells for $40-$60/sq. ft. or just over $5,500,000.
This price is about $1,500,000 more than building one from scratch. But, it saves the issues associated with a new facility and usually includes a ready-made customer base.
Another option is a self-storage franchise. However, the franchise owner places restrictions on your activities, and you pay royalties and advertising charges.
Also, the cost depends on the franchise you choose. Go Mini, a portable storage franchise, requires an initial investment of $500,000 and a franchise fee of $45,000.
How Much Do Storage Units Cost Per Month?
Renting is the most popular way for the general public to use self-storage units. Prices vary depending on your location, the unit's size, and extras such as air-con and extra security.
The following table shows typical monthly costs from a few popular companies for a small self-storage unit, thus giving an idea of the prices to charge.
The average cost to rent a standard unit ranges between $60-$180/month. Furthermore, the average rent ranges between $80-$230/month if you want climate control. Remember, rent rises as the unit's size increases.
We can summarise this in the table below:
| Storage Unit Size | Average Standard Rental per month | Climate-Controlled Rental per month |
| --- | --- | --- |
| 5 ft. x 5 ft. | $60 | $80 |
| 5 ft. x 10 ft. | $70 | $90 |
| 10 ft. x 10 ft. | $110 | $140 |
| 10 ft. x 15 ft. | $130 | $170 |
| 10 ft. x 20 ft. | $180 | $230 |
There's no guarantee that there's a facility near you or that the sizes are available at these prices. But, you can get more information from the storage center website provided by Moving.com.
FAQ
Here's a selection of answers to frequently asked questions.
Who builds storage units?
Various construction companies specialize in building self-storage facilities. For example, MakoRabco builds:
Single-story units

Climate-controlled units

Multi-story units

Boat and RV enclosed storage

Canopies for boats and RV storage
Look at your local self-storage trade associations' website to find out who builds storage units near you.
How much does it cost to build 100 storage units?
The online business venture resource Profitable Venture suggests placing up to 217 units on a 1-acre site.
However, you need access roads and surface water run-off. These restrictions reduce the number by up to 50%. Therefore, allow about 100 units on a one-acre site.
We previously calculated approximately $3,385,000 for a 2.5-acre site. Thus, building 100 units on a one-acre site costs about $1,354,000.
Is self-storage a passive income?
Yes, self-storage can provide a passive income. Once you've purchased your facility, you need minimal further investment and can repeatedly use the units.
There are two ways to do this. Either own your facility or invest in a real estate investment trust (REIT) with an extensive portfolio of suitable facilities. Both methods create an income stream requiring very little of your time.
Businesses such as these provide helpful recession-proof passive incomes.
Final Thoughts
Many banks and lenders regard self-storage facilities as recession-proof income streams. With a business plan and a loan from the Small Business Administration, you can generate healthy profit margins between 11%-41%, with an average ROI of 16.9%.
These figures speak for themselves; if all goes well with your new business, you can almost guarantee massive returns. So, if you have the inclination and the business experience, it makes sense to build or buy a self-storage facility.