Access control systems are essential to the operations of businesses ranging from healthcare to finance. Even organizations that don't need access control technology in place for compliance often benefit. For example, door access control limits the need for janitors to open and lock doors at night. And, good security systems always reduce insurance costs.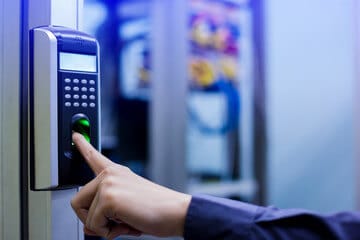 If you're in the market for an access control system, it's crucial to find the right model. That means comparing systems, technologies, and access methods. The top access control system companies all offer quality systems, sometimes designed for slightly different applications. That means choosing one involves looking at specific applications and how features fit into your organization. For example, do you want key cards at the door or do you prefer turnstile entry points? Do you want coded access on elevators and doors? What about printers? There are dozens of questions when looking at access control systems that go well beyond brand. However, once you choose features, it's important to compare brands to see what you can get. Unfortunately, that's still complicated, because there are over 2,500 access control companies in the U.S.
Save By Comparing Quotes:
Below we've detailed the features and benefits of the best 5 commercial access control system providers in the United States. Compare their offerings and find the best fit for your business.
1. Honeywell
Honeywell is most known for its home security and home appliance offerings. However, its access control systems are some of the best in the world. In fact, Honeywell Security is praised by Gartner's 360 Quadrants as being leading in the field. Size aside, Honeywell delivers a diverse range of access management solutions. The top-rated access control system manufacturer delivers access control, security management, and even system automation. Its products, like WIN-PAK-2 lead the market for cloud access control management. And, with cameras, biometrics, and a range of sensors, Honeywell has everything most organizations need for security.
Honeywell also offers one of the most diverse technology offerings out there. If you want hardware or software, they probably offer it. In addition, the company is quick to offer custom solutions and integrations. That makes Honeywell extremely popular for nearly every access security solution.
In addition, the brand is one of the most commonly used by security organizations and contract installers. That makes it very easy to get and very easy to upgrade and update.
Honeywell Security's Access Control Options & Features: 
Cloud based access control software
Central control systems for hardware and software
Visitor management systems
Card, key, pin, biometric, Wiegand, and proximity readers available
Credential verification systems
Contactless access and smart cards available
Mobile app networking
Full-service solution (controllers, door controllers, security cameras, readers, etc. with software)
The best "All-around" option
2. Bosch
Bosch is one of the largest electronics manufacturers on the planet. It also delivers a modern access control system, designed to be a full-service solution. Most importantly, Bosch designs its access control around integration into video and intrusion detection systems, so you get a complete security service. Bosch also offers unique scalability. Its door controllers and readers work with multiple software options. That means you can upgrade from simple door access control to extensive access control and personnel management without changing out hardware. This modular system is fairly unique, and a great selling point for the brand.
In addition, Bosch delivers a full suite of security equipment. This includes the communications, video surveillance, intrusion detection, and fire detection applications you need for a secure business. Essentially, you can source your full suite of security hardware and software with Bosch.
Bosch also integrates access control technology into people management. Its software includes employee onboarding and offboarding, so access is automatically revoked. And, with choices of biometrics, smart card, or pin readers, it offers security to meet every option.
Fully modular access control system
Use the Access Management System or Building Integration System Access System Engine software with the same hardware
A full range of integrated security hardware for intrusion, fire, and surveillance detection
Supports up to 10,0000 doors per server
Add 400,000 card holders per field controller
Local installation or cloud software available
Integrated visitor management
Multi-factor authentication available
Integrated threat management
Best for large businesses with high traffic control needs
3. Johnson Controls
With customers in 150 countries, Johnson controls might be the largest access control manufacturer you can choose. Its P2000 access control system is one of the most used in the industry. Johnson Controls also offers full installation, maintenance, and management of its security products. Plus, with a range of sensors and controllers for business and building automation, Johnson Controls offers everything you need for a smarter business.
In addition, many of those systems are for access control, video tracking, and intrusion detection. Johnson Controls also offers location tracking services. However, many of its security solutions are sold under brands like CEM Systems, Kantech, and Software House.
Johnson Controls is one of the few Direct to Consumer access control systems with managed services. This means Johnson Controls handles everything about the installation and management. That's important, because Johnson also offers hosted solutions to comply with medical and finance security requirements.
Full-service access control solutions
Hardware and software available
Fully managed solutions
Locally hosted or cloud software
Electronic and biometric keys, readers, and physical entry points
Integrated solutions available
Badging solutions for most types of user identity
Exit devices and system integrity monitors
Automated reporting and unusual behavior flags built in
FICAM compliant solutions for high-assurance requirements
4. Allegion
Allegion is an international security and access management solution provider. The company is famous for its cloud-based access control systems, which offer some of the best digital solutions on the market. In addition, Allegion stands out with a fully modular system. Plus, it's not locked by hardware. You can pair any security and access management hardware with Allegion software and it works. If you already have access control systems in place and don't want to replace all existing hardware, this is a great choice.
However, Allegion also produces its own access control hardware. It sells controllers, readers, keypads, and a full range of security tooling under brands like antig, Schlage, Von Duprin, xceedID, Bricard, CISA, interflex, pegasys, Simions Voss, FSH, and Mirea.
However, Allegion doesn't offer installations. You'll have to source a provider. On the other hand, Allegion does list approved software and hardware providers across the U.S.
That makes it relatively easy to find and use the brand, even if you have existing hardware in place and don't want to get rid of it. This leading manufacturer of access control systems for business delivers nearly everything you could need under one or another of its brands.
Cloud based access management software
Full suite of hardware under multiple brand names
Digital apps and mobile control solutions
Interconnected locks (multi-authenticate once, pass all of them)
Electronic and biometric credentials
Configurable access controls per user and user group
Real-time updates to prevent breaches
Completely customizable solution
5. Salto
Salto leads the keyless entry system market, with a host of technology, solutions, and features. The brand specialized in door locks but delivers the full suite of hardware and software for full access control systems. Salto is also both small business and enterprise-friendly. Its access control hardware is relatively affordable and purchasable in smaller units. But, with cloud and hosted software available, plus a full suite of interconnected access controls, Salto scales to the largest business.
However, Salto is very specialized in controls, readers, and locks. You can choose from over 6 different electronic door locks, multiple cylinders, and different types of readers. At the same time, Salto doesn't integrate into video surveillance or intrusion management like some other brands. That makes Salto a better fit for businesses with lighter access management needs.
Still, Salto was one of the first to introduce cloud-based access management. It's also one of the only to synchronize door access requests with online key requests, to reduce and eliminate hacking attempts. That's ideal for anyone that wants real-time management and good oversight of security across keyless doors.
Cloud-based access control
Real-time cloud synchronization
Keyless door locks and cylinders
Wave, long distance, key, biometric, and mobile readers
Locally hosted solutions available
Custom solutions for many different industries
Best fit for mid-size businesses
How Does an Access Control System Work?
Access control systems normally combine door controllers with readers to allow approved individuals to access a building, room, or area. Normally this involves a three-party system. The first is user access management, with software to manage approve users and issue access methods. The second is door controllers and readers to allow accessed users entry. And, the third is a network to provide monitoring, real-time access, and to enable verification of access codes.
That involves these four parts:
Electronic locks, normally called controllers
Access control panel, normally sold as "readers"
Access control server, hosted or in the cloud
Access control software
Here, the software is normally the most important aspect. It affects your controls, user access management, and supported hardware. For example, the best provide access control service while linking to security systems. Security can see failed access attempts alongside other security events.
In addition, there are multiple access control technologies. Biometrics, PIN access, card access, smart card access, mobile phone access, Wiegand, etc., are just the tip of the iceberg. Different security solutions also offer different pros and cons – such as practicality, affordability, ease of use, and real security in the form of being resistant to hacking. The "right" model really depends on your needs. For example, most finance organizations use smart cards. These contain a chip, so you can't use a credit card on the door instead. But, they easily hang on lanyards and allow visitors easy access. Others prefer near field communication like RFID – which requires a larger chip. However, it means many employees can use their phones instead of a chip.
Researching your needs before choosing a solution may be a good idea – although your contact will eventually help you to choose the right hardware. And, you'll have to choose how to configure your system, for role-based, discretionary access, or mandatory access control. E.g., most systems use "role-based access control", where you assign a role permission, and then assign users to a role. This means you can hand out the same permissions across your organization in an easy and scalable way. In other cases, you might want to assign specific custom permissions, such as to the CEO.
Business Access Control System Benefits
Business access control systems can offer a lot of benefits to the organizations using them. That's important, because you often need those benefits to offset costs.
Improve Access – Set automated access based on roles, individuals, or teams and immediately allow someone to have access to everything they need. That can greatly reduce waste time. For example, if someone's badge allows them to access the rooms and offices they need, they won't have to carry around keys. They also won't have to go looking for keys every time they want to access a storage room or server room. Giving access means no more waiting for specific people to be available to allow access.
No More Keys – Getting rid of traditional keys makes it much easier to apply access controls to every door – because you can simply give high clearance to everyone who needs it, without asking the janitor to carry around 300 keys. That also protects you from key copying and fraud, because many keyless entry points generate new codes every few minutes.
Reduce Security Needs – Having automated access control on doors and entry points reduces the need for security guards to control identify. That can greatly reduce total costs. It can also allow you to more effectively apply what security you do have in checking specific points rather than every point.
Integrate with Other Systems – Access control can help you to track when people are in a building or rom and when they leave. Integrations allow you to integrate automatic clocking fore time management. Or, you can integrate heating and cooling systems to automatically turn off when no one is in the building.
Prevent Unauthorized Visitors – Whether friends of an employee or people who simply walk in, access control systems prevent unauthorized visitors. Many systems also include fraud prevention, such as pass back prevention, to ensure employees aren't letting in unauthorized persons.
No Need to Open or Shut Doors at Specific Times – Access control systems make it that much easier to integrate flex work. Employees can come and go as they please, because the doors are always locked to unauthorized persons.
Improve Physical Data Security – protecting the physical location of data and servers can greatly reduce the risk of a breach. That's especially true for high-risk industries like finance, healthcare, and government. Many industries are required to show proof of physical server security. And, most companies want their systems to use physically secure servers – which some will ask about before choosing your services. Implementing access control systems can help you to achieve digital compliance.
Emergency Integration – Automatically unlock relevant doors in case of an emergency such as a fire, so any employee can take the quickest route to safety. That's greatly advantageous over manually locking systems, which can be difficult to open when users are panicking.
Offer Organization-Wide Access Controls – Many access control systems support multiple buildings. That means you can give relevant people access controls in every building they work in to reduce overhead and waste time. While not useful for every organization, it also applies to access controls offered to janitors and cleaners. One key offers access across the entire building, for a minimum of keys. Plus, digital access points mean you can see when visitors are in each space and how long they stay there in case security issues do occur.
Regulatory Compliance – Many organizations are required to lock up physical spaces to comply with data security regulations. In this case, you need access management in place. In some industries, you'll also need specific access management standards. For example, FICAM compliant solutions.
Essentially, there are plenty of great reasons to integrate control access systems. And, for some organizations, implementing them can save money in the form of reducing waste time, reducing the need for security personnel, and reducing overhead.
Next Steps
If you need an access control system, it's important to start from features and business needs. From there, budget, integrations, and service area are your most important considerations. Once you've decided what you need and why, you can start researching brands. There are thousands of business access control system companies in the U.S., including over a thousand that make their own software and hardware. Choosing one can be difficult. But, we can help. Fill in the form at the top of the page to tell us what you need. We'll request quotes from the top suppliers and pass the best deals and savings on to you.