Operating a semi-truck for a carrier is a great way to get started in the business, but for many drivers, the goal is to own the truck you're driving.
That's often driven by the fact that the average owner-operator in the United States earns $156,438 per year – versus drivers for carriers, who commonly earn somewhere between $58,000 and $70,000.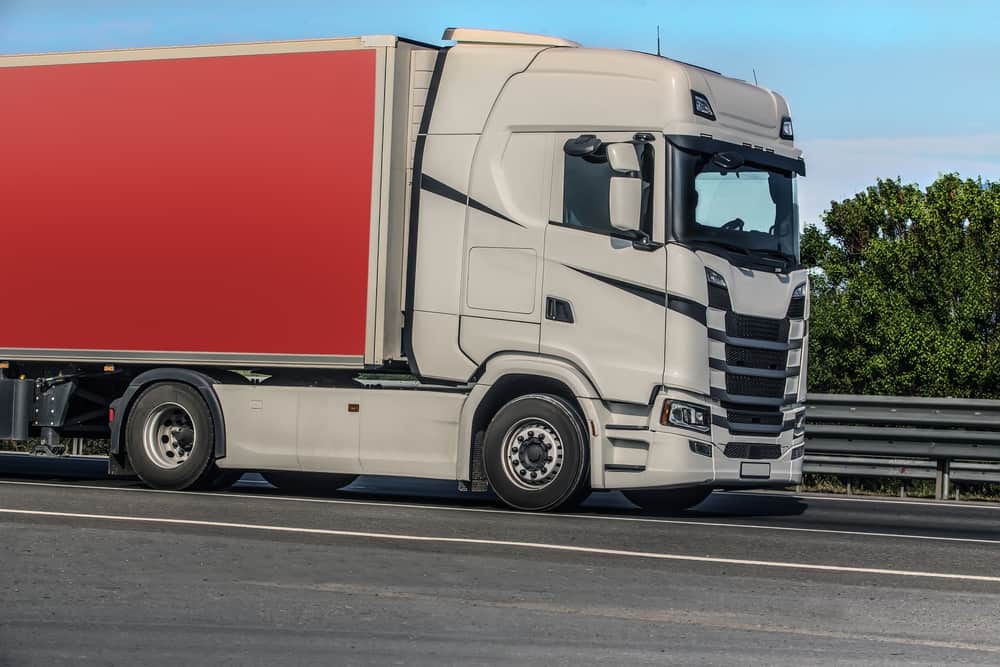 That discrepancy can make it lucrative to invest in owning your own vehicle – however, with new trucks starting at around $80,000-$150,000, buying a truck outright means either taking out an expensive loan or choosing a lease.
Here, the average costs to lease a semi-truck range between $800 and $2,500 per month. For a new vehicle, you can expect those cost estimates to average between $1,600 and $2,500. But, if you want a second-hand truck, monthly costs will probably top out at around $1,600 per month.
Compare Car Warranty Quotes For Free & Save Big!
How Much Does A Semi-Truck Lease Cost?*
The cost of leasing a semi-truck will depend on the truck, who you're renting from, the age of the truck, and even your credit score. On average, you can expect rates to heavily depend on load-carrying capacity and features. It will cost more to rent a reefer than to rent a flatbed.
For example, the following chart details cost estimates based on the trailer:
| Trailer | Monthly Cost (New) | Monthly Cost (Used) | Yearly Cost (New) |
| --- | --- | --- | --- |
| Flatbed | $1,600-$1,800 | $1,500-$2,200 | $19,200-$21,600 |
| Reefer | $1,800-$2,500 | $1,400-$2,600 | $21,600-$30,000 |
| Tanker | $1,600-$2,500 | $1,200-$2,600 | $19,200-$31,200 |
| Dry Van  | $1,500-$2,000 | $800-$1,600 | $18,000-$24,000 |
*Please note: These semi-truck lease cost estimates are based on market averages at the time of writing in December 2022. Rates are subject to change and will vary from company to company.
Semi-Truck Leasing Price Factors
The rate you pay for your semi-truck lease will depend on a lot of factors. In some cases, those factors are obvious, like the type of trailer or the truck make and model. In other cases, they might be less obvious, like the state or city you live in.
Trailer
The trailer will always impact the total cost of your lease. Here, most leases are standard dry vans. However, you can always rent a tanker, a reefer, or even a flatbed. In addition, there's nothing stopping you from renting a semi-truck and using your own trailer. However, trailers equipped with humidity and temperature control will always cost more to lease than simple dry vans.
Sleeper
Sleepers are one of the most influential costs in buying a semi-truck. So, it makes sense that they influence lease costs as well. The larger and better equipped your sleeper, the more you can expect to pay per month for your lease. However, these rates are normally calculated based on the actual value of the vehicle you're leasing.
Vehicle Make and Model
Semi-trucks can vary significantly in cost. For example, in 2022, the cheapest truck on the market was about $70,000 for a single-cab dry van with no sleeper. On the other hand, the most expensive "standard" truck without modifications runs at around $247,000 for a Mercedes Benz Actros with a sleeper cab.
In every case, the lease price will reflect the actual value of the vehicle. So, if you choose a low-end Freightliner or Kenworth, you'll have a lower monthly rate than if you go for Mercedes-Benz, Volvo, or Peterbilt.
Vehicle Age
The older your vehicle, the less you'll pay for your lease. Often, that relates to multiple factors including that the value of the vehicle goes down. In addition, fuel efficiency will be lower, so you'll want to calculate mileage rates when deciding on an older vehicle. There are other pros and cons of leasing an older vehicle as well. However, there's no one-size-fits-all decision and you'll have to check what works for you.
Here, the mileage may be the largest factor in age, simply because a high mileage vehicle is worth less.
Lease Type
Many manufacturers offer lease-to-own options ideal for owner-operators. However, it's very likely that a lease-to-own contract will cost significantly more than a regular lease. However, it may also mean that you get to reduce total costs over time. In addition, you can normally expect interest rates and down payments to be higher for a lease-to-own contract.
In addition, lease provisions can greatly impact total rates. For example:
Maintenance and repair. If your lease guarantees repairs, it will be more expensive. If you're responsible for repairs, you'll have to put money in escrow for that purpose.
Contract terms vary from 12-72 months. The longer you commit, the cheaper your lease will be.
Mileage limits vary, choose one that works for your business.
Insurance provided by your leaser can be as much as double the cost, because semi truck insurance often costs $800+ per month.
Carrier vs. Dealer vs. Leasing Company
In most cases, you'll get different rates based on whether you're leasing from a carrier, a dealer, or a leasing company.
Carrier

– The cheapest place to lease a truck. However, you're normally bound to work for the carrier for the duration of the lease. At the same time, the carrier may not have a profit margin on your lease.

Dealer

– Here, you lease directly from the truck manufacturer or dealer. This can save you some fees. However, you might have to put down a larger down payment and requirements for showing credit score and driving history may be stricter. Here, you should expect to have to prove that you haven't had more than 3 major traffic violations or accidents in the last 3 years, that you have a credit score of at least 600, and that you can pay back the lease.

Leasing Company

– there are dozens of companies that specialize in leasing new and secondhand semis. These range from dealers offering more than one vehicle brand to buyers who invest in secondhand semis and lease them out. Here, rates, requirements, and offerings can vary a lot. On the other hand, they're usually cheaper than dealers and may not require a credit check.
Choosing one of these options will normally depend on availability, your credit history, and what you want.
Location
Lease rates can vary significantly based on vehicle availability in your area. This means that you may be better off traveling somewhere else to pick up a vehicle than leasing locally. However, that may complicate your lease when filling out paperwork. Still, it's important to pay attention to local lease rates per vehicle and then compare them in other areas.
Your History
If you have a history operating semi-trucks, a good driving record, and no major accidents or traffic violations, you'll likely receive the best rates for leasing a semi. If you don't have those things, you might pay more. In addition, your credit score and credit history can also affect your total rates.
Buying vs. Leasing A Semi Truck – Which Is Better?
It's always important to do your research to assess whether buying or leasing a truck is right for you. However, the answer is normally that it depends on your situation.
For most operators, the end decision is normally "on-hand capital". If you have the capital to buy a truck upfront or if you qualify for good financing options to buy a truck and can make the down payment, it's probably in your best interest to buy the truck. However, that isn't always the case. For example, if you only want a truck for a few years. Or, if you are saving up for a truck but want to take advantage of owner-operator salaries now rather than working for a set carrier.
Pros of Buying a Semi Truck
Buying a semi-truck means that you'll pay for the truck and for any interest on your lease.
You'll pay less over 10 years than you would with a lease. For example, the total cost of ownership for a lease averages $100,000. If you buy a mid-range semi, you'll save about 30% over the 10-year lifespan of the vehicle when you calculate maintenance and insurance costs.
Cons of Buying a Semi Truck
You pay the full cost of repairs and maintenance once your warranty is over.

If you change your mind or want a different truck, you'll likely have difficulty switching.

Trailer maintenance and damage will be up to you and/or your insurance.

Finance options can have strict credit requirements.

Down payments usually start out between 25-30% for first-time buyers. That averages $25,000-$37,000 in cash you'll need upfront.
Pros of Leasing a Semi Truck
Leasing your semi-truck gives you the option to quickly get started with being an owner-operator, without a large down payment. However, chances are, you'll still have to pay a down payment and will need a good credit score.
Lower overhead costs, with most down payments averaging between $1,000 and 10% of the value of the vehicle.

The leasing company may handle maintenance and repairs.

The leasing company may handle insurance.

If your vehicle breaks down, your lease contract may stipulate that you get a replacement vehicle until it's replaced.
Cons of Leasing a Semi Truck
Higher total costs over buying

You may lose your lease if you break lease stipulations such as by having too many accidents.

You may pay for damage or wear and tear to the vehicle outside of normal use.

Some lease contracts restrict the amount of mileage you can put in per month.

Some lease contracts require that you keep money in escrow for repairs not covered by the leasing company.
Choosing an Option
Eventually, it's important to assess your needs, capital, and requirements when leasing or buying a semi-truck. If you want a vehicle for the short term, a lease is always the better option. Other factors like fuel costs, vehicle comfort, repair costs, and requirements set for your cargo type should all factor into the decision. This means it's impossible to decide without factoring in your personal situation.
How Are Leasing Contract Rates Set?
Leasing contracts are primarily set on the value of the truck. However, there are other factors that will come into play before you're given a quote. These include:
Total Value
The total value of your semi-truck will impact the total cost of your lease. Here, it's common to see all-inclusive leases that cover costs + the value of the truck in 10 years. You'll also pay interest on top of that lease.
For example, if the truck is valued at $100,000, you might expect to pay about $2,750 per month including insurance. However, different lease providers will use different methods to calculate how much to charge. At the same time, it's always based on the total value of the vehicle.
Insurance
Semi-truck insurance costs anywhere from $800-$1700 per vehicle. If you insure a fleet, rates can be significantly cheaper. For that reason, it's normally a lot cheaper to pay for insurance through your lease vendor than to buy your own. However, if you have your own fleet, that might not be the case.
Taxes
Vehicle leases are subject to sales tax, which means you'll pay tax based on your location. That can vary from 0% to 7.75% depending on where you're located.
Deprecation
Vehicle depreciation is normally factored into the lease, which means that the longer your lease, the less you'll pay per month. In addition, the loan itself will depreciate. Therefore, the length of your lease can impact the total monthly cost significantly.
Interest
Interest rates vary significantly from lender to lender. It's always important to do your research to see what rates your lease supplier is offering, what interest rate they get, and what you get for that money.
Miles Covered
Many leasing contracts cap the mileage to a monthly, yearly, or lease rate. If you go over that rate, you'll pay additional fees, usually on a per-mile basis. Here, you can discuss estimated mileage with your lease provider to see how it impacts rates.
Credit Rating
Your credit rating will impact whether you can get a lease and how much your security deposit is. For example, with no credit check and no driving history, companies tend to charge a much larger security deposit and will require that you have insurance.
Fleet Size
The more vehicles you lease, the less you'll pay per truck. Bulk rates can also decrease the total cost of insurance, which can greatly decrease the total amount you pay per month.
Customizations
If you choose to customize your truck or trailer with branding, toolboxes, add-ons, or specialty trailers, you will pay more for the lease. Any modifications to the vehicle will make it more difficult for the leasing company to re-lease the vehicle later. This means that they increase risks if you choose to modify your truck.
Lease Duration
The duration of the lease will impact the cost of the lease. However, termination fees, or what you pay if you break the lease early, will also impact the costs. For example, higher-end leases will have a flat-rate fee you pay if you break the lease. Cheaper leases will require that you pay the monthly fee for the full duration of the lease term – whether or not you're using the vehicle.
Summary
Leasing a semi-truck can be a great way to get started as an owner-operator without a large reserve of cash-on-hand to pay a down payment or to get a loan. Often, you can expect rates to average around $1,500 per month. However, with insurance and fuel factored in, actual costs will be much higher. In addition, you can go as low as $800 or as high as $2,500+ depending on the vehicle you're leasing.
Compare Car Warranty Quotes For Free & Save Big!