If your car speakers have blown out, are going out, or you just want better sound, replacing them is your best option.
New car speakers are normally a relatively easy upgrade and can make a big difference, especially if you spend a lot of time in the car.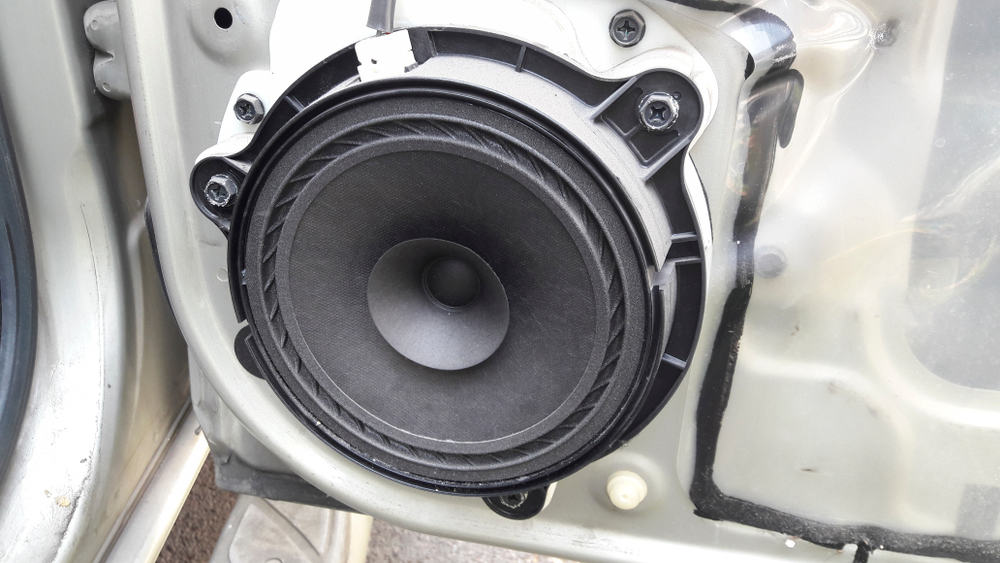 However, the cost of replacing car speakers can vary significantly depending on your car, the installer, and what kind of speakers you get.
Therefore, the average cost of replacement car speakers ranges between $200 and $1,000+. That's $50-$300 per speaker and about $60-$100 in installation costs per speaker. Of course, high-end speakers can cost well over $5,000 – so costs greatly depend on what kind of speakers you want.
The table below shows a quick price comparison of car speaker replacement cost estimates from reputable suppliers:
| Supplier | Speakers Cost  | Cost of Labor (per speaker) |
| --- | --- | --- |
| YourMechanic  | $65-$1,000 | $94.99+ |
| Best Buy  | $22.99-$2,089 | $79.99+ |
| Pep Boys  | $60-$1,090 | $65+ |
| Walmart/InstallerNet  | $19.99-$534.76 | $49.99-$100 |
| Amazon  | $5.99-$5,499 | NA |
| AutoZone  | $11.99-$479 | NA |
Compare Car Warranty Quotes For Free & Save Big!
How Much Does Car Speaker Replacement Cost?*
If you're replacing the car speakers in your vehicle with original speakers or with an aftermarket equivalent, the price will mostly depend on the vehicle you're driving.
For example, Ford packages go over $800 and Maserati packages go over $5,000. On the other hand, if you're going for budget aftermarket options, prices can be as low as $20 for a simple replacement speaker set.
| Vehicle  | Car Speaker Cost | Cost of Labor  |
| --- | --- | --- |
| Ford F150 | $44.99-$879.99 | $400-$1,500 |
| Chevrolet Tahoe | $48-$158.96 | $100-$1,200 |
| Dodge Dart | $44.99-$186 | $94-$595  |
| Hummer H3 | $12.95-$59.95 | $49.95-$395  |
| Dodge Charger  | $94.99-$129.95 | $139-$341 |
| Toyota Camry | $49-$164.99 | $64.95-$321 |
| Honda Accord | $59.99-$354.95 | $64.95-$294  |
| Audi A3 | $154-$368 | $140-$468 |
| Maserati Ghibli  | $196-$5,200 | $97-$1,522 |
| Toyota Tacoma | $65-$267 | $49-$404 |
*Prices are estimates and were correct at the time of writing (January 2023). Cost estimates may have changed since, our figures should be used as a starting point for your own research.
Car Speaker Replacement Price Factors
The cost of replacing car speakers can range from under $100 to well over $10,000. That cost range mostly depends on what kind of speakers you're installing.
However, other factors also come into play.
Make and Model of Vehicle
If you're buying original equipment manufacturer speakers, the make and model of the vehicle will heavily affect the cost of the replacement speakers.
For example, new Ford OEM speakers can cost as much as $800. On the other hand, you can buy new OEM Hummer speakers for as little as $12 for the small door speakers.
That variation in price means you can roughly assume total costs based on the vehicle you're buying for.
However, if you're going for OEM speakers, you can normally expect prices to hover around $50 per replacement speaker.
If you have two door speakers, a dash stereo speaker, and two rear door speakers, you're looking at a minimum of about $250 in parts – although you'll also have to add in cabling and dash speakers usually cost more.
Size of Speaker
If you're replacing a single overhead speaker, you'll spend a lot less money than if you want to do something like replace the stereo speaker.
In most cases, the size and volume of speakers will greatly impact the price. For example, many modern passenger cars come equipped with a 90-watt JBL twinset.
But, most car systems will support up to 250 watts and some over 400 watts. You could also install larger speakers than your car comes with – which will involve making modifications to the interior.
Speaker Quality
Another major cost factor is the quality of the speakers. Cheap aftermarket speakers can cost as little as $20.
On the other hand, if you're looking for performance, costs can run into the thousands per speaker. In this case, you can expect costs to change based on the reason you're replacing your speakers.
For example:
Replacing blown-out speaker: $20-$200 per speaker

Replacing old/faulty speaker system: $300-$800

Upgrading speakers to mid-range: $150-$300 per speaker

Upgrading speakers to high-end: $250-$1,000 per speaker
In addition, if you choose a large upgrade, such as installing under-seat speakers or putting in 900W speakers, you'll need additional electronics.
Number of Speakers
Most speakers start at $20-$50 each. Some car speaker systems include about 12 speakers. This means that costs can be quite high, even if you're just replacing the original factory speakers.
If you're replacing one speaker, you can normally expect to pay about $50 for the speaker and about $100 for the installation (unless it's a stereo/dash speaker).
If you're replacing all of your speakers, you'll have to multiply that by the number of speakers in the car.
Fit to Car
The easiest way to replace speakers in your car is to choose speakers that fit into the existing cavities in the car.
However, you might want to upgrade to add new or different speakers. That's often an option, but may require significant interior work if there aren't enough cavities in the doors or ceiling to house the speakers.
In the best case scenario, you'll simply have to cut new holes into the paneling.
Worst case scenario, you'll have to have your technician build in covers for the speakers. That can mean a significant amount of work – which can't be predicted without knowing your laborers' rates or the number of hours required.
Cost of Labor
Many mechanics will install car speakers for you. Here, you can normally expect to pay about $50 per hour for work, although the actual range goes up to over $210 per hour.
In addition, you can have many electronics shops install your speakers for you.
For example, Best Buy has a speaker installation service, which is offered on a flat-rate basis by speaker size. Walmart also has a flat rate service through its partnership with InstallerNet.
On the other hand, if you have a new car, the total cost may be covered by your warranty at the dealership. However, if you have your dealer replace speakers, you can normally expect to pay $200+ per hour.
Most car speaker installations take 1-4 hours. However, a very involved job may take more time.
4 Signs Your Speakers Are Going Out
If your speakers are going out, you'll probably hear it.
However, speakers making noise isn't always a reason to replace the speakers.
1. Buzzing or Scratching
Buzzing or scratching noises from your speakers are almost always a sign that they have blown.
This normally happens at the same frequency as the sound you're trying to play. Or, you'll get a weird and distorted version of the music you were trying to play.
A blown-out speaker will crackle and make noise, even if it still plays music at the same time. Once that happens, you'll have to replace the speaker or replace the cone to fix the issue.
2. No Sound
If your speakers aren't emitting sound, they might have to be replaced. However, this issue could also stem from something as simple as a loose cable.
In the latter case, you'd only have to remove the speaker and re-attach the cable. For this reason, bad wiring and cabling can mimic the effect of a bad speaker.
Therefore, you may want to test the wiring before buying new speakers.
3. Speaker Breaking Up
If your speaker is breaking up, not playing the right frequencies, or starts to sound off, it's normally a sign that the speaker has been damaged.
The only way to fix it will be to replace the cone and moveable parts or to replace the speaker.
4. Physical Damage
Physical damage to the cone, the frame, or the wiring is a good sign that it's time to replace your speaker. You can also often buy replacement parts for your speaker.
For example, cone repair is something that some shops specialize in. However, you may not want to do it, as replacing cones can cost as much as a new speaker.
How Do You Replace Car Speakers? (Video)
In most cases, you can replace your car speakers yourself and with a minimum of effort.
However, you should expect that it will take you more time than if a professional were to do the same work because they know what they are doing and how to do it.
Things You'll Need:
Flat screwdriver

Panel removal kit or spudger

Screwdriver

Wrench set/ratchet set

New speaker

New wiring kit where needed

Electrical connectors (optional)
How to Replace Your Car Speakers
The first step to replacing the speakers in your car is always turning your vehicle off. Make sure the keys are out of the ignition.
Then, unplug the battery from the left/negative pole and tuck the connector up away from any metal parts. This will prevent the car from shorting and damaging sensors while you mess with the electronics.
Then, find your speaker. Most are installed behind the paneling, meaning you'll have to take the paneling up to remove them. However, that won't always be the case.
Locate the speaker you want to remove. Check if you can remove the speaker cover from the outside. Often, you can slide a flat screwdriver or spudger under the grill and simply pry it up. If so, inspect for any screws or latches.

Check the paneling you're working from and look for ingresses or for panels that might hide bolts. If panels exist, pop them out with a flat screwdriver and loosen any bolts underneath. However, most panels can be pulled up from one end and then simply removed by prying them up.

Check the frame holding the speaker in place and use a screwdriver or a wrench to loosen it. Push the speaker out of the paneling and remove it.

Undo the wire harness.

Check to make sure the new speaker fits.

Connect the wire harness.

Plug your vehicle's battery back in and test the speaker.

If everything works well, unplug the battery, with the key out of the ignition.

Then, unplug the speaker, insert it into the hole where you removed the old one (you'll normally have to remove the grill for this), and then attach it to the frame.

Re-attach the wiring harness.

Put the grill back on.

Replace the paneling.
If you're replacing an under-seat speaker, the process will be a bit different.
In addition, if you're replacing a door speaker, you'll want to ensure that you remove the paneling from the bottom left and be sure to remove bolts before pulling the paneling too hard.
Frequently Asked Questions
If you still have questions about buying replacement car speakers, these answers should help.
Can I just replace my car speakers?
In most cases, you can very easily remove old speakers and replace them with new ones of the same size.
However, if you have larger cavities in your doors and overhead areas, you can install more or larger speakers as well. You'll just have to run more wiring.
It's also a good idea to pay attention to the total load capacity of the vehicle's electrical system so you don't overload it.
Is it worth replacing factory car speakers?
Upgrading speakers to a higher-end sound system will normally cost over $2,000.
However, whether or not that's worth it depends on what kind of sound quality you want, how much time you spend in your car, and how much you care about or notice the sound.
If you drive frequently and love high-quality music, you'll probably notice the difference.
Are old speakers worth fixing?
You probably don't want to dump a $300 speaker into an old car, especially if you're only replacing one speaker. However, you can find aftermarket replacements for car speakers for as little as $20.
This means it can be very worthwhile to replace speakers if you enjoy having music or listening to audio in your car.
If you do the work yourself, you can probably expect to pay $20-$50 and 1-2 hours of your own labor to do the job. That's more than worth it for most people if your speaker has gone out.
What size speakers go in cars?
Cars use a wide range of different speakers from 2" up to 10". In addition, different vehicles use different shapes of speakers.
Most will have a set of round and square speakers that fit around the vehicle. To add, it's usually possible to install larger speakers, but you'll have to check the size of the cavities and you'll have to adjust the paneling and the frame for the speakers.
Not supporting speakers when you install them in your door panels could mean that they move around too much and blow out – which is a waste of your speakers.
Summary
Replacing the speakers in your car can cost anywhere from under $100 to over $5,000. However, on average, you can expect to pay about $50 for a speaker and about $60-$100 for labor to install it. If you're doing the stereo console in the dashboard, you can usually double that amount. And, if you're replacing the full speaker system in your vehicle, you can expect costs to be over $1,000.
Compare Car Warranty Quotes For Free & Save Big!