Most motorcycles need an oil change every 2,000-3,000 miles.
For most bikers, that means changing the oil about twice a year. If you're using synthetic oil, that rises to every 7,000-10,000 miles, or about once a year.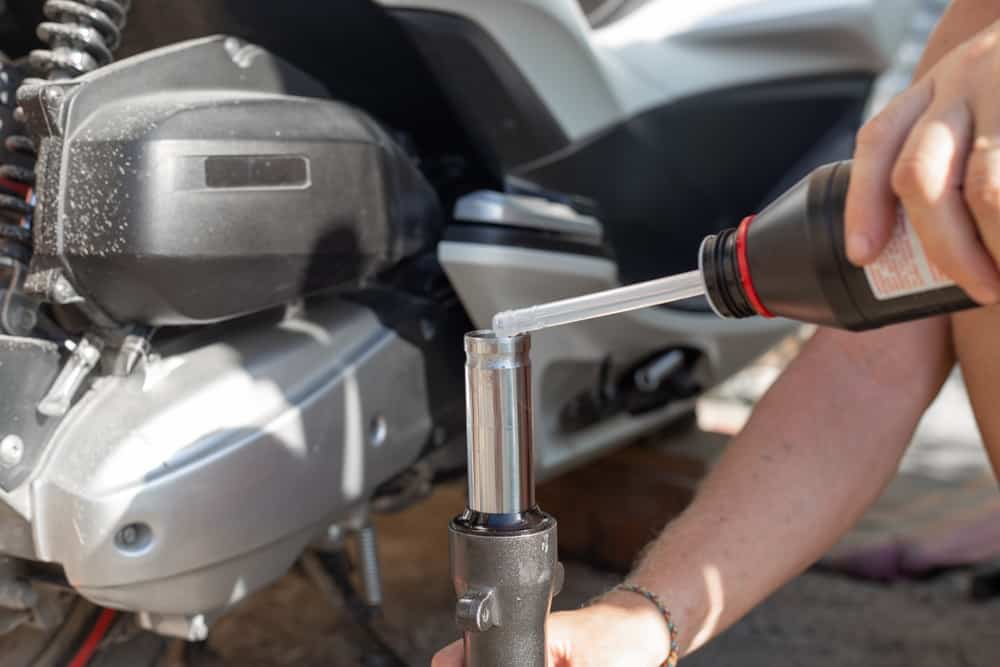 In either case, it's important to change the oil periodically, rather than waiting for something to go wrong. Why? Changing the oil prolongs the lifespan of your engine, ensuring you don't pay costlier repair fees.
Here, the average cost of a motorcycle oil change is about $70-$220. Here, you can expect to pay about $18-$40 for regular oil, about $20-$70 for semi-synthetics, and $45-$120 for full synthetic oil. You'll also need new filters, which can range in cost from $12–$90. And, the cost of labor can be $40-$350+ depending on your bike and where you go.
The table below shows a quick price comparison for motorcycle oil replacement cost estimates from reputable suppliers:
| Supplier | Oil  | Labor |
| --- | --- | --- |
| Dealership  | $70-$450 | $40-$280 |
| Motorcycle Specialist  | $25-$220 | $50-$300 |
| Mechanic  | $35-$200 | $60-$300 |
| Walmart  | $18-$76 | NA |
| Amazon  | $33-$120 | NA |
| AutoZone  | $23.97-$54 | NA |
Compare Car Warranty Quotes For Free & Save Big!
How Much Does A Motorcycle Oil Change Cost?*
The cost of a motorcycle oil change will heavily depend on your bike and what kind of oil it uses. It will also depend on where you go.
For example, if you have your oil changed at the annual service for the vehicle, you can expect costs to hover between $90 and $500.
On the other hand, if you replace oil with the cheapest version of the oil for your bike, costs can be as low as $70 including labor.
| Bike  | Motorcycle Oil + Filter  | Labor  |
| --- | --- | --- |
| BMW S 100 RR  | $87-$95 | $150-$350 |
| Yamaha Niken | $19.99-$69.99 | $40-$320 |
| Honda Shadow   | $25-$85 | $40-$100 |
| Suzuki Katana  | $12-$45 | $45-$120 |
| Indian Scout Rogue  | $72-$148 | $98-$490 |
| Ducati Scrambler | $85-$120 | $98-$340 |
| Harley Davidson Softail  | $91-$220 | $45-$220 |
| Kawasaki Ninja H2 | $71-$120 | $48-$120 |
| Suzuki SV | $28-$53.99 | $65-$120 |
| Honda Gold Wing Tour  | $32.99-$51 | $40-$85 |
*Prices are estimates and were correct at the time of writing (February 2023). Cost estimates may have changed since, our figures should be used as a starting point for your own research.
What Is Motorcycle Oil?
Motorcycle oil is thinner and better able to manage the heat of a small engine than car oil.
In addition, it has higher friction than car engine oil, because, unlike car oil, motorcycle oil also lubricates the gearbox and the clutch. If the clutch doesn't get enough friction, it will slip.
This means that motorcycle oil is something of a combination between transmission oil and engine oil. As a result, it's also more expensive, although not by much.
For example, the cheapest car mineral oil normally costs around $4-$6 per quart. For a motorcycle, that's usually $6-$8 per quart. And, if you want high-end oil, you'll probably pay around $60 per quart.
On average, it's about $50-$70 in oil if you're buying synthetic.
Motorcycle Oil Replacement Cost Factors
The actual cost of replacing motorcycle oil will heavily depend on what kind of motorcycle you have, in addition to where you go, what else you have checked, and what kind of oil the motorcycle uses.
What's Included in the Oil Change
It's important to consider whether you're paying for "just" an oil change or a full service.
For example, you can buy the oil change kit and replace the oil in a BMW S 100 RR for from about $85. However, the first service costs $430. This package includes an oil change, checking the fuses, brake fluid, and fork fluid, and an ECU update.
If your motorcycle uses fully synthetic oil, it makes sense to align the oil change with the annual service check. Whether you have that done at the dealer or at a bike shop is up to you.
However, the full check will always cost more than just an oil change. On the other hand, if you don't use synthetic oil, you might have to change your oil twice a year. In this case, at least once a year, you'll pay for "just" an oil change.
Type of Oil
Motorcycle oils are rated similarly to vehicle oils. In addition, you'll have to choose an oil rated for your engine. This means you'll need conventional, semi-synthetic, or synthetic oil based on your motorcycle.
Here, performance bikes normally use entirely synthetics. Most Honda, Ducati, and Suzuki bikes use synthetics as well. However, if you're not sure, you'll have to check your owner's manual.
Synthetic Oils – $10+ per quart
Semi-Synthetic Oils – $8+ per quart
Mineral Oil – $6 + per quarter
Motorcycle oils always cost more than car oil because they are different. In addition, you'll normally only need 3-4 quarts for a motorcycle – although this can change depending on your bike.
In addition, you'll have to check whether the oil is for a 2-stroke or 4-stroke engine. Four-stroke oil is designed to withstand higher temperatures and is therefore, normally, more expensive.
Type of Bike
For example, many Yamaha owners quote the cost of replacing oil during a service at around $500. That's often because the service includes other checks. However, you also have to take the paneling off the bike to access the oil tank.
On the other hand, if you have a Honda Shadow, you can normally change the oil in under a few minutes. For this reason, you can have the oil changed at the dealer for $70-$125.
That also holds true with many Suzuki motorcycles, which are extremely cheap to have serviced.
If you have a Yamaha Tracer, you need 3-4 liters of full synthetic oil and a new filter, which will normally cost a minimum of $60. At the dealer, that cost will escalate, and you're likely to pay around $400 for all parts and labor.
And, if you have a Harley Davidson, the dealer will charge a flat rate for most bikes, normally between $120 and $399.95.
In addition, while the cost of replacement motorcycle oil depends on the brand and the type of oil, filters are entirely dependent on the brand and whether you buy an original factory model or a generic option.
Here, filters can range between $12 and $90.
Cost of Labor
The cost of labor can make up a significant portion of the cost of replacing oil. Here, it normally depends on the bike and where you go.
For example, some motorcycles make it extremely easy to change the oil. You just have to drain the old oil and refill the pan.
Others can be more difficult, for instance, if you have to remove fairings to access the oil cap.
In addition, in some motorcycles, you'll have to take the fairings off to drain the oil. This can be quite a bit of work or up to 3 hours depending on the motorcycle.
What are you paying for labor? The national average rate is about $80 per hour. However, that can go as high as $200+, especially at a dealership.
4 Symptoms Of Bad Motorcycle Oil
In most cases, it's best to change motorcycle oil before it starts to go bad. Changing oil ensures that particulate is kept out of your engine.
It also prevents the engine from running too hot and potentially damaging electronics or burning off oil too fast, which could increase friction too much and damage parts.
However, if oil is starting to go bad, there are several symptoms to look for.
1. Engine Running Hot
If your engine oil isn't operating at the right viscosity, the engine will run hotter. Eventually, this causes the oil to burn off, which will cause the engine to run hotter.
Over time, that problem will continue to worsen and you'll start to hear scraping and grinding noises when changing gears.
2. Smell of Burning Oil
If your engine is running too hot, you'll start to smell burning oil. That often happens when the oil is too low or when the oil isn't operating as it should.
In both cases, it's probably time to change the engine oil.
If you smell burning metal, you have the same issue. However, in the latter case, you should actually stop the engine and let it cool completely.
3. Clattering or Grinding Engine
Motorcycle oil lubricates the engine, the gearbox, and the clutch. If it's not viscous enough or if it's too low, it will lubricate less.
The result is that you can hear metallic clattering when driving. You might also hear grinding or scraping when you switch gears. In each case, it's probably an issue with the motorcycle oil.
4. Oil Indicator Light
The oil indicator light will come on when the oil is too low or when it's operating at an unexpected temperature. If you see it, check the dipstick and see how much oil is in the motorcycle.
You can also clean the dipstick and re-dip it to check for contaminants or if your oil is dirty.
How Do You Replace Oil In Your Motorcycle? (Video)
You can often replace motorcycle oil yourself. In most cases, you'll need a few basic tools and 20-300 minutes of your own time.
Here, you can expect the time for an oil change to hover around an hour and a half – although for many bikes, it can be as little as 20 minutes.
Things You'll Need:
Wrench set (check if your motorcycle needs metric or standard)

Screwdriver set

Allen head socket kit

Oil filter tool/key (usually $5-$30 at any Auto Parts store)

Replacement oil (check your manual for what kind)

Replacement filter for your motorcycle

Gloves

Drain pan
It's also useful to have a torque wrench at hand.
Process
The process of changing motorcycle oil is exactly the same for every motorcycle once you uncover the oil cap and the drain.
However, before that, you may have to remove fairings, which will differ from motorcycle to motorcycle.
Park the motorcycle on a flat and level surface.

Inspect the bike and figure out where the drain holes are. If you have the owner's manual, check the location of the drain holes and the caps there.

Remove any fairings in the way. This should be a matter of unbolting the fairings from the bike from underneath and from the top of the panel. Set the fairings aside.

Idle your motorcycle for about 5 minutes to warm up the engine.

Clean around the drain plugs.

Place a drain pan under the plug or plugs.

Remove the drain plugs. Most use an Allen head socket. However, some use a special tool or a standard socket.

Drain the oil completely.

If your drain plugs have sealing washers, you'll probably want to replace them. Replace the drain plug and if you have a torque wrench, torque it to the rate specified in your owner's manual (normally 15-ft lbs.).

Remove the oil filter. Depending on your bike, you may have to remove the brackets first. You may also need an oil filter wrench. Make sure you position a drain pan under the filter when removing it.

Clean the filter sealing surfaces.

Use new oil to lightly lubricate the seal on the new filter. Then, replace the filter.

Reinstall any brackets you removed.

Remove the oil dipstick and use a funnel to add 3-4 quarts of oil into the motorcycle. Then, replace the dipstick.

Sit on the bike and center it. Then, turn it on and idle it for 30-40 seconds. Afterwards, turn the engine off.

Check the dipstick for the oil level and make sure the oil level is where it should be. It's okay to add more oil if the oil is too low.

Reinstall the dipstick and cap.

Replace any parts you removed.
Depending on whether or not you have to remove fairings, changing your oil could take as little as 20 minutes. However, it's also important that you dispose of your motorcycle oil safely.
Most shops will have drop-off points for old oil. Use a funnel to put it into the containers for the new oil and take it to an appropriate disposal site.
Frequent Questions
If you still have questions about changing your motorcycle's oil, these answers may help.
Why does replacing motorcycle oil cost so much?
Motorcycle oil is different from car oil, meaning that it costs more. In addition, you'll often have to pay to remove fairings to change your oil. This means that the full process can take much longer.
This is also why most shops don't have a flat rate for changing motorcycle oil like they do with cars. However, specific dealerships do.
For example, it's not uncommon to have Harley Davidson offer a flat rate per "class" of motorcycle.
How often should oil be changed in a motorcycle?
If you have synthetic oil, you can change it every 10,000 miles or about once a year. If you have mineral oil, you should change the oil about every 3,000 miles, or about twice a year.
However, if you don't make more than 3,000 miles in a year, once a year is usually fine.
Can you use car oil on a motorcycle?
You cannot use car oil on a motorcycle. That's because motorcycle oil is used in the gearbox and clutch as well.
Car oil doesn't allow enough friction for those parts to work properly, meaning that it could cause your motorcycle to slip gears.
Do I have to change my motorcycle oil?
Changing your motorcycle oil twice a year can get expensive. But, it's necessary if you want to keep your motorcycle in good condition.
Keeping up with maintenance ensures that you damage your engine as little as possible, so your bike stays in good condition for years to come.
To End
Changing your motorcycle oil will normally cost about $70 including the oil and the filter. However, it may cost over $400 if you go to a dealer and have an annual checkup at the same time. In addition, costs heavily depend on what kind of oil you use and whether or not you have to take fairings off the bike to access the drain plugs.
Compare Car Warranty Quotes For Free & Save Big!