Fans of adrenaline and massive vehicles often dream of competing in monster truck circuits. Some drivers even turned their passion into a full career, earning good money by winning these contests.
Buying or building a monster truck comes at a high premium, though.
The average cost of a monster truck varies from $113,000 to $300,000 if you build the truck from scratch. Monster trucks for sale can be as cheap as $13,000, but they are often sold without the engine, transmission, and tires or body parts. Competition-ready engines alone start around $40,000, so buying a used monster truck won't necessarily help you save.
Compare Car Warranty Quotes For Free & Save Big!
Average Monster Truck Costs Breakdown*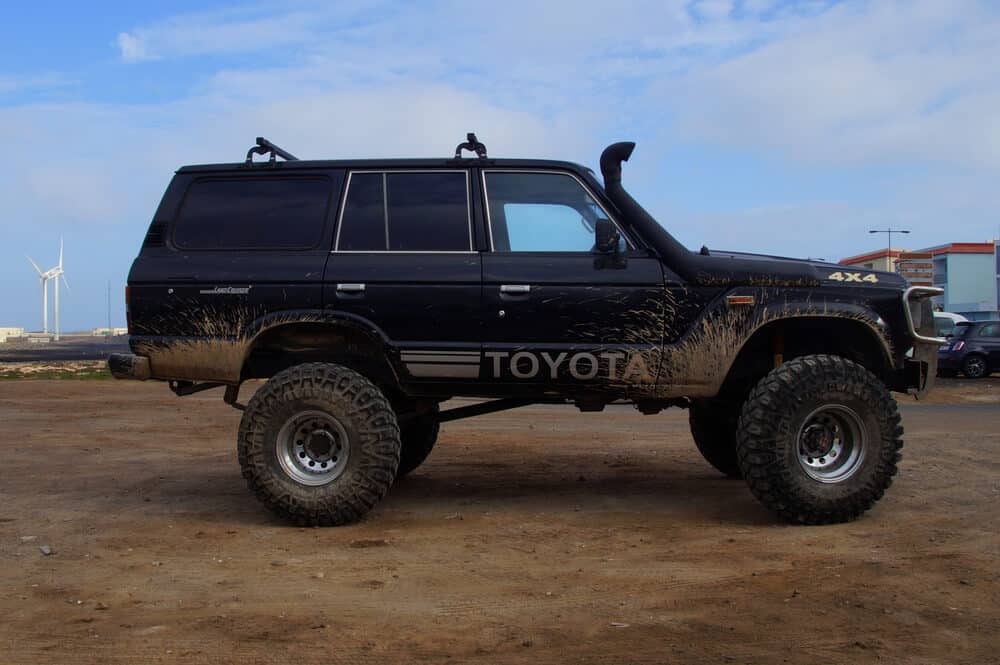 Building a competition-ready monster truck – or getting a used truck back to competition-ready standards – requires investing in high-quality parts. Most of these parts are custom-made and expensive.
The table below shows a breakdown of monster truck building costs*:
| Part | Average Cost |
| --- | --- |
| Truck body | $12,400 - $50,000 |
| Chassis | $25,000 - $33,000 |
| Suspensions | $7,600 - $12,400 |
| Engine  | $40,000 - $52,000 |
| Engine supercharger kit | $1,000 - $7,500 |
| Transmission kit | $450 - $650 |
| Transfer case | $2,860 - $4,680 |
| Brakes  | $800 - $2,025 |
| Tires | $12,000 - $124,740 |
| Driver's seat | $2,105 - $2,820 |
| Miscellaneous parts  | $8,500 - $10,000 |
| Total costs | $112,715 - $299,995 |
*Average costs in the table are estimates based on quotes received from monster truck builders and prices for parts sold on the used market or profile shops. They are correct as of October 2022 and intended to use as a reference only.
Whether you want to buy a monster truck or build one from scratch, you can expect to spend between $113,000 and $300,000.
Used monster trucks are typically sold without engines and transmissions, but investing in one can help you save loads of time and, potentially, money.
For instance, an almost fully built 1979 Ford monster truck with no transmission and engine costs around $13,000.
The engine can add up to 52,000 to the cost, and you must also account for a supercharger kit that can set you back another 7,500 if you want to get the truck competition-ready.
Transmission kits are generally inexpensive, but they still add between $450 to $650 to the total cost.
Nevertheless, such a truck could cost you between $54,450 and $73,150.
Finding such a bargain truck is rare, though. Typically, the chassis alone can set you back around $17,000, with used monster truck prices (no engine, transmission, and tires) starting at around $75,000.
Thus, a more accurate estimate is between $116,450 and $135,150 for turning a used monster truck into a competition-ready one.
That's about as much as building an entry-level monster truck from scratch.
While this variant requires more time – months to years, depending on who's building it – you have the certainty that every part was custom-made for your truck and performs at full potential.
Due to the aggressive nature of monster truck competitions, a used vehicle could hide numerous problems.
At the higher end, a pro-level custom-built monster truck can cost you around $300,000 or more.
5 Monster Truck Price Factors
The parts going into the construction of a monster truck are the main factors affecting costs.
However, unless you're building the truck yourself, you might also have to account for labor.
1. Monster Truck Type
Defining a monster truck type is challenging. These trucks can be based on any existing vehicle or built from scratch, including custom bodies made of fiberglass.
However, most owners construct their trucks based on Bigfoot or Grave Digger models. Mini monster trucks can follow the same design, but they are about half the size of a competition vehicle.
The table below compares the average prices of popular monster truck models*:
| Monster Truck Type | Average Price |
| --- | --- |
| Mini monster truck | $29,900 - $125,000 |
| Bigfoot  | $210,000 - $250,000 |
| Grave Digger  | $270,000 - $280,000 |
*Prices in the table are estimates based on current market offers (monster trucks for sale) and quotes provided by independent auto shops experienced in constructing monster trucks. They are correct as of October 2022 and intended to use as a reference only.
Mini Monster Trucks
Mini monster trucks are the cheapest to buy or build. Prices for used trucks start around $29,900 for a slightly transformed model and can go up to $125,000 for a heavily customized one.
These trucks are typically a good choice for beginners and junior drivers.
The most expensive mini monster trucks driven by kids and teenagers are typically smaller versions of competition-ready full size trucks and are used in junior competitions.
Bigfoot Monster Trucks
Enthusiasts who want to drive a full-size monster truck typically base their versions on the iconic Bigfoot and Grave Digger trucks.
The price differences between these two are minimal, but reproducing a Grave Digger is typically more expensive than constructing a Bigfoot.
Bigfoot trucks typically use Ford F-250 – or other F-series – truck bodies fitted on oversized chassis and wheels.
Replicas are relatively straightforward to build, but the type of components and their performance can drive costs to over $210,000 on average.
Grave Digger Monster Trucks
Originally built in 1981, the Grave Digger was made out of a 1951 Chevrolet Panel Wagon. These Chevys were discontinued in the 1970s, but modern versions are still seen in the Chevrolet HHR Panel and Chrysler PT-Cruiser.
Most Grave Digger reproductions are based on these cars, but the main difference between Grave Diggers and Bigfoots is the level of customization in the former.
In addition to high-performance parts, Grave Diggers are also known for jaw-dropping paint jobs that decorate the body. A typical Grave Digger can cost between $270,000 to $280,000 to build or buy.
2. Truck Parts
Whether you want to buy a ready-made truck or build one from scratch, the parts that go into it are the major factor that affects costs.
Truck body
Monster trucks can be based on any car or truck, even though they are generally made out of panel or pickup trucks such as Ford F-series, RAM 1500, or Chevy HHR Panel.
Station wagons can sometimes be used instead of a truck, but it is rare to see a monster truck made out of a city car.
Newer designs can be based on larger SUVs like the Jeep Wrangler or Cherokee.
Depending on the vehicle you want to transform, the body alone can cost you between $12,400 and $50,000. You can obviously save on this step if you already own an old truck or car that you can use.
Chassis
Monster truck chassis are always custom-made. This component can set you back between $25,000 and $33,000.
If you have the know-how and tools to build your own chassis and only pay for materials, costs can drop to around $5,000.
Suspensions
While not the most expensive part of monster trucks, suspensions are essential to absorb shocks during jumps.
Each monster truck needs suspensions that can cost between $1,900 and $3,100 each – or about $2,500 on average.
Engine + Supercharger kit
Most monster truck engines run on either gasoline or methanol. The latter is preferred due to its higher fuel mileage, even though it doesn't give as much power as gasoline.
Methanol engines cost between $40,000 and $52,000, but they generally don't come with a supercharger.
Gas engines are generally cheaper, but they need a supercharger too.
A supercharger is an essential component to add to a monster truck, or the engine might not be powerful enough to ensure performance during competitions. Superchargers can bump costs by $7,500.
Transmission kit
Transmissions are one of the cheapest parts needed when building a monster truck. Kits designed specifically for monster truck installation cost between $450 and $650 on average.
Some heavy-duty parts designed specifically for competitions can obviously cost about thrice as much, up to around $2,000.
Transfer case
A transfer case transfers power from the transmission to the axles, making the wheels turn. It is a relatively small gearbox, but you can expect to spend up to $5,500 on this part alone.
Cheaper transfer cases are also available if you want a monster truck more for fun than competition.
Brakes
Monster trucks are heavy vehicles that can weigh up to 12,000 pounds. Regular brakes would likely fail when trying to stop such a mass, so you'll also have to invest in a custom braking system.
TBM is one of the brands that make monster truck brakes, usually priced between $800 and $2,025. These are designed for racing only and are not road-legal.
Tires
Tires are among the most expensive monster truck parts. They are either custom-built or manufactured for heavy-duty agricultural and industrial vehicles – they are typically at least 66 inches tall by 43 inches wide.
BKT monster tires are a common choice among enthusiasts. Prices start around $4,600 for a new tire, but can go down to around $2,000 if you don't mind buying them used.
However, a single tire can cost as much as $31,185 if you opt for a high-quality brand like Goodyear. These are a lot larger than standard monster truck tires, but they sometimes equip super monster trucks.
If you opt for such big tires, these alone can cost you around $125,000.
Driver's seat
While old trucks come with seats, the only thing you'll be able to use from the vehicle is the bare body.
Monster trucks usually have only one seat located in the middle of the cabin and designed to protect the driver during accidents – which are incredibly common during competition.
These seats offer full containment as well as head and shoulder supports and can cost up to $2,820 on average.
Miscellaneous parts
In addition to these parts, monster trucks need a variety of other components such as rods and pistons, roll bars, other safety features, etc.
You may also want the truck to have at least a fire extinguisher and other miscellaneous items. These can add another $8,500 to $10,000 to the final price.
3. Paint Job
Another factor that can influence monster truck costs is the paint job.
Painting a standard truck costs around $3,000, but the costs can double if you opt for Rhino lining. Custom decals or artistic paint jobs can cost even more.
For something that's showroom quality, you could pay up to $20,000.
4. Maintenance
Monster trucks are expensive to build or buy, but costs don't end there. Owners claim that maintenance is often more expensive than building the truck, especially if you race.
Competition drivers change around four to five engines per year. Other parts, such as the tires and transmission, also need frequent replacement.
On average, expect to spend around $250,000 per year for maintenance alone.
Since monster trucks aren't generally road-legal, you must also invest a good share of money in transportation.
5. Purpose
Ultimately, a factor that affects costs is the purpose of buying or building a monster truck.
Road-legal monster trucks typically bring little to no alterations to the truck body but replace the wheels with oversized ones.
Competition monster trucks are heavily customized and much more expensive.
Is A Monster Truck Worth It?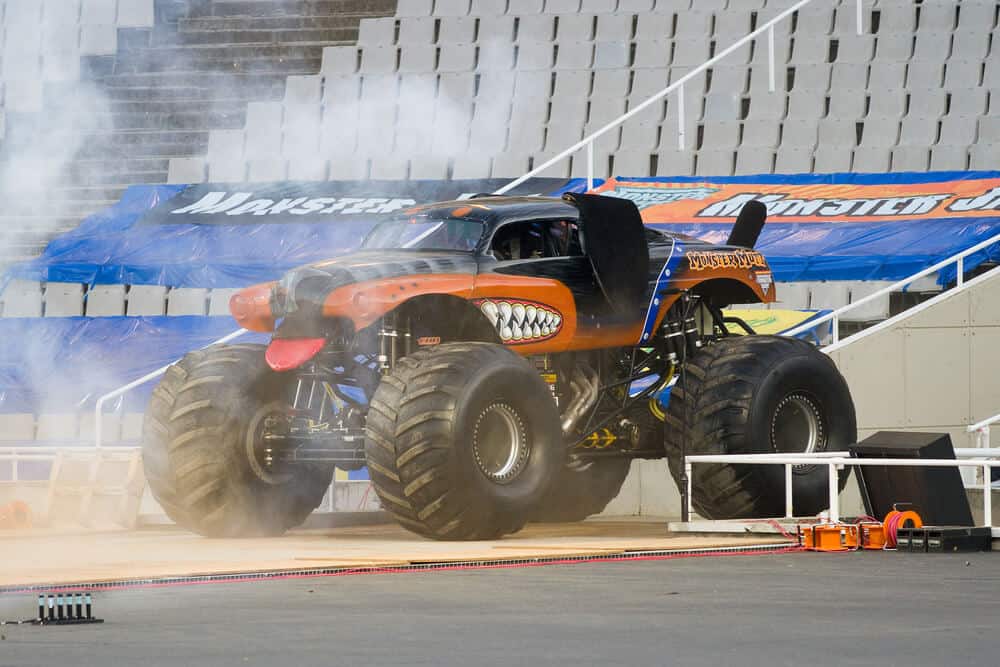 If you want a monster truck for the sole enjoyment of owning such a vehicle, then buying or building one is definitely worth it.
However, if you're considering turning monster truck driving into a career, know that you'll have to keep investing constantly and success isn't guaranteed.
Monster Truck Earnings (Per Show & Per Year)
Monster truck drivers are paid up to $6,000 a week during show season and earn around $33,222 to $53,356 per year on average.
However, not all monster truck drivers earn these wages. If you own the truck, you must also invest in additional engines and parts each season, and this alone can make you spend much more than you earn.
Trucks used in some competitions, such as Monster Jam, are usually designed, built, and maintained by Feld Motor Sports. In this case, driving the truck could earn you a living.
FAQs
Can you buy a monster truck?
Yes, you can buy a monster truck.
However, monster trucks for sale are typically sold without an engine and transmission. They can sometimes lack other parts too, including the body if it is custom-made instead of transformed from a repurposed truck.
What was the most expensive monster truck ever?
The most expensive monster truck ever is Sin City Hustler.
Defined as the world's first luxury monster truck, it was developed from a 32-foot-long Ford Excursion limousine that was never used in competitions but could be hired for business or leisure purposes. Allegedly, this monster truck cost $1 million.
Why do monster trucks cost so much?
Monster trucks are so expensive because they are custom-built vehicles.
Everything inside them is massive, and to move all that weight, they must be equipped with performing engines, tires, and other components.
All these parts are very expensive, and their costs are reflected in the truck's final price.
Summary
A monster truck can cost you between $113,000 to $300,000, excluding paintwork. Buying a monster truck that is almost complete could help you save, but only if the only missing components are the engine and transmission. Otherwise, you can expect the costs to be in-line with building your own truck from scratch.
Compare Car Warranty Quotes For Free & Save Big!