If your car is rusting, getting the issue fixed as quickly as possible will prevent further damage and mitigate total problems to your car.
At the same time, the costs and feasibility of rust repair will heavily depend on your vehicle, the type of rust, and how bad things are.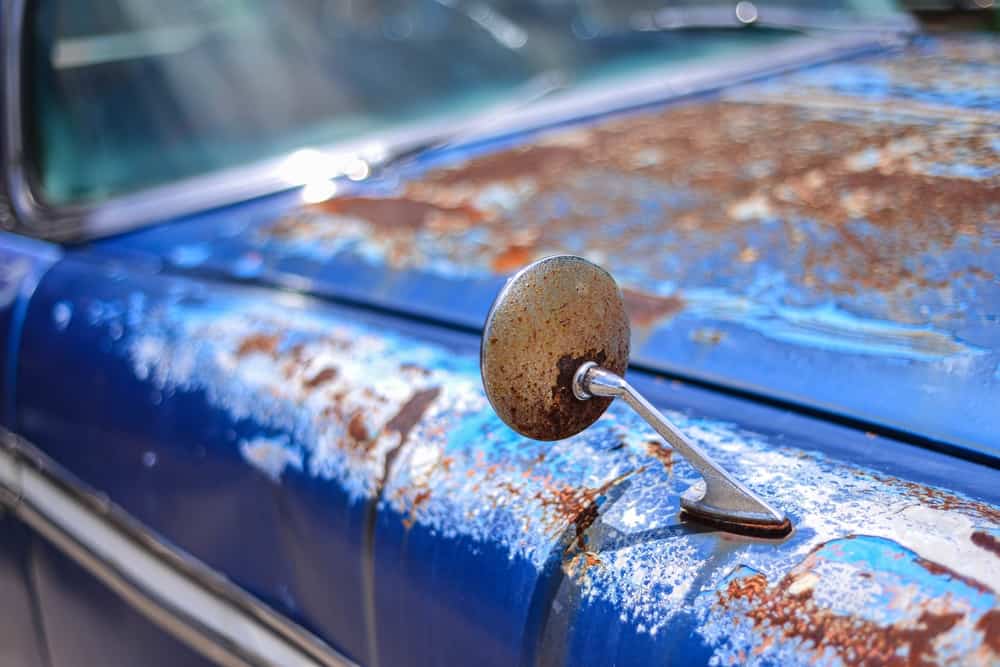 Therefore, you'll always have to take your car in for an inspection before Maaco can give you a real quote.
However, the average cost of Maaco rust repair is $300-$1,500. This includes a light surface repair and repaint to restore a small amount of rust to a like-new condition.
However, if you have damage to the frame or the rocker panels, those costs will go up to over $2,000 with maximum costs in the tens of thousands. What you pay depends on the damage and how much you really want to restore your car.
Compare Car Warranty Quotes For Free & Save Big!
How Much Does Maaco Rust Repair Cost?
The cost to repair rust will depend on a few factors including the age of the vehicle, the time to remove the damage, and whether the damage can be repaired at all.
The following chart details rust repair costs across common types of damage:
| Damage  | Cost to Repair  |
| --- | --- |
| Bumper  | $60-$2,000+ |
| Fenders  | $300-$6,000+ |
| Wheel Well | $300-$900+ |
| Center Floor Frame  | $320-$900+ |
| Rocker Panels  | $1,200-$4,500+ |
| Spare Tire Pan  | $200-$500 |
*Note: Prices are estimates and were correct at the time of writing (June 2023). Cost estimates may have changed since, our figures should be used as a starting point for your own research.
What Is Maaco Rust Repair?
Maaco is a body shop chain that's been operating in the United States since the 1970s. Its rust repair service is standard for any body shop – but it's well-known for car body work.
Here, Maaco offers nothing that any body shop would not, which means that you can get the same services from any body shop in your area, providing they have the time and space for your car.
In addition, Maaco is a large chain. This may mean that they have more access to people, equipment, and parts than a smaller brand would. However, they're also a budget brand, meaning they try to offer the lowest cost possible.
That means a paint job starts from as little as $300- although according to reviews you do get what you pay for.
However, for rust removal, costs will be higher. Still, you'll start paying rates of about $35 per hour although you can pay up to $80. That can be much cheaper than your average body shop.
Maaco Rust Repair Price Factors
The most important cost factor in pricing a Maaco rust repair job is the time involved. Here, you'll pay a direct hourly rate and most of the other costs are quite small.
Time Involved
A simple and small rust patch can take up to 6 hours to fix. For example, a rusted floor pan usually takes 6-8 hours to repair. On the other hand, undercarriage or underbody rust, you'll likely spend well over 8 hours on the job.
Frame rust will almost always take over 8 hours. This means you can expect to spend more than a full day of labor on any type of frame rust.
That's also true for metal panel rust, because you might even have to cut out the affected parts and weld new parts in – and that's before paint and finishing.
So, the more extensive the damage, the more you'll spend.
Surface rust – 3-8 hours total including paint

Extensive surface rust – 8-30 hours including paint

Small frame rust – 4-8 hours

Extensive frame rust 10-40+ hours
Work Involved
Removing rust might be a simple matter of sanding the rust off, adding a coat of primer, and then re-painting the spot for a quick patch fix. That won't stop the rust forever, but it will give you 5-6 more years with the car.
On the other hand, you could have an extensive rebuild of the car to repair rust damage. That might mean cutting out the affected patch and welding a new one in, then grinding the weld out, sanding it, and refinishing it to match the car.
Rust removal can involve:
Machining (laser, cutting, patching)

Welding

Sanding

Painting

Priming
In most cases, you'll need the paint job no matter what. However, if your existing paint is peeling and flaking up, you'll have to remove all of the loose paint and then repaint the car to prevent future rust damage as well.
Rate Per Hour
Maaco is a national chain with over 500 locations. The brand commits to offering budget rates on body work – however, that varies per location.
For example, you can expect an average rate of about $40 per hour. And, if you live in a very urban area, Maaco rates can be much higher with some going up to about $200.
In addition, different services cost different rates. For example, Maaco pays its sanders an average of $20 per hour, and painters $35 – you can expect to add a 35-40% margin on top of that to cover shop fees and that's what Maaco charges.
Therefore, a rust removal bill might look like:
Sanding – 4 hours – $180

Priming – 1 hour – $60

Paint – 3 hours – $180

Sealant – 1 hour – $60
Replacement Parts
In some cases, you'll have to buy metal sheets and replacement bolts or parts to fit into your vehicle as part of the repair.
For example, if you have a rusted tire pan and it costs $500+ to fix, you're probably better off just buying a new one. On the other hand, if your bumper is rusting out, you might need a new hitch, new license plate holders, etc.
Type of Rust
Surface rust is the easiest to repair. Scale rust, where the metal is flaking, is much harder. And, penetrating rust, or rust that's through the panel, typically means you'll have to replace that part or cut the patch out and replace it.
Paint and Finishing
You'll always want to prime, paint, and seal your car after finishing the rust removal. A good coat of primer and paint will slow the rust coming back and will prevent further damage.
However, a paint job will usually take at least 3 hours but up to 40 depending on the layers and the amount of work you put into it. Maaco is famous for their cheap paint jobs, but you may not want to go with the bare minimum, because it may not adequately protect your car from future rust.
However, the good news is that you can often spot fix or patch the paint and you won't have to strip and repaint your entire car.
3 Signs You Need Rust Repair
In every case, the sooner you notice rust and do something about it, the less the work will cost. Here, if you scratch the paint, it's a good idea to simply immediately take it to be primed and fixed.
Otherwise, you should take steps when you notice:
1. Rust on the Body
If you see rust, go do something about it. Unless you're planning to scrap the car within a few years, you'll want to take action right away. Rust can eat into your car remarkably quickly so taking steps to repair light rust is the way to go.
Here, a small patch of rust on a scratch can cost as little as $300 to repair. If you let it get worse, the damage will go up into the thousands. The faster you act, the less it will cost.
2. Paint is Scratched or Peeling
If your paint is scratched, peeling, or bubbling, the metal underneath is rusting. The faster you get the loose paint off and apply rust removal and a primer, the less damage you'll have.
There is no case where you can have missing or damaged paint and your vehicle won't start to rust. You'll also have to plan a patch fix for the paint or a new paint job.
3. Car is Rusted and You Want to Restore It
If your car is badly damaged, you'll have to take stock and decide if you want to repair the rust or not. For example, if your fender is badly rusted, it might be significantly cheaper to source a replacement fender and have that put in and fixed.
A fender on a smaller vehicle can cost as little as $1,500 – where Maaco will quote you $6,000+ for extensive damage to the fender and paneling behind it. That's also true with frame parts, where it's quite often cheaper to simply replace them.
However, it's unlikely you'll always be able to source those parts new, so you might have to go to the junkyard or even shop around online.
However, if you have an old car or a collectible, you might not want to scrap it. Restoring an old car can cost tens of thousands of dollars, but it may be worth it to you. So, decide based on the vehicle.
How Do You Repair Rust? (Video)
You can often repair light rust issues yourself without too much extra hassle. However, it's unlikely that you can get a professional paint finish without professional equipment.
Therefore, you'll still want to take your car into Maaco or a competitor to handle the actual paint. And, Maaco is famously cheap for its paint services.
Things You'll Need
Sandpaper

Angle grinder with wire brush (A Dremel with a wire brush is also fine, but will take longer)

Rust removal agent

Rust preventing primer

Body filler

Paint

Clearcoat

Paint tools (Air-powered paint gun is best)
Process
Thoroughly clean the vehicle at the affected patch.

Assess the damage and use a wire brush or a wire brush on an angle grinder to sweep away as much of the surface rust as you can. You want to bare the metal underneath. If the rust goes all the way through, you can't repair it.

Use a Dremel or a drill to drill out small rust pocks. Getting rid of all of the metal with rust flakes is important.

Sand the affected area. Clean it.

Double-check that there is no more visible rust. If you have rust in deeper pocks, you have to remove it or it will continue to eat the metal.

Apply a rust removal spray and let it sit for the time recommended on the package.

Clean the spot.

Apply rust-prevention primer.

Use body filler to smooth out the affected part so that it's even. You'll normally want to work in small batches, use a plastic scraper, and apply several layers to get the filler as smooth as possible.

Use fine-grit wet-sand paper to smooth the filler.

Apply paint.

Apply primer.
Each of these steps can take a considerable amount of time depending on how bad the damage is. And, many people prefer to take their vehicle to a body shop to get the professional paint colors and look on their car.
Related Questions
If you still have questions about Maaco rust repair, these answers may help.
Is Maaco good for rust repair?
Maaco is as good as any other body shop for rust repair. However, the sooner you have the work done, the more effective it will be.
In addition, Maaco is relatively cheap, so they might not offer the highest quality standard of work – which you do want for rust removal.
Is fixing body rust worth it?
Fixing body rust may or may not be worth it. In many cases, if you have an older vehicle, you can replace the car for less than the cost of rust removal.
For example, a 2004 Toyota Highlander currently retails for $4,453-$10,491 depending on the condition. Yet, if you take it in to Maaco with a badly rusted fender and wheel well, the quote to repair will be over $10,000.
This is a case where you probably just want to replace the vehicle or look into how much you'd pay for replacement parts.
Does rust repair last?
Rust is pervasive and difficult to get rid of. Despite best efforts, it may come back. Therefore, rust removal is typically expected to last anywhere from 6 months to 6 years.
If you replace the panels affected, it will always work. However, sanding and priming panels don't necessarily prevent rust from coming back down the road.
What Next?
Rust removal is expensive and difficult. However, it's necessary if you want to keep your car on the road. Maaco rust removal services are one of the most accessible in the United States. However, they do charge rates from about $300 for simple patch rust removal and up to over $10,000 for big jobs. On average, you can expect a random job to be about $1,500 – although the larger the rust patch, the more it will cost.
Compare Car Warranty Quotes For Free & Save Big!