Probably one of the best US drive-through coffee shop franchises is Dutch Bros. Coffee. The franchise consistently serves exceptional, fresh roasted, blended coffee, as well as other caffeinated beverages. In addition, the franchise has great customer service and insists on giving back to the community.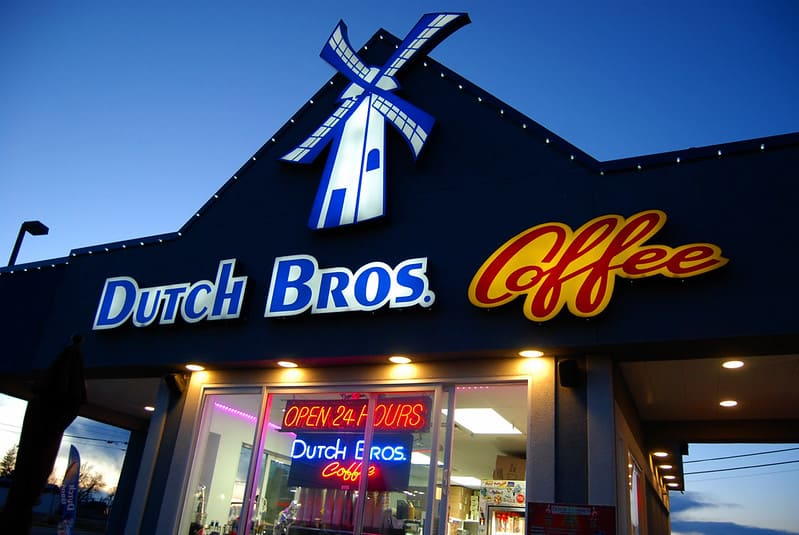 As of May 2021, the Oregan-based privately owned coffee chain franchise has 450 outlets operating across the US and expects to be worth around $3 billion by the end of the year. Although the franchise already established itself in the western US states, it's now aggressively pushing into the east. This is because the company actively targets regions where it believes its brand will do well. And, that's not just in the US. They are also looking to open franchises in Canada, UK, other countries in Europe, The Middle East, and the Far East. In fact, anywhere where there's a market.
Dane and Travis Boersma, from Grants Pass, Oregan, founded the company in 1992. Although, beginning with coffee, they now serve a wide range of hot and cold traditional and flavored coffee drinks. In addition, the company's customers can buy other caffeinated beverages, teas, hot cocoa, energy drinks, smoothies, lemonade, and soda.
Carry on reading to hear all the currently available Dutch Bros franchise information. That includes the requirements for buying a Dutch Bros franchise, ongoing royalties, and what you can expect to earn from it. This article also discusses Dutch Bros coffee franchise opportunities and covers frequently asked questions about being a franchise.
How Much Does It Cost To Open A Dutch Bros?
Let's start at the beginning. Therefore, first, you need to know how much a Dutch Brothers franchise costs.
Opening a Dutch Brothers franchise requires an upfront initial franchise fee of $30,000. After that, you need to be worth a minimum of $500,000. On top of this, you must pay a monthly royalty fee of 5% of gross sales or $1,300, whichever is greater. Finally, you must either lease or buy your location. Naturally, real estate prices vary with the region of the country where you intend to set up your business, with most urban real estate much more expensive than rural. However, suppose you are a long-term franchise employee or show great promise. In that case, Dutch Bros might offer a loan to help you out, payable for ten years at 12% interest.
Furthermore, there is one more requirement to start this franchise. You must have a good credit score. The minimum requirement is a score of 675.
But, what do you, as a franchisee, get out of it?
Dutch Bros. reckons that a typical store generates from $570,000 to $650,000 total annual revenue depending on your location. Therefore, after all the costs, purchases, and salary payments, the store owner should earn an average profit of around $124,000 per year. That's a gross profit margin of about 20%.
However, you can't just jump in and hope for the best with no coffee retail experience. There are many requirements that a prospective store owner must satisfy first. Stay with us because we will break these down in the remainder of this article.
Dutch Bros Franchise Requirements
Okay, owning a Dutch Bros franchise isn't only about paying the money and getting on with it. The top priority is to have experience; money is secondary.
Dutch Bros. Coffee serves quality food and beverages, and the company wants it to stay that way. Therefore, the franchisee must learn how to make an exceptional cup of coffee and maintain that quality all day, every day. If they fail, all the franchises suffer. Therefore, before taking on a franchise, the prospective owner must take on at least three years of training in an established franchise. That's why they prefer to offer new franchises to existing franchisees and employees who have proved that they have what it takes.
But there's another side to the Dutch Bros franchise. Among the franchise stores, Dutch Bros promotes a specific positive lifestyle as well as selling coffee. Every employee is asked to pledge themselves to uphold the Dutch Creed. This includes pledges such as "To talk health, happiness, and prosperity to every person you meet." And "To think only the best, to work only for the best, and expect only the best." In addition, and because of the pledge, the company prides itself on every franchise and its employee's customer service and community relations. Additionally, every franchise reinvests at least 1% of its gross sales into the local community.
Duration of Employment Required To Start a Dutch Bros Franchise
With Dutch Bros., experience in the company is everything. Every prospective franchisee must work for at least three years in an approved Dutch Bros. Coffee franchise store. With at least one of those years in a managerial position. After that, they must have a favorable recommendation from the franchise owner to apply for a store of their own. Furthermore, they should then accept help from Dutch Bros to find a strategic location for the new store.
This method of training a future Dutch Bros. franchisee ensures they know how the company runs, what it's like to work at the bottom and climb the ladder to a managerial position. During this time, they also learn how to maintain the positive attitude needed to support their employees, customers, and the local community.
The company also insists on a 250 word written essay on why they want to start a Dutch Bros. coffee shop. Additionally, they must also submit a short video detailing their personality.
Alternatively, an investor can help an existing franchisee by investing resources into their store.
Net Worth & Starting Capital Needed
In addition to the net worth and starting capital needed to open up a Dutch Bros. franchise, the store needs equipment.
Although not particularly expensive, two essentials are a cash register and a credit card machine. Without these you cannot trade.
Other purchases necessary to open a Dutch Bros franchise include at least one La Marzocca espresso machine. Typically, the cost of this would be around $10,000.
You also need to purchase other items such as a blender and cooler. Finally, before you start to trade, you must also have uniforms, insurance, permits and licenses, signs, and other equipment. Usually, in total, the costs of these extras can reach $150,000.
Finally, you can't start a store without somewhere to work from. Unfortunately, real estate prices widely vary in different locations around the country. Therefore, we can't put a price on these. But, you must be able to either buy or lease a property that would be suitable. Perhaps you think this might be difficult for you to manage. In that case, Dutch Bros. sometimes pays for remodeling an existing structure or covers the construction costs of new premises.
Non-Employee Dutch Bros Franchising Opportunities
There might be many reasons why the prospective franchisee can't do the required three years of retail work experience. Instead, they can invest money into the business of an approved and existing franchisee. However, if you don't work for Dutch Bros., you can always apply for a position first.
Dutch Bros Coffee History
Dutch Bros. Coffee started in Grants Pass, Oregon. Two brothers of Dutch descent, Dane and Travis Boersma began the company in February 1992. They had previously bought an espresso machine and a pushcart and decided to give their friends complimentary drinks. As their popularity grew and the local residents started to hear about their excellent beverage, they decided to open a coffee kiosk. Thus, Dutch Bros. Coffee was born.
Today, Dutch Bros. Coffee is a great drive-through coffee beverage store, with equally superb and impressive customer service from staff who care about their products and customers. Currently, the company has 450 outlets, with more opening all the time. But, even though many people equate Dutch Bros. with coffee, that isn't all they sell. Yes, customers can buy traditional coffee. But, the drive-through also sells many flavored coffee and tea beverages.
Furthermore, you can buy shakes, smoothies, energy drinks, cocoa, and soda. But no matter where the franchise is based, they all have one thing in common: a consistently good cup of coffee or other caffeine beverage. But don't just take our word for it. In an average year, the company serves at least 23 million cups of coffee. Isn't that proof enough?
Dutch Bros In The News
As you would expect from such a high-profile franchise as Dutch Bros., the company is always in the news. So let's look at a few of the current press reviews and headlines from some of the country's prestigious online journals.
"Dutch Bros. Coffee lays out Texas expansion plan."
This headline from the April 2021 issue of Houston Business Journal outlines the company's plans to have 35 stores in Texas. Although the projects are spread over the next few years, they are already planning locations in Houston.
"Dutch Bros Coffee Mulls IPO."
This headline from the May 2021 issue of the online QSR magazine reports that the company intends to launch itself on the stock market later in 2021. The IPO plans a valuation of around $3 billion, although a final decision has yet to be made.
In 2018 a private equity firm, TSG Consumer Partners, acquired a minority stake in the company previous to this announcement.
"Coffee chain continues San Antonio expansion with two new planned locations."
This headline from the April 2021 issue of the San Antonio Business Journal highlights the Dutch Bros. expansion of its franchise chain into Alamo City. The company expects to open two more locations within the city before the end of the year.
These headlines show that Dutch Bros. intends to expand aggressively from the western states towards the east in the run-up to its expected but rumoured IPO later this year. So if you want to invest in a Dutch Bros. Coffee franchise, now is the time to get on board.
To watch this company's impressive performance, it's worthwhile following them and keeping up to date on their official company Twitter account, Facebook page, or Instagram account.
Next Steps
Suppose you intend to become a franchisee for Dutch Bros. Coffee. You probably already have worked with them for a while. Now you need the specialist help that only a professional company can give to ensure your application is first class. You'll need professional assistance to complete the application form, get the paperwork in order, and raise the capital required by the Dutch Bros. Coffee franchise rules.
There is no need to struggle. Instead, complete the form on this page. You'll then receive up to 3 quotes from companies that specialize in this kind of work.