Over 64 million Americans had a gym membership in 2019, meaning nearly 19% of the population goes to gyms. With that in mind, health and fitness centers are in constant demand.
People care about appearance and health and having a social space to work out offers motivation and a sense of accomplishment for many. That can make building a gymnasium seem like a great business opportunity.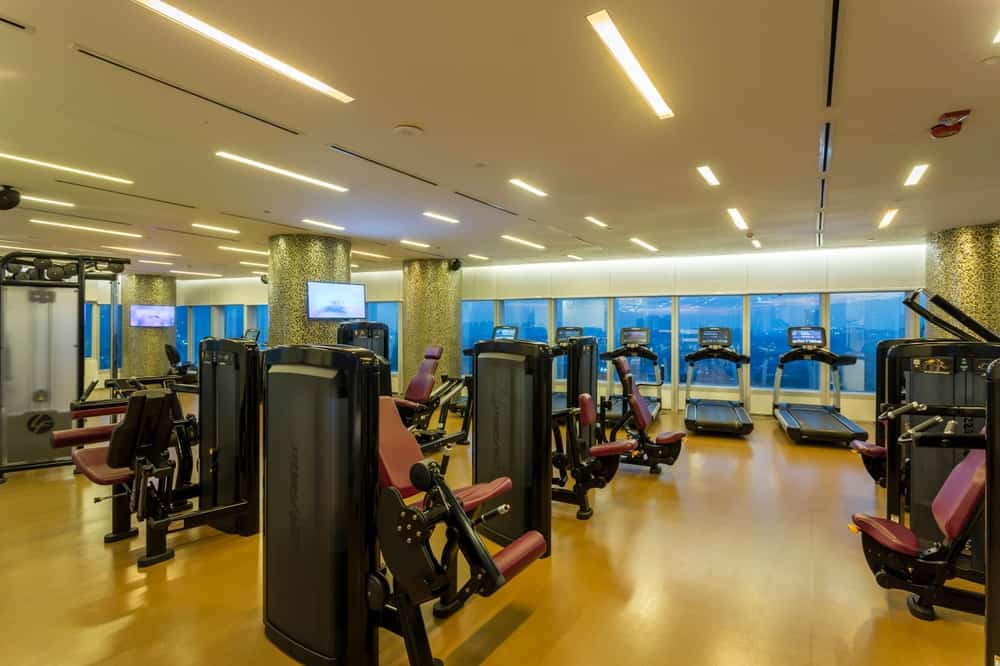 At the same time, over 10,000 American gyms went out of business over the pandemic. In 2019, 41,370 gyms and health clubs were in business, in June of 2022, that number had fallen to 31,028.
That means it's important to consider the cost of operating a gym, starting up, and maintenance when deciding if a gymnasium is the right choice for your business venture.
Here, the average cost to build a gymnasium is about $30-$100 per square foot for interior and equipment. However, if you want to build from the ground up, you're probably looking at $50-$250 per square foot, depending on whether you want exercise equipment or courts.
*Disclaimer: The research in this article was correct as of November 2022. Our sources are linked to throughout the article.
Cost To Build A Gymnasium (By Building Type)
The cost to build a gymnasium heavily depends on size, type, location, and luxury.
For example, if you go for a low-end gym, costs will be much cheaper than if you build a premium health club.
| Gym Facility Type | Minimum Cost | Maximum Cost | Average Cost |
| --- | --- | --- | --- |
| Church  | $400,000 | $5,000,000 | $900,000 |
| Basketball  | $79,900 | $2,000,000 | $450,000 |
| Warehouse  | $275,000 | $3,000,000 | $2,750,000 |
| High School  | $60,000 | $2,750,000 | $320,000 |
Of course, actual rates will always depend on factors like the size of the gymnasium, materials used, etc.
Cost To Build A Gymnasium (By Size)
Size is another significantly large factor in building a gymnasium. For example, you can most often calculate total costs by square foot. However, most of the above quotes cover the cost of equipment as well.
The below will look at average costs per size for a sports court, such as for a volleyball or basketball court. After these costs, you'll still have to buy equipment.
| Gymnasium Size (sq. ft.) | Brick Cost | Steel Cost |
| --- | --- | --- |
| 2,000 | $25,000-$160,000 | $20,000-$80,000 |
| 4,000 | $48,000-$320,000 | $40,000-$160,000 |
| 20,000 | $240,000-$1,600,000 | $200,000-$800,000 |
The discrepancies in cost range appear because brick changes in cost a lot based on where you are in the U.S.
In addition, you can make multiple choices with wall thickness, insulation, and flooring that will all dramatically impact the cost.
Gyms vary a lot in size. A "basic" high school gym is about 4,000 square feet. On the other hand, a large-scale public gym with multiple courts may well exceed 25,000 square feet.
Building A Gym Facility Cost Factors
Building a gym can cost anywhere from a few thousand to several million.
These costs significantly depend on your approach, your location, and the local cost of building.
Lease or Build
The first and most important factor in deciding the cost to build a gym is whether you choose to build the structure yourself. Often, it's cheaper or possible to use an existing building.
Leasing or buying an existing building can be a great option in many areas. However, it might not be.
In addition, lease costs range from about $18 to over $1,000 per square foot per year depending on where you're leasing. So, paying 5 years of lease could be the same cost as building your own structure.
You'll still have to install the interior as well, which can cost anywhere from $5-$200 per square foot depending on what kind of gym you want.
Design
Design is an important aspect of any gym. However, it varies significantly per type of gym that you want.
If you're building a simple exercise gym, the only thing you'll have to design for is safety and accessibility. That could be as simple as repurposing an existing warehouse and fitting materials into it.
On the other hand, if you want basketball, volleyball, or tennis courts following league guidelines, you'll have to spend a lot more time, effort, and money.
Guidelines and requirements must be followed per court, especially if you want to host competitions or have teams practice there.
In addition, amenities like swimming pools, saunas, and showers will increase the complexity of the design. But, most gyms need showers at a minimum.
So, design costs can range from nearly non-existent to very high. In some cases, you should budget about 2.5-5% of your total building budget towards design. In other cases, costs including interior design will be under $10,000.
Material
If you're putting up a building, costs will vary quite a bit based on which material you use. For example, most buildings in the United States are made of brick, concrete, wood, or steel.
The following chart offers some comparison of those different elements.
| Material | Cost Per Square Foot |
| --- | --- |
| Steel | $6-$120 (Average $18) |
| Brick | $9-$40 (Average $20) |
| Concrete | $110-$250 (Average $150) |
| Wood | $10-$20 (Average $15) |
More importantly, those costs aren't static across the United States. Someone living near a lumber mill will get much better rates on wood.
On the other hand, if you have a nearby brick manufacturing plant, you'll likely get better rates on brick. If you're in a state that has to import lumber, though, it's probably much more expensive.
Finally, the cost of materials should not be the primary reason to choose specific materials. For example, structural steel and prefabricated steel buildings can be a great way to save money in most of the U.S.
On the other hand, steel can be difficult to insulate, which may raise heating and cooling bills if you live in a very warm or very cold area.
Therefore, it's always a good idea to look at the long-term costs of operation when deciding how to build.
Architecture
Any new building will require significant architectural investment. And, the taller or more complex your building, the more true that will be. However, a prefabricated steel building might require very little architecture.
You'll have to have someone plan the foundation to support the building and any weight you put on it. Otherwise, you won't need anything.
On the other hand, if you build a brick or concrete building, you'll have to design it to support the weight. For most buildings, you can expect to pay about 2.5%-8% in architectural fees.
Equipment
Gym equipment can be one of the most expensive elements of outfitting a gymnasium. However, it can vary dramatically in cost, ranging from budget equipment and paint to high-end or luxury equipment.
For example, a cross-trainer machine can range in cost anywhere from $150 to over $11,000 depending on the quality, onboard electronics, etc.
You can, for instance, expect to pay about $6,000 or more per if you want a modern cross-trainer with programs, a digital screen, and fitness tracking.
Other equipment like dumbbells and barbells can cost much less. For example, you can normally expect to pay between $1.50 and $4 per pound for weights.
Like other costs, the equipment can be averaged out to a price per square foot. On average, if you want a budget gym, you're looking at $25-$30 per square foot to outfit your gym.
Here, you'll probably be able to get away with charging minimal local rates for membership. Higher-end equipment can cost as much as $200 per square foot, but you'll still expect $150-$200.
For example, if you want a row of 8 elliptical machines and a row of 8 spin bikes with software and programs, you could probably expect to pay at least $50,000 and up to $75,000 for the setup.
Of course, most gym equipment is cheaper. If you look at the equipment in a standard exercise gym, you normally see the following costs:
| Equipment | Price Range | Number Needed |
| --- | --- | --- |
| Chest Press  | $800-$3,000 | 1-2 |
| Seated Dip  | $300-$800 | 1 |
| Chest Fly  | $500-$2,000 | 1-4 |
| Bench Press (standard, incline, decline) | $50-$1,200 | 4-20 |
| Preacher Curl  | $200-$900 | 1-2 |
| Leg Extension  | $500-$4,000 | 1-6 |
| Leg Abduction  | $2,000-$4,500 | 2-6 |
| Arm Curl  | $350-$500 | 1-2 |
| Leg Press  | $1,000-$4,000 | 2-6 |
| Triceps Press  | $450-$1,200 | 1-2 |
| Overhead Press | $750-$1,200 | 1-2 |
| Lateral Raises  | $580-$1,500 | 1-2 |
| Torso Rotary | $500-$900 | 1-4 |
| Cable Row  | $200-$3,000 | 2-8 |
| Lateral Pull  | $500-$2,000 | 1-2 |
| Ab Crunch  | $200-$1,300 | 1-2 |
| Dip Tower  | $250-$3,500 | 1-2 |
| Functional Trainer  | $400-$8,000 | 1+ |
| Elliptical  | $150-$11,000 | 2-10 |
| Treadmill | $300-$4,000 | 2-10 |
| Rowing  | $150-$3,000 | 2-10 |
| Stationary Bike  | $150-$1,500 | 2-10 |
| Kettlebells  | $250+ | 1+ sets  |
| Dumbbells  | $350-$6,000 | 1+ sets  |
| Barbells  | $250-$4,000 | 1+ sets  |
Most importantly, you'll have to calculate what you actually need based on how big you're making the gym, how much exercise equipment you actually want, etc.
For example, if your primary goal is to have a gymnastics gymnasium, you probably don't want too much in the way of weights and exercise machines.
On the other hand, if you primarily want a health club, you likely want most of what's on the list above.
That can get significantly expensive, especially if you expect a large number of people to attend the gym at once, which means you need more than one of many types of equipment.
Here, low-use and specialty equipment can be purchased in small numbers – but you can track usage and add onto your equipment when you notice people having to wait for it.
License and Permits
Every gym or health club will need licensing and that can change based on the state you're in. For example, if you're building a new structure, you'll need a building permit.
Normally, you'll pay between 15 and 50 cents per square foot of heated space. For a large gym, that alone can cost thousands of dollars.
You'll also have to get a local health club license. These vary per state. However, you can almost always expect to pay between $100 and $800 depending on the state.
Most cities also require a certificate of occupancy. This means that a city official will inspect the building and will offer a certificate if the building meets the codes.
In addition, you'll need this whether you rent or build – providing you are within city limits.
Other licensing you might need include any mandatory health trainer or fitness instructor certificates you need for the type of gym you have.
You might also need or want to have an inspection by a sports authority for any courts or training areas you have. If you're using music or fitness programs, you'll have to obtain licensing for using those.
Therefore, licensing can cost upwards of $5,000, even for something that's otherwise relatively small.
Electrical
Electrical wiring, lighting, and heating can all be significant cost factors for gyms. That's especially true if you have a lot of electrical equipment like digital cross trainers or treadmills.
In most cases, you're looking at $5-$12 per square foot.
Plumbing
Plumbing can also be significantly costly. For example, if you have a swimming pool and showers, you'll need extensive plumbing.
Here, you can calculate about $4-$6 per square foot for the total build. However, you can work to minimize costs by keeping plumbing for kitchens, sinks, showers, and pools on one side of the building.
Flooring
Flooring a gym can cost over $200,000 depending on what you're installing. Here, a basic 4,000-square-foot facility might cost as little as $45,000.
However, if you want to put in a competition standard baseball court in walnut, you can expect just a single court to cost that.
You can always go for a simpler floor if you wish. If you just want an exercise or health club gym, you can get away with flooring for roughly $5-$25 per square foot with rubber mats on top.
On the other hand, if you need competition level, you should expect to invest at least $50 per square foot of floor.
Glass
Most gyms use large glass windows and fronts to showcase people working out. That can cost anywhere from $6-$24 per square foot.
Of course, it will also decrease the number of materials you need for siding and insulation.
Swimming Pools
If your gym includes a swimming pool, you can probably expect to pay at least $20,000 and up to $100,000 for it. This includes heating, water filtration, and actual build.
A simple lap pool, which most gyms use, can cost between $40,000 and $60,000.
On average, indoor commercial pools cost $150-$380 per square foot of ground space. However, most quotes will be given to you in cubic feet or yards.
Insulation
Insulation costs can be significant but they vary depending on what kind of building material you use.
For example, if you're using concrete, insulation has likely been worked into the cost of the build. On the other hand, it may not have been.
If you're building something with steel, you'll have to calculate anywhere from $0.55 to $1.80 per square foot of building for insulation. That can significantly add to the total cost of the building.
In addition, the amount you spend on insulation should depend on where you're at and what average yearly temperatures are.
Average Monthly Cost
In most cases, gyms can be expensive to run. That's because you'll have to keep electronics on, keep lights on, and pay for heating and cooling whether or not anyone actually uses the facilities.
For example, most buildings spend 20,900 BTU of natural gas per square foot of space annually. That can work up to a massive heating bill.
In addition, keeping electronics on can be significantly expensive. Many gyms are turning to motion sensors to dynamically turn equipment and lights off as people enter the building or the room.
In other cases, this can be bad for business, because you don't want your gym to look closed.
Finally, you'll have to work on costs to pay staff and trainers, to get licensing, and to maintain equipment.
In most cases, you'll have to invest in a daily wipe down of the gym and someone to clean the floor. That often means having trainers do cleaning or having a full-time janitor.
Personal trainers earn between $22,960 and $75,940, or a median of $40,700. Most janitors earn about $12-$15 per hour. You'll have to decide how many people you need to run your gym based on size and actual demand.
Is Gym A Good Business to Start?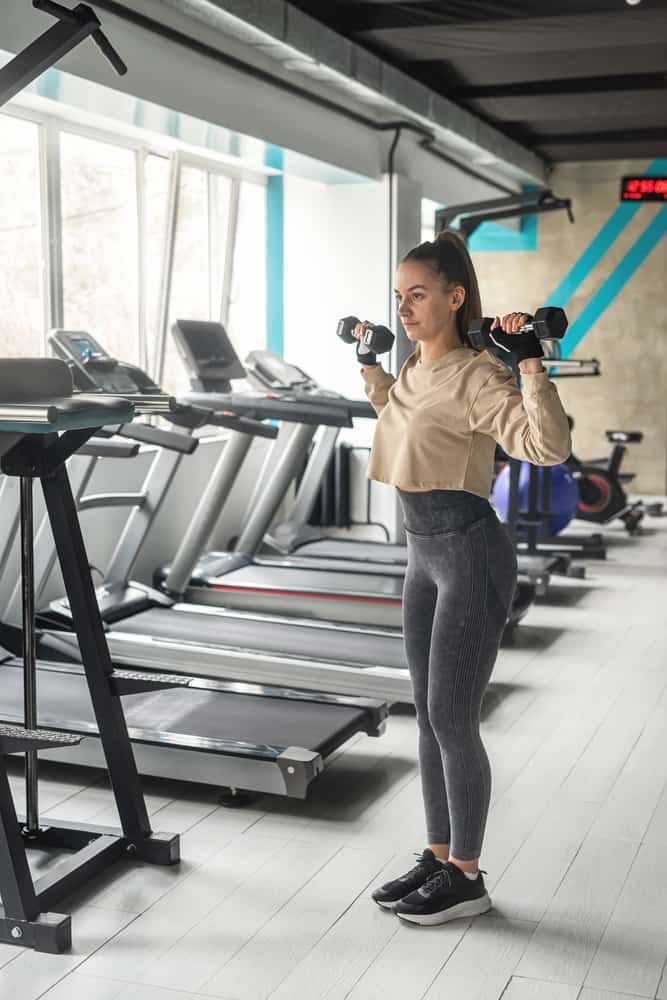 Gyms are extremely popular. In addition, with an estimated 19% of the population attending a gym regularly, there's a huge market for them.
Today, there's also less competition than there has been in over a decade. At the same time, it's important to assess demand, competition, and prospective profits before investing.
That's even more true if you're buying land and putting up a new building. Those costs can be significant and it can take years to earn them back.
If you don't know there's demand for a gym, you might have significant trouble recovering those costs.
Finally, gyms are not immediately profitable. Studies show that only 52% of gyms that were open for 3 years were profitable. After 8 years, 68% were.
Profit margins tend to hover around 15.5%, although fitness equipment-only gyms can go as high as 20% – especially if membership fees with yearly commitment are a thing – because many people will simply stop attending the gym for much of the year.
To End
Gyms can be extremely costly to build, with most costing between $50 and $250 per square foot to build. On average, you're looking at an investment of at least $400,000 for a standard fitness gym. However, gyms serve dozens of different functions and costs will change depending on whether you're putting in a sports gymnasium, a mixed gym, or a simple fitness or health club.