If you want to dramatically change the appearance of your truck, vinyl wraps are a great option.
Truck wraps are popular alternatives to paint. However, they also make a great solution for businesses looking to advertise or promote their business.
These large decals make it easy to quickly change the color of your truck, add graphics, or even swap out colors and themes more frequently.
And, because they're vinyl that can normally be easily applied and removed, it's a good alternative to paint if you want to change the vehicle more often.
Truck wrapping prices depend a lot on the complexity and type of design. However, you can expect prices to range between about $1,500 and $6,500. Most shops will charge around $3,500 for a truck wrap. However, if you want advertising design or something else special, you should expect to pay more.
Compare Car Warranty Quotes For Free & Save Big!
How Much Does It Cost To Wrap A Truck?*
In most cases, truck wrapping prices heavily depend on the size, design, and model of the truck.
Here, trucks with large panels will often cost more to wrap than trucks with smaller paneling on the body. However, the more complex the design and the parts, the more you're likely to pay.
In addition, some body shops will charge different rates based on the size of your truck.
| Size | Cost Range |
| --- | --- |
| Small | $1,000-$4,500 |
| Medium | $2,500-$5,500 |
| Large | $3,500+ |
*These price ranges were accurate as of October 2022. However, rates will vary considerably based on your location and the quality of the print you want.
As an example of what those size categories mean, the following include popular vehicles per size category:
Small
Nissan Frontier

Chevrolet Colorado

GMC Canyon
Medium
Honda Ridgeline

Ford Maverick

Hyundai Santa Cruz

Toyota Tacoma
Large
Ford F150

Ram 1500

Chevy Silverado

Ford Ranger

GMC Sierra

Toyota Tundra
However, depending on the cab, most of these vehicles can change category.
And, if you want to have a very large truck, like a semi-wrapped one, you can probably expect to pay well over $5,000 for the job.
Wrapping A Truck Price Factors
The cost of wrapping a truck will depend on multiple factors.
The most important of these include the vinyl and print, who's doing the work, and the vehicle in question.
The Truck Wrap
Truck wraps come in different types of vinyl. In addition, you can buy wraps of different qualities.
And, if you want a cheap wrap that simply changes the color of your truck, it's going to be a lot cheaper than something more extensive. For example, holographic or metallic prints. Or, an advertisement for your business with text and graphics.
It's also important to consider if you're getting a full or a partial wrap. If you're getting a full wrap, it covers every part of the truck.
If it's partial, you might choose to wrap the doors, the hood, or the sides and nothing else. This will dramatically affect the total cost.
In addition, if you need personalized wraps, you'll have to pay for the design. Some body shops or custom wrap shops will offer that design in-house. In this case, you'll probably pay a few hundred dollars for the design.
In other cases, your truck wrapping company will include design as part of the service, which probably means you can expect to pay $4,000+ for the full job.
Other factors that can impact the cost of the wrap include the type of glue (E.g. is it removable? Will it damage the paint?).
You'll also want to look at the size of the panels. Larger vinyl sheets are harder to apply, which means you may spend more on labor.
Condition of the Truck
The better the condition of the truck, the less prep work it will need to apply the wrap.
While a wrap can cover old and damaged paint, you'll have to sand and smooth it out before applying the vinyl. This means that wrapping an old truck can mean a significant amount of body repair work.
Factors like rust, dents, and gouges are important. On the other hand, scratches in your existing paint shouldn't matter at all.
Location and Labor Rates
Location is one of the largest factors in the cost of wrapping your truck. However, it's important to note that wrapping is a specialty service.
This means you're unlikely to find it outside of urban areas. Therefore, you might get cheaper rates in small towns, but the lack of competition means you might not.
Truck wraps might be sold for a flat-rate installation cost.
However, you're also likely to pay the flat rate cost of the vinyl (usually $600-$2,000 depending on customization) plus labor. In this case, you might pay anywhere from about $15 to $50 per hour for your technician's time.
Here, most trucks take 7-9 hours of installation time.
The Vehicle
Your vehicle can greatly impact the cost and labor involved with wrapping the truck.
For example, if you have small panels above the rear window, detailing, or other body fittings that might require extra work, you can expect the full job to take longer.
In addition, you'll likely find that it's cheaper to wrap a very common truck.
If your technician knows exactly what to do and how to apply it, they'll be able to complete the work faster. Or, at the least, they can better estimate how long the work will take.
Types Of Truck Wrapping
In every case you want to install truck wraps, you'll have to decide between professional and DIY installation.
Here, you'll most likely want to make a choice based on your time, how much you pay for the base materials, and whether or not you have any experience installing similar things.
Professional
A professional truck wrap averages at $3,500. This includes design, vinyl printing, cleaning the vehicle, installation, and any finishing work.
Here, a technician will ensure that your truck is clean, will take trim and panels off where necessary, and will apply the wraps.
This is the best way to ensure that your truck wraps are installed well. Applying vinyl without bubbles or wrinkles can be challenging, especially without a full set of professional tools.
However, professional installation of decals and wraps can be expensive as well.
DIY
If you're installing truck wraps yourself, you can expect costs to average under $2,000. However, you will spend at least a full day and possibly more doing the work.
Here, you'll have to clean the vehicle, sand and smooth any rust or cracked paint, and then use isopropyl or alcohol to clean the vehicle a final time. From there, you can apply vinyl. Most options are peel and stick.
From there, you can cut the vinyl to the size of the panels, smooth down the ends, and finish with any trim or fixing agent you have.
Here, it's extremely important that you apply the vinyl smoothly, without creases or bubbles. And, if you make a mistake, you'll likely have to scrap the entire sheet of vinyl.
This means that you may have to redo some of the work of wrapping your vehicle if you want it perfect. However, you will save quite a bit on labor costs. If budget is more important to you, this may be the way to go.
4 Tips On Saving On Vinyl Wrapping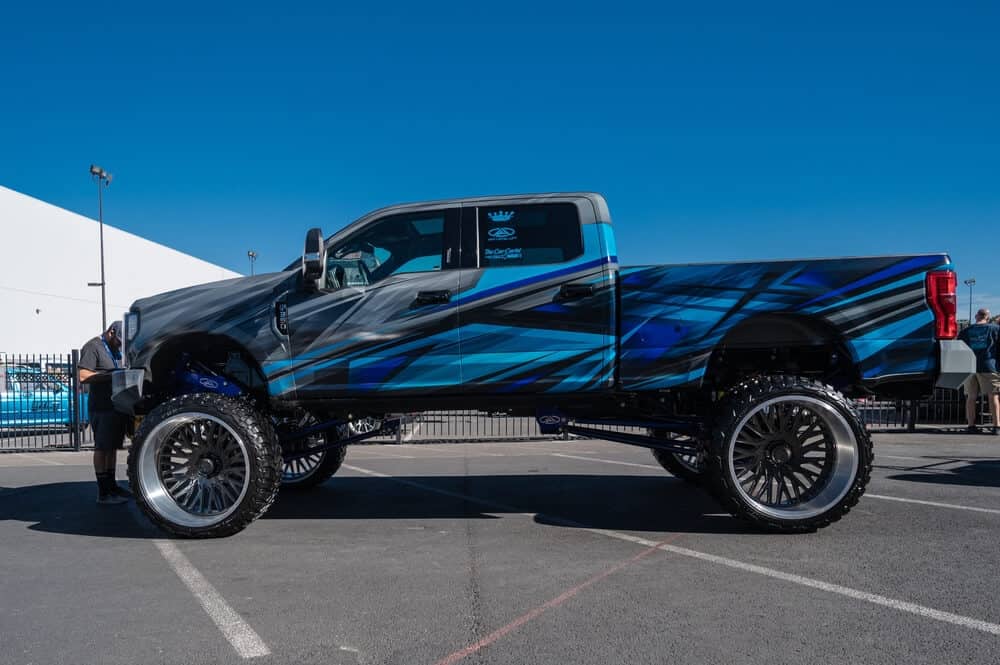 Installing vinyl wraps is expensive. However, you can always save money by going in prepared.
These four tips will help you reduce costs.
1. Go For A Partial Wrap
Partial wraps can save you considerably over a full wrap.
While they won't completely change the color of your vehicle, they can cover problem areas, add advertisements, or dramatically change the look of your vehicle.
For example, a half wrap starts at the hood and goes to the end of the cab or starts at the second door of a crew cab. A quarter wrap might just cover the bed.
Consider what will look good on your vehicle and go from there.
In addition, if you're on a budget, you should plan to skip the roof.
2. Opt For Spot Graphics
If you're looking to add decals or advertising to your truck, spot graphics can be considerably cheaper than a full wrap.
Here, you can simply add a logo or other design to specific places where you want designs and rely on paint for the rest.
3. Stick To Flat Surfaces
If you apply wraps to curved and ridged surfaces, you'll need high-end, casting-grade vinyl.
If you plan your truck wrap based on the flat surfaces on your vehicle, you can likely choose a cheaper grade of vinyl.
That can save you considerably on material costs, which are normally around half the total cost of wrapping a truck.
4. Supply Artwork Yourself
Artwork and design can be a considerable part of the cost of a truck wrap.
For this reason, you may be able to reduce costs by supplying the artwork yourself. However, you'll have to discuss options upfront with the wrap company.
Here, most will have very specific standards for image quality, design quality, etc., and you may prefer to have the design done professionally.
Truck Wrap Maintenance
Once you've paid for a truck wrap, you'll want to keep it in good shape for as long as possible.
Taking the time to do maintenance and to take care of your wraps will ensure they last 5-7 years.
Park Under Cover
Vinyl graphics, like paint, degrade when exposed to UV over the long term.
In addition, many vinyl wraps will turn brown when exposed to pollutants in the air. You can prevent much of this by either parking in a covered garage or by covering your vehicle.
That's also true when parking your vehicle overnight.
Simply adding a cover will reduce the vinyl's exposure to potentially acidic rain and dew. This will prolong the lifespan of the wrap. And, if you have paint, the same advice also applies.
Wash Regularly
Regularly washing your vehicle will ensure that your vinyl wrap looks like new for as long as possible. Here, it's important to use hot, soapy water and to avoid using abrasives and polishing compounds.
For example, you should never use polish or wax on matte or textured vinyl wraps. On the other hand, you can polish satin and shiny wraps.
You'll also want to avoid using solvents, oil-based cleaners, and degreasers on your wraps. That's because they can dissolve your vinyl.
If you have to spot-clean something that's difficult to remove, the best option is to use isopropyl alcohol and wipe the mess up.
Regular cleaning can also prevent browning and staining from atmospheric pollutants.
However, you probably want to primarily hand wash your vehicle rather than using an automatic car wash. And, if you use a pressure washer, most vinyl wrap companies recommend keeping the PSI below 2,000.
Clean Up Spills Immediately
Fuel and other spills can greatly damage your truck wraps. You'll want to pay attention when fueling your car and make sure you clean up spills immediately.
Simply keeping a rag or cloth handy when you're at the gas station can help. That also holds true when filling the oil and other fluids or when cleaning with solvents.
How Long Does Truck Wrapping Take?
Wrapping a truck normally takes 6-9 hours of work. However, it can take more or less time depending on the condition of your car.
In most cases, the steps are as follows:
Sanding and smoothing your vehicle to ensure there are no dents, ridges, or protrusions that could stick out or show through the vinyl.

Then, cleaning your truck and then cleaning the paint again with a lipid dissolving solution such as isopropyl alcohol.

Measuring the panels on your vehicle and cutting the vinyl wrap to size.

Peel and stick the panels, one at a time, using a squeegee or dense foam sponge to slowly press the vinyl down, ensuring there are no bubbles as you go. This is easier if you have a second person to hold the vinyl taught while you slowly press the vinyl smoothly onto the vehicle.

Double check for bubbles and issues and use a plastic scraper to smooth them as much as possible.

Use a heat gun or hair dryer if you have a vinyl wrap that needs heat to be applied smoothly.

Use a box knife to clean up the edges and press them down.

Remove any parts of the paneling that prevent you from cleanly applying the vinyl and apply vinyl under those parts, e.g., shields around windows.
Depending on the size of your vehicle, you may be able to get everything done in one day.
However, most body shops will keep your vehicle for at least two days when applying vinyl.
FAQs
If you still have questions about truck wraps, this FAQ should help.
Is It Cheaper To Wrap Or Paint Your Truck?
That depends on the quality of the paint. If you want a quick airbrush paint job, you're normally looking at rates starting at $1,000.
If you want something that looks like the original paint, you're probably looking at something closer to $4,000-$5,000. And, if you want artwork and decals, the paint will often run you up to $10,000.
So, if you want something simple, paint is probably a better call. But, if you want designs, artwork, and graphics, vinyl is cheaper, faster, and more reliable.
Does Rain Ruin Car Wrap?
Acidic rain can damage your truck wrap.
For that reason, it's always a good idea to keep your car parked covered, or indoors.
Does Car Wrap Scratch Easily?
Truck wraps are often more durable than paint. However, once you scratch vinyl, it is difficult to repair. In addition, it can tear.
However, scrapes and bumps are less likely to scratch vinyl than they are to scratch paint.
To End
Truck wraps are a great way to dramatically change the appearance of your vehicle. In most cases, you can expect to pay around $3,500 for the full job. However, rates can be higher or lower depending on the quality, design, and size of your vehicle.
Compare Car Warranty Quotes For Free & Save Big!