Rhino Linings is one of the most popular truck bed liner brands. It is traditionally used to absorb shocks and reduce vibrations in the cargo box, while also keeping your hauls from sliding around during transit.
If you don't want to stop at the bed, covering the whole truck with the vinyl substance reduces the risk of dents or paint damage.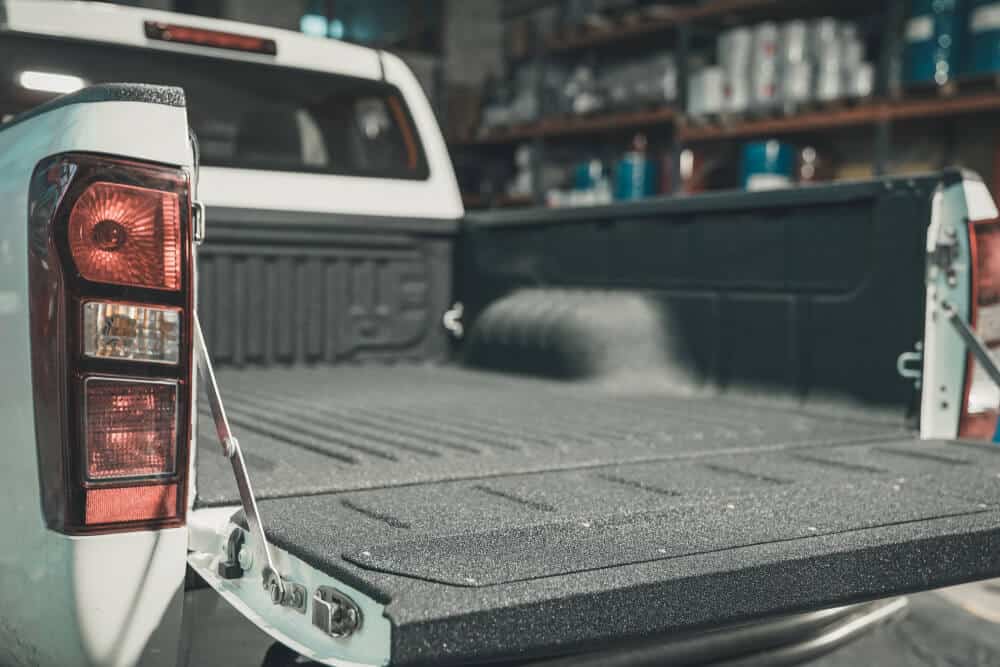 The average cost of Rhino lining a whole truck varies from $3,659 to $4,673 for labor and materials, although you could spend less or a lot more depending on your truck's size and actual labor required. The type of lining also has an impact on pricing. Rhino TuffGrip or SolarMax, for instance, are more expensive than standard Rhino HardLine.
Compare Car Warranty Quotes For Free & Save Big!
Cost To Rhino Line A Whole Truck*
The costs of Rhino lining a whole truck depend on a variety of factors, including the truck size and type of lining.
The table below compares the average costs of whole truck Rhino lining for popular truck sizes*:
| Truck Type | Average Rhino Lining Cost** |
| --- | --- |
| Short bed (5.5ft) | $2,611 - $3,511 |
| Standard (6.5ft) | $3,531 - $4,490 |
| Long bed (8ft) | $4,835 - $6,018 |
*Average prices in the table are correct as of October 2022 and were calculated based on quotes received from independent Rhino Linings installers for Rhino lining whole short bed, standard, and long bed trucks. All installers were given the same vehicle dimensions based on the 2021 Ford F-150 trucks. The table is intended to be used as a reference only. Actual costs can vary based on your actual make and model, location, and amount of work required.
**All prices refer to paint work performed with Rhino Linings products. Bed liner applicators may use other products too, or you might prefer another lining brand. The averages above do not apply to these alternative materials.
Rhino Linings installers use the vehicle dimensions as a main factor in calculating quotes.
Short bed trucks are the cheapest to Rhino line due to their smaller dimensions. Depending on the type of liner used, average costs can go as low as $2,611 for a 5.5-foot short bed.
If you own an off-road truck and want a lining that can withstand rough conditions, lining the same truck with Rhino SolarMax can cost up to $3,511 on average.
If you're not too fussy about the lining used or its thickness, calculate a budget of about $3,061 for a small truck.
Whole lining a standard truck with a 6.5-foot bed can cost up to $4,490 on average. Again, the type of lining and the actual truck size can impact the final quote.
For the average 6.5-foot truck lined with the installer's choice of Rhino Linings, consider a budget of around $4,010.
Long bed trucks are obviously the most expensive to Rhino line, with average prices going as high as $6,018 for a SolarMax job.
If you own such a truck and don't have a lining preference, consider a budget of around $5,426.
All these figures are industry averages, but actual quotes can differ. Installers typically consider the actual make and model of the truck, truck's paint condition and eventual repairs, and the labor time required to complete the job.
7 Rhino Lining Whole Truck Price Factors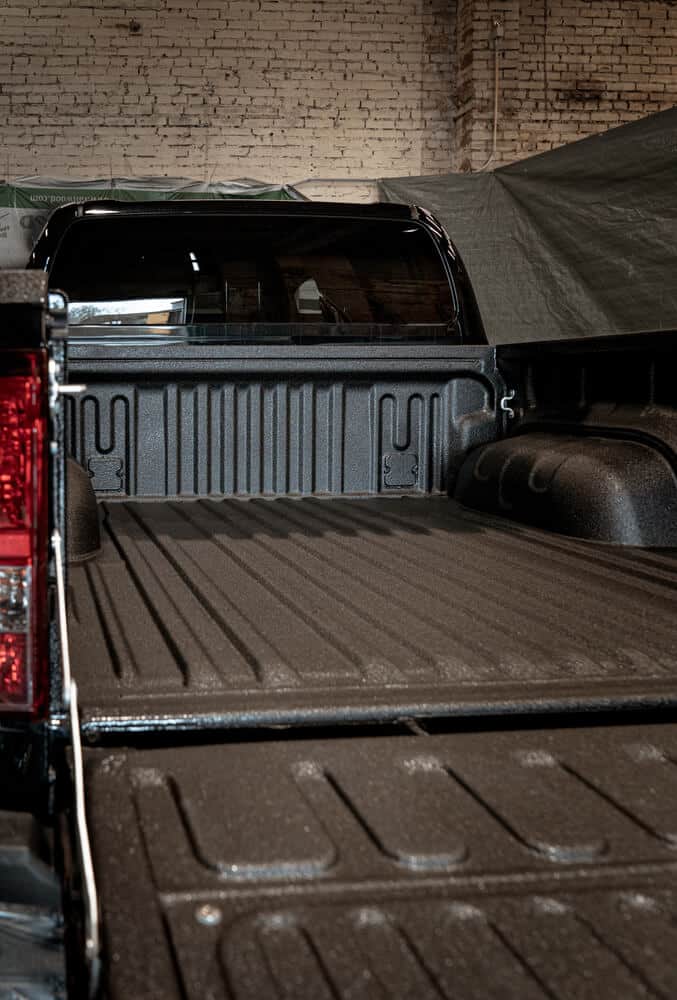 As mentioned, the truck size is the most crucial factor when calculating Rhino lining prices. However, other factors also influence the quote.
1. Vehicle Make & Model
While most appliers calculate Rhino lining costs based on the truck size (square footage to cover), some have different prices for different vehicles.
That's because Rhino lining the whole truck is similar to a paint job. Appliers have to disassemble the vehicle completely, stripping it to the bare metal. Then, when the job is done, they must put everything back together.
Some trucks are easier to take apart and put back together than others, with this step influencing labor time.
But extra labor time might not be the only thing that you have to pay for. Some appliers charge extra rates for vehicles that are particularly difficult to strip.
The actual type of vehicle also impacts costs.
While truck owners represent the majority of those who opt for spraying the vehicle's full body in bed lining, the same process can be applied to SUVs and even coupes or sedans.
Rhino lining an entire Jeep, for instance, can cost between $3,200 and $4,000 on average. However, Rhino lining a Ford Mustang is often much more expensive despite the smaller size of the vehicle.
Prices can go up to $7,000 depending on the job required and location.
2. Paint Condition
Painting the full body of a truck is generally done when the original paint is chipped or cracked.
Depending on how big the damage is, the applier could install Rhino line over the paint coat or they might have to wet sand the truck body to remove all original paint.
In extreme cases, wet sanding and buffing alone can take up to 40 hours. This could add $2,000 or more to the Rhino lining job.
To save time and keep costs low, some bed liner installers allow customers to strip the paint and buff the vehicle before bringing it in for lining.
If your truck's paint is severely chipped or peeling, it might be worth contacting your local body shop to see if this is an option.
3. Pre-Lining Treatments
Depending on the lining shop, pre-lining treatments could be included in the lining price or billed separately.
These treatments typically consist of epoxy primer and UV protection application to improve adherence and boost the longevity of the lining.
A gallon of primer costs around $200 to $250 on average. Application is usually fast – around 1.5 to 2 hours.
In total, you can expect this step to bump your quote up by $275 to $550.
4. Rhino Linings Type
The type of lining you choose – or the type the body shop uses – can also impact costs. Most shops use one of three popular Rhino Linings products.
The table below compares the material costs for covering a whole 6-foot truck*:
| Product Type | Amount Required (Lbs.) | Estimate Material Costs |
| --- | --- | --- |
| Rhino HardLine | 246 - 275 | $639.6 - $715 |
| Rhino TuffGrip | 380 - 409 | $1,007 - $1,083 |
| Rhino SolarMax | 175 - 204 | $1,312 - $1,530 |
*Estimate costs in the table were calculated based on the approximate cover surface of 398 square feet. Material prices were sourced from Rhino Linings. Prices may vary based on your location and installer. Prices are correct as of October 2022.
Rhino HardLine
Rhino HardLine is one of the toughest types of truck bed linings. It has excellent impact and abrasion resistance. It is also the cheapest solution from the brand.
This truck bed liner comes in black or custom dark colors. Custom options are more expensive, with the brand providing quotes on request.
Your installer may also apply further taxes and profit margins, so for an accurate price it is best to contact appliers in your area.
In its standard variant, Rhino HardLine costs $2.90 per pound from the manufacturer – the product is sold in 55-gallon drums, a set (500lbs. of Part A and 450 lbs. of Part B which must be mixed together) costing $3,640.
Rhino HardLine is ideal for residential and commercial trucks including landscaping and pool vehicles or equipment trailers.
Rhino TuffGrip
TuffGrip is perhaps the most popular sprayed-on bed lining used for whole truck coverage. Its main advantage is the bountiful range of colors you can choose from, including black, blue, and red.
Like the HardLine, TuffGrip resists corrosion, abrasion, and impact. It also has a good chemical resistance and dampens the vibration and impact noises.
Typical applications include truck bed lining, but also full vehicle exterior and interior, vehicle accessories like side steps and grille guards, etc.
Not only is it used in the automotive industry, but people also use this lining on stairs, docks, patios, and other residential or domestic applications.
Rhino TuffGrip is sold in 55-gallon drums and is a 2-part system similar to the HardLine. Set prices start at $3,710 and vary based on color.
An alternative to the TuffGrip is Rhino ColorMatch.
These systems are produced to match your specific truck color, but are much more expensive than TuffGrip. Since you're going to paint the whole truck anyway, TuffGrip can help you save.
However, ColorMatch could be a good choice if you only want to coat the truck bed or some accessories.
Rhino SolarMax
Rhino SolarMax is the most expensive option, but ideal if you live in coastal or warm climate areas.
This bed liner offers UV protection without the need for a topcoat and a higher tensile strength and tear resistance compared to the other two options.
It is commonly used for truck bed or whole vehicle applications, but also as paint replacement or for marine applications.
The hard coat is available in a full color range except for pearl or metallic colors, and also suits alternative residential and commercial applications, such as coating floors, walls, or stairs.
Rhino SolarMax costs about three times more than the other two systems, though. Its price per pound (wholesale) works out at $7.5, while a set of 55-gallon drums of Part A and Part B costs $7,125.
Despite the higher price, SolarMax has the highest coverage, which is why material costs for a whole truck usually don't exceed $1,600.
5. Location
Labor costs are another major factor that affects the cost of Rhino lining a whole truck. The main factor determining labor costs is the location.
Paint and body labor costs start at $50 per hour, but can go up to $150 in areas including New York and California.
6. Labor Time
Another factor determining labor costs is the actual time the auto body shop specialists spend on your car.
Rhino lining the bed alone requires about three hours, and you can take the car home the same day. Things are different for a full body spray.
The table below breaks down the costs for the various steps performed*:
| Truck Lining Job | Average Time | Average Cost Range |
| --- | --- | --- |
| Trim removal | 3 hrs.  | $150 - $450 |
| Truck cleaning and wax removal | 1 hr.  | $50 - $150 |
| Wet sanding (original paint in good condition) | 4 hrs.  | $200 - $600 |
| Body preparation | 8 hrs.  | $400 - $1,200 |
| Masking truck areas not to be coated | 2 hrs.  | $100 - $300 |
| Final cleaning | 1 hr.  | $50 - $150 |
| Original paint sealing | 1 hr. | $50 - $150 |
| Priming | 1 hr.  | $50 - $150 |
| Sanding | 2 hrs.  | $100 - $300 |
| Rhino lining | 3 hrs.  | $150 - $450 |
| UV topcoat | 3 hrs.  | $150 - $450 |
| Masking material removal | 1hr.  | $50 - $150 |
| Reinstalling trims | 3 hrs.  | $150 - $450 |
| Average labor time | 33 hrs. | $1,650 - $4,950 |
*Average labor times in this were calculated based on estimates from independent car body shops. They are correct as of October 2022 and intended to use as a reference only.
7. Professional Vs. DIY Application
The labor time breakdown table above shows that the biggest chunk of money is spent on labor.
To those who want to save, DIY applications may sound like a sweet alternative. However, lining the truck yourself might not be the wisest option.
A professional application guarantees the use of a Rhino Linings product. Since these products come in 55-gallon buckets (a system containing 950 pounds of product), the first step is to find a suitable substitute.
Commercial bed lining kits such as U-Pol Raptor Liner cost around $150 per kit.
A kit's coverage is around 125 feet, and you'll need around three kits to cover a whole standard truck. That's around $450 for the liner alone. You must add a primer, which costs around $200 on average.
You also have to invest in professional cleaning products and other supplies, such as painter's tape, sponges, rags, and brushes.
Expect to spend a further $150 to $200 on these items. This brings DIY costs up to $800 – $850.
Unless you have them, you must also buy or rent a professional paint sprayer that can handle epoxy products and an air compressor.
An entry-level sprayer can be rented for $40 to $100 per day. A small air compressor rental costs between $45 and $150 per day. Thus, the total costs go up, ranging from $885 to $1,100.
While you won't spend as much as paying a professional, you must still spend days of your time on the task and the results will likely be sub-par compared to a professional body paint job.
Moreover, you'll have to deal with any repairs yourself – Rhino Linings products come with a lifetime warranty if applied by an authorized body shop.
Is Rhino Lining Worth It?
Rhino lining your whole truck is worth it if you want a paint job that resists weather elements and extreme driving conditions – such as off-road and the like.
It is also worth it if you have a commercial truck that carries heavy equipment. Rhino lining could also make your truck stand out from the crowds.
However, Rhino lining the whole truck typically kills the vehicle's resale value, as the next owner might not like the custom paint job.
Since this lining type is designed to stick to the vehicle for life, it is particularly difficult to remove once applied.
Considering the potential drawbacks and the costs involved, whether it's worth it or not is up to you.
FAQs
How many gallons to Rhino line a whole truck?
Rhino Linings products have poor coverage compared to regular truck paint. Lining a whole truck requires between 175 to 409 pounds of material, depending on the product being used.
There are 8.43 lbs. in a gallon, which means that your truck might need between 20.7 and 48.5 gallons of liner. To put things into perspective, you need around one to two gallons of regular car paint to cover the same surface.
Rhino Linings products come in 2 x 55-gallon (950-pound) systems.
Does painting a whole truck with bed lining affect insurance coverage?
No.
Repainting your truck in another color or covering it in truck bed liner doesn't affect insurance coverages – as long as your insurance policy doesn't specifically state that a new paint job changes the terms of the insurance.
How long does Rhino liner last?
Rhino Linings products are guaranteed for life and come with a lifetime warranty.
All issues, including peeling, chipping, blistering, scratches, etc. are covered by the warranty and you can take the truck to any authorized Rhino Linings applicant to have it fixed.
How much weight does Rhino lining add?
Rhino lining can add over 400 pounds of weight to the truck.
This extra weight could affect fuel mileage and overall performance.
Conclusion
The costs of rhino lining the whole truck vary from $3,659 to $4,673 on average. The truck size and type of liner are the main factors that affect prices.
Other factors include your location and labor time, the truck make and model, and any repairs or pre-lining treatments required. You could save on costs by applying the liner yourself, but the results may not be as pleasing or long-lasting as a professional job.
Compare Car Warranty Quotes For Free & Save Big!